1. Where are we?

This page is intended to draw attention to art, in its various forms, that is to be seen on or near the streets of Colchester.

2. Where do we want to be?

The following page will look at what could be achieved if we wanted it, by increasing the instances of street and/or public art in Colchester.

3. How do we achieve it?

This page will come up with suggestions as to how we can make art more visible and relevant on our streets, if that is what is wanted.

We started with a statement of where we are at the moment with street art and public art in Colchester. Now we want to stimulate thinking about, 'Do we need more Street Art and Public Art in Colchester?' Would it make Colchester a better place to visit or enhance our town's image - or, conversely, harm it?

What are the possibilities?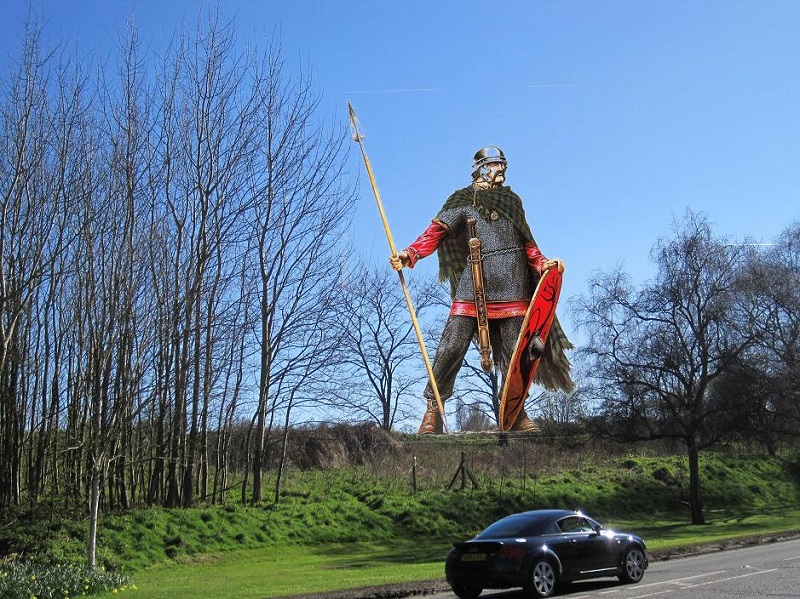 What if we commissioned a 40 foot (12 metre) high statue of Cunobelin, to be erected on the Hilly Fields, facing west and viewable for miles around - especially from the A12 and passing railway trains. What would you say to that?

If you liked the idea, would a Roman soldier be a better idea? Wouldn't that just indicate that we are a Roman town rather than THE Roman town where Emperor Claudius came in AD 43 to take the surrender of the British, thus creating British first civilised settlement, Britain's first city, etc?

How much would it cost? Would our heritage complacent council ever permit it? What would be needed to achieve it?

STAND TALL

In 2013, our streets welcomed many giraffe statues, as a result of a campaign by Colchester Zoo. Sadly they stayed for too short a time, but boy, did they create a buzz? Why didn't we get to keep one?

What do other places do and how do those places rate the impact of their art? Here are some examples of what other places have done.

Le Plus Grand Sanglier du Monde

Another Place

Angel of the South

Angel of the North

What plans are afoot?

TWINKLE TWINKLE LITTLE STAR

Sir Bob Russell, Colchester's High Steward is working on a scheme for a statue of the Taylor sisters (Twinkle, Twinkle Little Star fame) – in the High Street. Further news of that is awaited with interest.

There are stirrings about painting hoardings with heriatge related images. For instance at Colchester's Roman Circus. Then we have our:

Roundabouts

Walls of Buildings

Open Spaces

Landmarks

WHERE DO WE GO NEXT?