WAR MEMORIAL
FIRST WORLD WAR
Sach, Frederick

Sadler, Alfred S

Sadler, A S

Sadler, Albert Stanley

Sadler, Arthur William

Sadler, Douglas

Sadler, Herbert Charles

Sadler, Stanley Alfred

Sage, R Fred

Sage, Walter Charles

Sage, W E

Sage, Wm G

Sage, William

Sallis, H

Sallows, Edward Willim

Sallows, George

Sallows, H

Salmon, Harold A

Salmon, Jack

Salmon, P A

Salmon, William John

Sanger, Harry

Sansom, C

Sargeant, Alfred

Sargeant, A V

Sargeant, Walter

Sargent, Arthur

Saunders, Stanley G

Saville, Frank Albert

Sawkins, Claud

Sawyer, Edward

Sayle, A

Scanlan, James

Scanlan, John

Scott, Charles

Scott, George E

Scott, John R

Scovell, George Henry

Seaborn, Ernest Walter

Seaborne, C

Seaborne, Ernest J

Seaman, Chas H

Secker, John Devereux

Secrett, Fredk George

Self, Edward J

Sewell, J E

Shead, John Wm Evans

Shears, Herbert Charles

Sheehan, J

Sheldrake, Arthur L

Sheldrake, George C

Shipp, Alfred

Shynn, Fred Walter

Simms, Joseph William

Simons, Charles Henry Wm

Simons, Ernest Ambrose

Simons, William John

Simpson, Cyrus

Simpson, Percy Wm

Simpson, Thomas Henry

Sizeland, Walter John

Skelton, A

Slythe, Stanley George

Smee, Ernest Thomas

Smith, Aubrey George

Smith, Edward Thompson

Smith, Edwin

Smith, E

Smith, Frank

Smith, Fred

Smith, Fredk Eugene

Smith, George Fredk

Smith, G N R

Smith, John Raymond

Smith, John

Smith, J

Smith, S J

Smith, Stanley Edward

Smith, S J C

Smith, Thomas

Smith, W G

Smith, W G

Smith, William

Smy, Horace G

Soames, H W

Soughan, Frank

Soughan, Leo

Soughan, Percy

Sowther, Ernest

Sparkes, Alfred H

Sparkes, Altree G

Sparkes, W H

Sparling, A Edward

Sparling, Walter

Speller, W O

Spencer, Edmund

Springett, George Percy

Springett, Richard C

Spurgeon, Sidney

St George, H W

St George, G S W

Stammers, J

Stanford, Alan K

Stanford, Donovan R

Stanford, Sybil H

Stannard, John

Stanyon, Alan

Starling, Claud Frank

Steggles, Albert E

Steggles, Alfred

Steggles, Joseph

Stevens, Harry

Stevens, Percy

Stewart, H

Stickland, William A

Stonebridge, A V

Stork, W H

Stowe, Ernest Charles

Strutt, Arthur William

Strutt, E Walter

Styles, Frederick

Sunderland, H A

Swain, Frank

Swale, M G

Swan, Cyril John

Sweetapple, A

Swett, William Percy

Syrett, Frank

Syrett, R

Tadmore, Joseph A

Tapsell, Richard

Tatman, S W

Tatt, Harry

Tatlow, J

Tayler, Dudley Henry

Taylor, Joseph

Taylor, Percy G

Taylor, Reginald H

Theobald, F G

Theobald, G D

Thomas, Alfred

Thomas, Arthur P

Thomas, Cecil Frank

Thomas, Ernest Edward

Thomas, Fredk A

Thomas, Stanley Wm George

Thomas, T

Thompson, Ernest J

Thompson, Herbert

Thompson, Stanley E

Thorpe, Charles Edward

Thurlow, Thomas

Timms, Joseph William

Timothy, -

Tinkler, Herbert Geo

Tipper, Wm Jas

Totman, Samuel W

Towns, George Robert

Tralau, Alfred William

Tralau, George Walter (M.M.)

Triphook, Owen Leach

Trumpess, Albert

Trumpess, Edward N

Trussell, Alan L

Trussell, Wilfred G

Tucker, Arthur G

Tucker, Cyril James William

Tucker, Thomas

Turrall, A

Turner, Fredk Thomas

Turtill, J J

Tydeman, Laurance Walter

Tyler, John Collett

Tyson, F

Upton, F J

Usher, Samuel

Venard, George Willis

Verlander, William James

Vine, James Edward

Wade, Henry James

Wade, W

Wadley, Sidney

Wagstaff, J H

Wale, S

Walker, Charles Ernest

Wallace, Dudley W

Waller, John Harry

Waller, Vincent P N

Walsh, B

Walshe, Harry

Ward, Albert George

Ward, Ernest

Waring, R

Warner, Ernest F

Warner, Lawson

Warner, W J

Warner, William Alfred

Warner, William Robert (not on War memorial)

Warren, Edward H

Wash, William T

Wass, James Stanley (not on war memorial)

Wateson, Walter J

Wateson, William

Watson, D A

Watson, Harry

Wass, James Stanley

Watson, -

Watts, V

Wayland, Bertie

Webb, Albert Ernest

Webb, F W

Webber, C H

Weller, G

Wells, F J T

Wells, George

Welton, George

Went, John

Weston, D G

Weston, R D

Whalley, J

Whatling, Lee Sanson

Wheatley, Henry

Wheeler, Cecil Henry

Wheeler, Fredk C

Wheeler, Albert Henry

Wheeler, James Robert

Wheeler, Walter George

White, Alexander

White, Alfred William

White, Benjamin J

White, L

White, Maurice Joseph

White, Reginald Robert

Whiting, Arthur T J

Wicks, Harry Sidney

Wilby, Alfred Dolphin

Wilkinson, Henry Eady B

Williams, Oliver

Williams, S

Williams, Thos A

Williams, Walter

Willis, John

Willis, J

Willis, W

Wills, Horace Fredk

Wilson, Stanley John

Windsor, Henry F

Winter, C H

Wisbey, Harry

Wood, William George

Woodrow, A George

Woodrow, William John

Woollard, Alan George

Woollard, Basil Edgar

Wordley, Bertie Daniel

Worger, Sidney Richard

Worth, Claude

Wright, George J H

Wright, Herbert

Wright, John Fredk

Wright, Leslie

Wright, Samuel

Wyatt, Harold T

Wyatt, Philip Oliver

Wyatt, Thomas James

York, G H

Youngs, Albert C

Youngs, William

Youngs, William Q L

Yule, Leonard W
1248 in total
++++++++++++++++++
Private
Service No: H/1965
Date of Death:07/11/1914
Regiment/Service: 4th (Queen's Own) Hussars
Grave Reference: B. 19. Cemetery:BAILLEUL COMMUNAL CEMETERY, NORD
My grandfather, James Walsh, Private 4th Queens Hussars, was the first soldier from Colchester killed in WW1, he died on 7th Nov 1914.
(James Boutell email 11/01/2016)
Historical Information
Bailleul was occupied on 14 October 1914 by the 19th Brigade and the 4th Division. It became an important railhead, air depot and hospital centre, with the 2nd, 3rd, 8th, 11th, 53rd, 1st Canadian and 1st Australian Casualty Clearing Stations quartered in it for considerable periods. It was a Corps headquarters until July 1917, when it was severely bombed and shelled, and after the Battle of Bailleul (13-15 April 1918), it fell into German hands and was not retaken until 30 August 1918.
++++++++++++++++++
In memory of
Able Seaman
D/JX 152064
H.M.S. Sultan., Royal Navy
who died on
Monday 14 September 1942 . Age 21 .
Additional Information: Son of William Walter and Kathleen Ellen Warner, of Colchester, Essex.
Cemetery: THANBYUZAYAT WAR CEMETERYMyanmar
Grave or Reference Panel Number: B5. B. 6.
Location: The village of Thanbyuzayat is 65 kilometres from Moulmein, and the war cemetery lies at the foot of the hills which separate the Union of Myanmar from Thailand. At present the only way in which the cemetery may be visited is by train. This is a long and uncomfortable journey and three days should be allocated. Only those in good health should attempt the journey. Prior permission is needed to travel to the cemetery, which is close to areas of unrest. Enquiries about the possibility of obtaining permission to visit the cemetery should be made to the nearest Union of Myanmar (Burmese) Embassy, or a Commonwealth Embassy in Yangon (Rangoon).
Historical Information: The notorious Burma-Siam railway, built by Commonwealth, Dutch and American prisoners of war, was a Japanese project driven by the need for improved communications to support the large Japanese army in Burma. During its construction, approximately 13,000 prisoners of war died and were buried along the railway. An estimated 80,000 to 100,000 civilians also died in the course of the project, chiefly forced labour brought from Malaya and the Dutch East Indies, or conscripted in Siam (Thailand) and Burma (Myanmar). Two labour forces, one based in Siam and the other in Burma worked from opposite ends of the line towards the centre. The Japanese aimed at completing the railway in 14 months and work began in October 1942. The line, 424 kilometres long, was completed by December 1943. The graves of those who died during the construction and maintenance of the Burma-Siam railway (except for the Americans, whose remains were repatriated) were transferred from camp burial grounds and isolated sites along the railway into three cemeteries at Chungkai and Kanchanaburi in Thailand and Thanbyuzayat in Myanmar. Thanbyuzayat became a prisoner of war administration headquarters and base camp in September 1942 and in January 1943 a base hospital was organised for the sick. The camp was close to a railway marshalling yard and workshops, and heavy casualties were sustained among the prisoners during Allied bombing raids in March and June 1943. The camp was then evacuated and the prisoners, including the sick, were marched to camps further along the line where camp hospitals were set up. For some time, however, Thanbyuzayat continued to be used as a reception centre for the groups of prisoners arriving at frequent intervals to reinforce the parties working on the line up to the Burma-Siam border. Thanbyuzayat War Cemetery was created by the Army Graves Service who transferred to it all graves along the northern section of the railway, between Moulmein and Nieke. There are now 3,149 Commonwealth and 621 Dutch burials of the Second World war in the cemetery.
(This record was discovered by Ann Norton who was able to add that he was originally on the HMS Repulse when it was sunk on 10 December 1941. William is not recorded on a Colchester memorial which should perhaps be corrected.)
+++++++
JAMES STANLEY WASS
DIED ON BOARD HMS VANGUARD 9TH JULY 1917 AGED 27 (THINK IT WAS IN SCAPA FLOW)
COMMEMORATED ON CHATHAM NAVAL MEMORIAL
SON OF MARY ANN WASS OF 3, GILBERT ROAD, COLCHESTER
HMS VANGUARD SUFFERED AN EXPLOSION ON THE EVENING OF 9TH JULY 1917. SHE SANK ALMOST IMMEDATELY TAKING AN ESTIMATED 840 MEN WITH HER. THERE WERE ONLY TWO SURVIVORS. THIS REMAINS THE MOST CATASTROPHIC ACCIDENTAL EXPLOSION IN THE HISTORY OF THE UK AND ONE OF THE WORST ACCIDENTAL LOSSES OF THE ROYAL NAVY.
+++++++
In Memory of
Second Lieutenant
2nd Bn., South Wales Borderers
who died on
Saturday, 1st July 1916.
Commemorative Information
Memorial: THIEPVAL MEMORIAL, Somme, France
Grave Reference/ Panel Number: Pier and Face 4 A
Location: The Thiepval Memorial will be found on the D73, off the main Bapaume to Albert road (D929).
++++++++++++++++++++
Nationality: United Kingdom
Rank: Private
Regiment/Service: Essex Regiment
Unit Text: 1st Bn.
Date of Death: 06/08/1915
Service No: 9405
Casualty Type: Commonwealth War Dead
Grave/Memorial Reference: Panel 144 to 150 or 229 to 233.
Memorial: HELLES MEMORIAL
also, his brother, killed on the same day and area,
WHALL, RICHARD JAMES
Nationality: United Kingdom
Rank: Private
Regiment/Service: Essex Regiment
Unit Text: 1st Bn.
Date of Death: 06/08/1915
Service No: 10874
Casualty Type: Commonwealth War Dead
Grave/Memorial Reference: Panel 144 to 150 or 229 to 233.
Memorial: HELLES MEMORIAL
The following details came from Mrs Joan Soole of Colchester in January 2009.
Some time ago I had a phone call from a Mrs Buy who lives in Wivenhoe. She had two uncles, both brothers, who died in WW1. They were 10874 Pte Richard James Whall and 9405 Pte Frederick Thomas Whall. Now, what makes these unique is that they were both serving in the Ist Btn of the Essex Regiment, and both died on the same day 6th August 1915 at Gallipoli. Both have no known grave and both are commemorated on the Helles Memorial. Both of them are on the Colchester War Memorial.
In the 1901 Census Richard, aged 5, and Frederick, aged 9, were living with their parents at 1 Victoria Place, Eld Lane. This is now the offices of Colchester Co-op Soc. On the 1891 census the parents were listed as living at 61 Vineyard Street. Mrs Buy told me that, at the time of their death, they were living at New Town. They are not on the memorial to those that fell in WW1 from the parish of St Leonard's, but they could be commemorated somewhere else. She has lots of information on her two uncles including some poems they wrote.
++++++++++++++++
In Memory of
Second Lieutenant
2nd Bn., West Yorkshire Regt. (Prince of Wales's Own)
who died on
Thursday, 16th August 1917. Age 26.
Additional Information: Son of George and Sarah Whelan; husband of Edith Gladys Whelan, of 6, Lisle Rd., Colchester.
Commemorative Information
Memorial: TYNE COT MEMORIAL, Zonnebeke, West-Vlaanderen, Belgium
Grave Reference/ Panel Number: Panel 42 to 47 and 162
Location: The Tyne Cot Memorial to the Missing forms the north-eastern boundary of Tyne Cot Cemetery, which is located 9 kilometres north east of Ieper town centre, on the Tynecotstraat, a road leading from the Zonnebeekseweg (N332).
Historical Information: A description of the Memorial and an account of the military operations in the Ypres Salient is contained in a separate Introductory part to the Registers.
++++++++++++++++++++++
back to the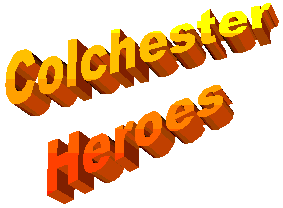 Main Page