C.
Let us next take a look at our many murals, bas reliefs, etc.
below A pair of bas relief sculptures that were taken away from the old theatre, Albert Hall as was, in High Street, now (2013) the Co-op Bank. Artist unknown. These two sculptures are (we believe) depictions of the Greek goddess Demeter (known by the Romans as Ceres) and were intended to represent ancient and modern agriculture. They may have been made to designs by Raphael Brandon. Demeter was the sister of Zeus. Her name means "barley-mother" or "mother earth" and goddess of fertility. Sacred to her are livestock and agricultural products (with the emphasis on corn), poppy, narcissus and the crane. In the left hand sculpture she holds a spade. She is holding on to a tree of some sort. There is also a ring of various signs of the zodiac. In the right hand sculpture she holds a sickle and a sheaf of corn. An elaborate vine is also depicted.
1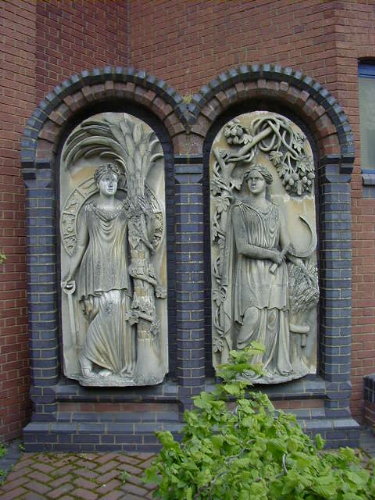 below Something like 17 murals were created by artists Henry Collins and Joyce Pallot in the 1970s and located in various underpasses that were built during the development of Southway. This one to mark the nearby site of the Crouched Friars friary in what we now know as Crouch Street.
2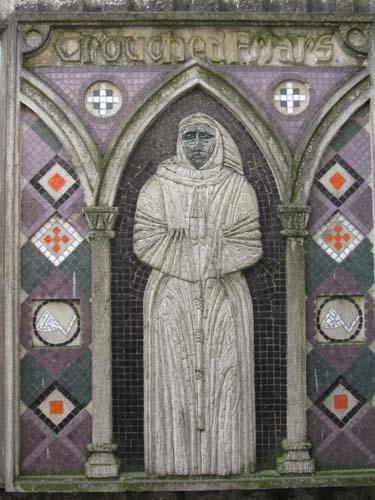 below Marcus Favonius Facilis, a 1st century AD Roman centurion who tombstone was discovered by archaeologists and is now in the castle.
3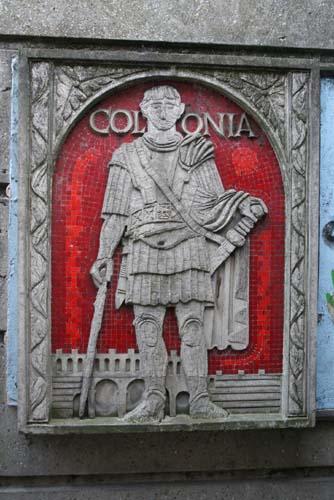 below Eudo Dapifer, steward to William the Conqueror and responsible for the building of Colchester Castle and other structures.
4
below Tiberius Claudius Caesar Augustus, also known as the Emperor Claudius who ordered the invasion of Britain in AD 43.
5
below A block of sculptures depicting one of the many gold coins minted by Cunobelin, king of the Trinovanties around AD 30, a medallion to the Emperor Claudius, a copy of a medieval seal showing a trading ship and an oyster. Note also the juxtaposition of the green tag placed there by some oik!
6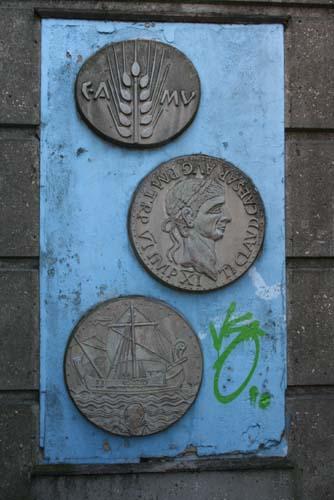 below A further display of these Colchester specific emblems, with the far left depicting our two twin towns (as was the case when it was placed there) of Wetzlar in Germany and Avignon in France. Note the highly polished mirror above to give warning of footpads around the corner, waiting to pounce on a weary pedestrian.
7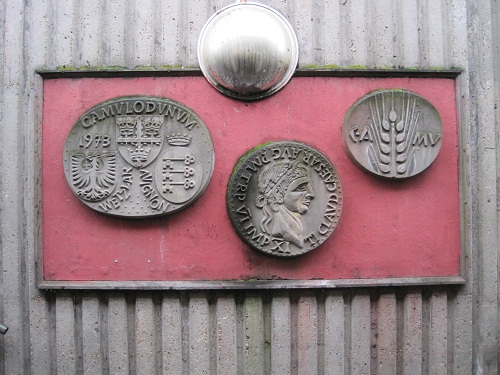 below A close up of our twinning seal.
8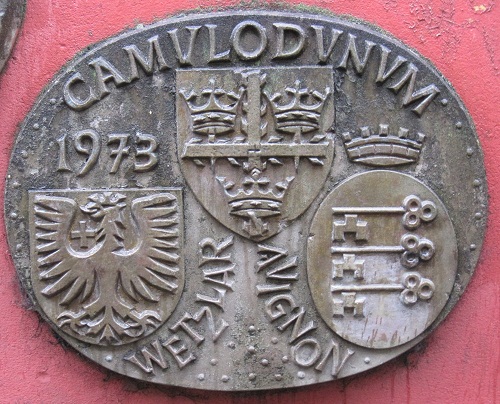 below A few years later, further mural sculptures were installed on the wall of the Sainsbury's store in Priory Walk??? by Henry and Joyce Collins.
9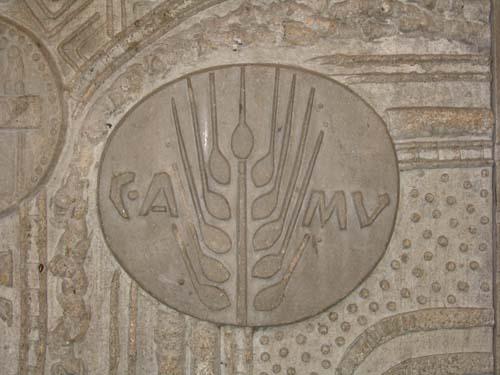 10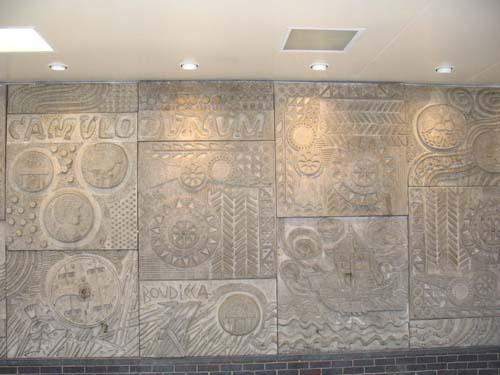 below Again, in 2012, these murals were added to the wall of 15 Queen Street with official backing. A firstsite article was produced as follows:
Three concrete panels, made by Joyce Pallot and Henry Collins were originally made for Colchester's BHS frontage in 1976. They were removed during redevelopment of the Lion Walk Shopping Centre in 2009 and firstsite took this opportunity to restore the panels and locate a new home for them, here, at 15 Queen Street.
Pallot and Collins met at Colchester Art School in 1932. They began working together on public art commissions in 1948, and completed over 60 in the UK. Their pioneering partnership lasted over 62 years. The technical drawing skills of Collins, and Pallot's rigorous research into each site and commission, combined to form a unique talent.
In their hometown of Colchester, examples of their work can still be seen in the underpasses along Southway, and the 1969 work made for the central Sainsbury's store frontage. This was the first in a long series of murals for the firm, and led the way for commissions by other companies including BHS. The Sainsbury's mural is unique in its creation through collaboration because the artists worked with two Colchester companies, architectural practice Stanley Bragg and building firm Huttons.
For each new commission the couple would extensively research into the history of each place, incorporating events and figures of local significance into their designs; a sun symbol was designed and used exclusively in all the murals for Sainsbury's and a basket of produce for BHS.
Skillington Workshop were commissioned by firstsite to restore the panels now on display. We'd like to thank Simon Nadin and Paul Wooles for the sterling job! They took about a week, cleaning and performing minor repairs to the concrete. We heard them tapping and drilling away to fix the angle iron frames to the outer wall.
This one of a farming and harvesting theme.
11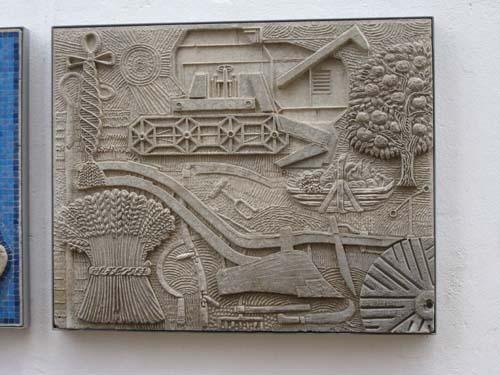 below Food and drink themed.
12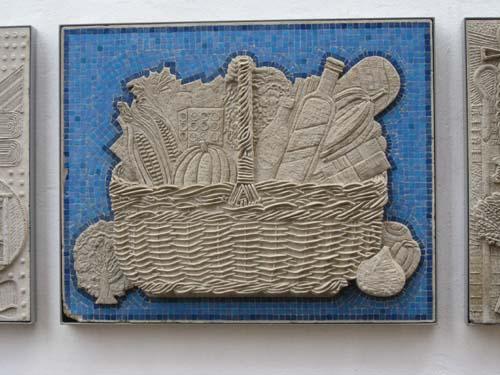 below Spinning and weaving themed.
13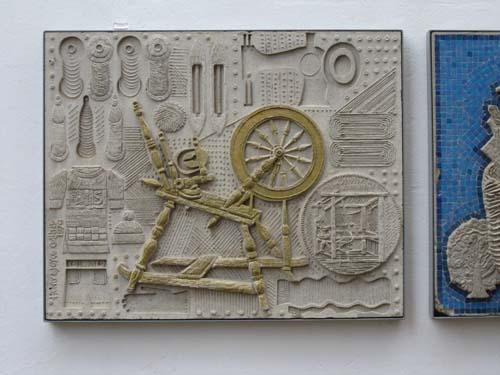 below In 2012, a big drive to smarten up the Hythe resulted in several pieces of art added to the uninspiring architecture of the area. This one created by Firstsite.
14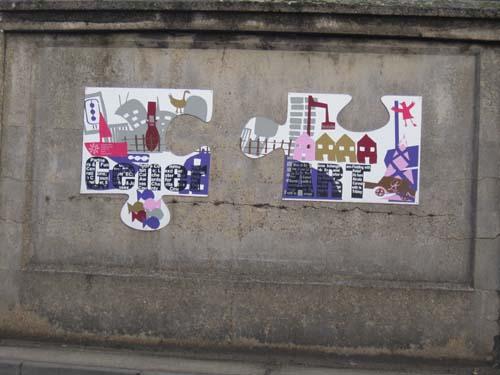 15