DAY 1 140515
Thursday - Up and to the work of packing the bike and heading for France. After a short episode of a missing Daisy and putting her in the downstairs loo to reflect on her error, we said our goodbyes to the dogs and to Chloe who had just arrived and we headed off at a apace as we were running a little late. A good run down with a little wetness, as predicted by the forecasters. Arrived with 3 minutes to spare at Eurotunnel and got our card and on to the train with three other bikes and many cars. On the other side it was still wet and we headed south as directed by GPS. The weather went from bad to worse, absolutely torrential rain. We opted back to autoroute to find a restaurant and arrived there soaking wet, with many other bikers in the same condition. Then, after baguette and coffee, we set off again in the rain. After a short while we stopped for fuel - and the problems began. Fuel gushing out from a pipe under the bike. What to do? Rang the office to get insure number, then Sean Davies for advice. The problem was clearly associated with the fuel filler vent or drain under the filler cap. Sean suggested we drain the tank a little and try again. After a delay of over an hour we decided to take a chance. We had breakdown cover so we would be OK if things went badly. We arrived at our destination around 7.30pm and had a huge welcome from our French friends. A real special welcome. I explained our problem and, within, minutes, Didier (Varabien) was there in his white paper overalls and toolkit. He knew the problem - a blocked pipe. In fact, Sean had identified this possibility a couple of years ago, but with no problem then. Sure enough, with the tank off and lots of banter going on and T bewildered by all this, the pipe was found to be crushed (tuyau ecrase) by the tank - the fault of the English mechanic, we/they all decided, to great agreement all round. Problem resolved within minutes and I was soon able to take the bike up to the top of the mountain where our cabin awaited. Les Caletes, close to Fecamp is where we were. We were sharing with 4 others and it was cosy but rather cramped. We needed fuel and euros so I left T to get herself sorted. Problem. No towels. I set off, now in a much happier mood, in the fast improving weather, sunshine and dry roads, to find fuel and money. Both found at Fecamp. When I got back, eventually, I was greeted with applause by a packed restaurant. T was on a table with old friends Christoph and Natalie from Pau, and a couple from Belgium who we knew.Also Eric and Ann-Gro from Norway, their first French meeting. I wasn't very hungry but I was able to enjoy the tail end of the meal and a beer from Didier and the 'a volonte' wine. We were the last in the dining hall, talking English with the Norwegians. All the others had gone to bed. Lightweights! Another problem - our GPS is buggered!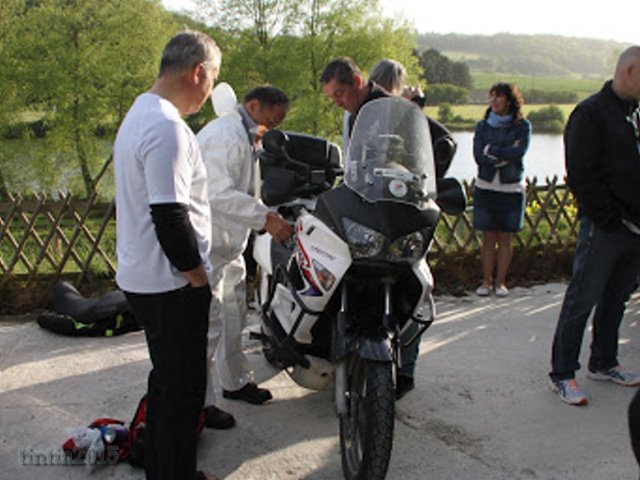 Didier to the rescue.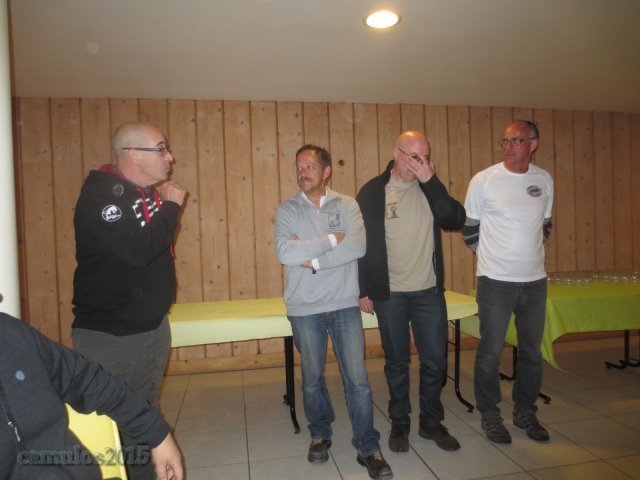 Jacques addresses us, with Didier (Varabien), Sebastien (Skybike) and Pascal ready to add to the information about the forthcoming activities.
DAY 2 150515
Friday - Bad cramp in the leg during the night, plus a bed that collapses very easily, the slats fall out. As we are in the common space (le salon) we felt that we should get up first, at 6.30am. We are sharing with Alain (Alubat) and Aicha, David and Ticia. Down to a breakfast of coffee in a bowl, orange juice, baguettes with butter and jam. Perfect. Then to the task of getting ready to go, on the bike at 8.30am and away by 9.00am. A little drizzle at first but no problem. As the day went on the weather became excellent. We did a lot of small roads and visited a Bison farm.
All quite unexpected, we soon found ourselves herded onto two trucks, with seats for passengers, and off we went across the fields, along deeply rutted tracks and a very bumpy ride. We entered a field and got our first sight of bison. Amazing sight. There were two truck drivers, but the lead one was clearly the boss. The vehicles stopped close to a group of perhaps five bison and he got out and started to tell us about the bison. It turned out that this guy was absolutely amazing. He had all of us in stitches. He got Perceval out and got him kneeling on the ground and then using him to demonstrate the physical attributes of the bison, how it is a pre-history beast, how it has survived in +50 to -50 temperatures, how the males score with the females, etc. Then he went on about the way they mated, how women would be so impressed, the size of the penis, the testicles, etc. Absolutely hilarious and we don't even speak French. His actions and facial expressions said it all. Then off to find some more and the next field had a lot more in it, mainly pregnant females. He pointed out that one was actually giving birth. So we stooped and watched, fascinated. Then off again and as we came around, it was pointed out that the baby bison had been born and his mother was cleaning it and nudging it into action. Her afterbirth was hanging out and the baby was covered in wetness. Amazing sight. Then off on our bumpy ride again only to find hundreds of the beasts scattered all over. They clearly choose to stay in certain places and keep away from birthing mothers. Why is that? Then we entered another field and the gate had to be closed after us, only to find a herd of deer, some males with their early stage antlers forming, with the velvet appearance. Our guide was even more entertaining with telling us about the sexual habits of these beasts. His expressions about females giving the boys the come on was, again, hilarious. Back to the base and we were allowed to use an upstairs room to have our picnic, with a free sample of bison meat and a free drink brought to us. We reckoned the meat was bison testicles. We sta with Christoph and Natalie, the two Norwegians and another French couple. By now the weather was really improving. We set off again riding some lovely roads, seeing the new crops coming, the lovely churches that they have, small villages and their lovely houses. We stopped in Dieppe to view the sea and beach from a high point and then drove further on for a stop at the beach. We watched with interest a hang glider who was flying close to us waiting for his mate to get airborne. Try as he might, he could not get the wing to lift him. Too many pies we thought. So back homewards and we left the others at the Chateau de Sissy, to make our own way to Fecamp to get petrol ready for tomorrow's jaunt. Lovely, sunny and warm. T was impressed that I knew where I was going, especially as we have no GPS now. Back to Les Catelets and drove T to the top to our Pam cabin. She is frightened of the bike on hills and was going to walk up. It is a hard walk and we have snakes here. Sat outside our cabin and wrote this, whilst looking out from the top of the hill at an amazing landscape of trees, blue sky and a lake below. Now to try to get my hair washed. It is getting long and I am using a hairband now. A big girl. We must wait our turn for the shower and later, a beer. To dinner, with a beer to start. Same table as last night but, this time with Didier and Sylviane. A regional menu of fish soup with croutons and grated cheese to start, followed by a dish of fish in a sauce with onions, and mashed potato. Very tasty. Then the cheese course of Camembert followed by apple tart and lots of wine. They did the tombola and we won a hard cheese. The others set about some drinking but we stayed out of it. No sore heads tomorrow please. And so to bed.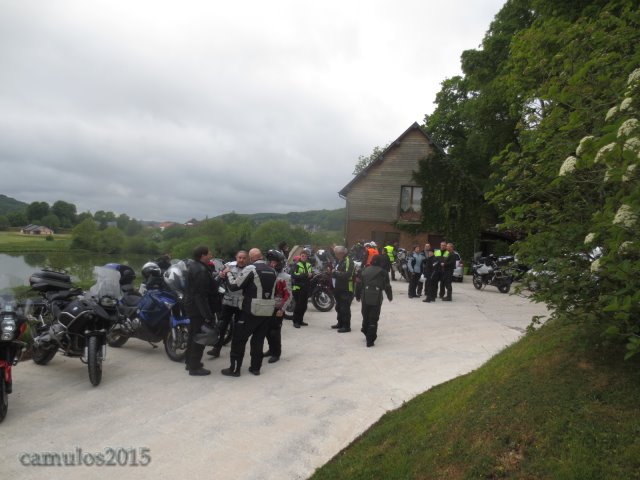 Getting ready to set off.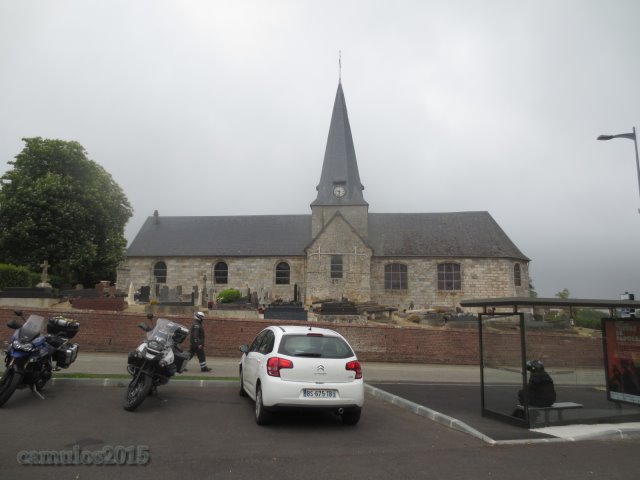 We stopped in a village where there is a memorial to one of France's famous sons of entertainment. I did not write down his name. Help!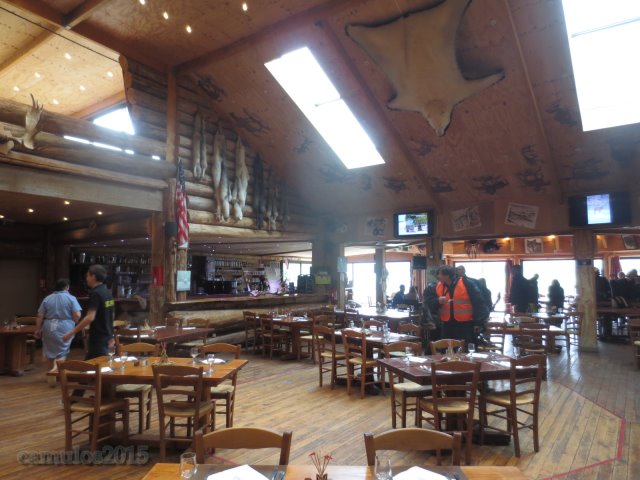 A surprise! We were taken to an interesting looking place, which we assumed would be for the typical 'pause cafe'. But no. This was a wild west theme park. We went inside to have a look around and to see all the American themed exhibits in this huge eating place. No coffee! Sometimes it is good to be a foreigner, as we had no idea what was to come.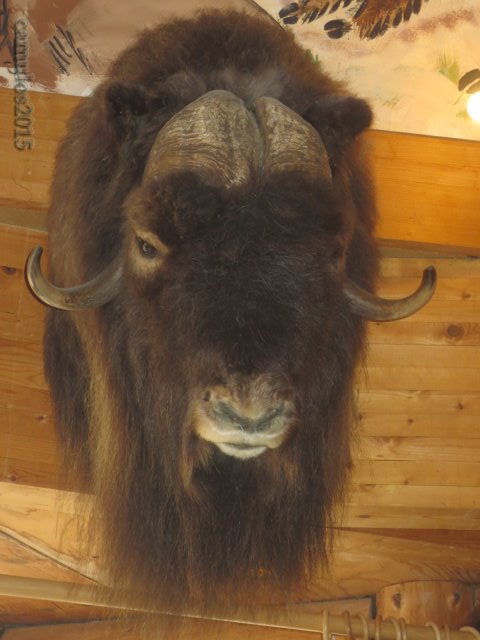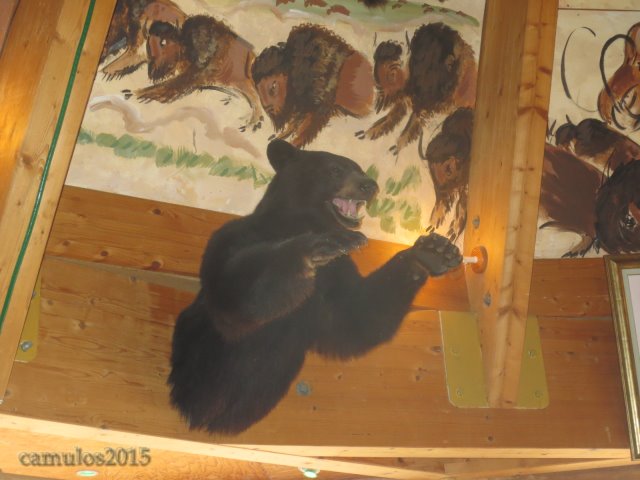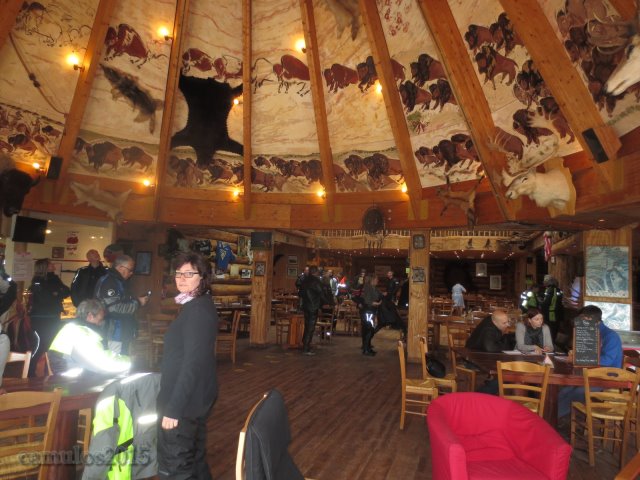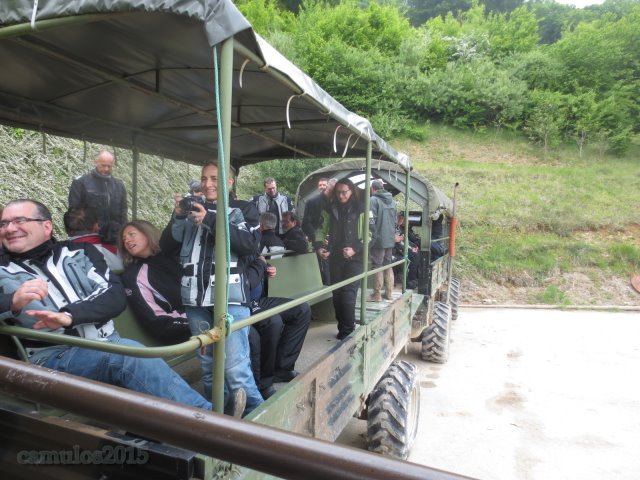 Quite by surprise, we found ourselves being taken an loaded onto trucks, for a journey someplace.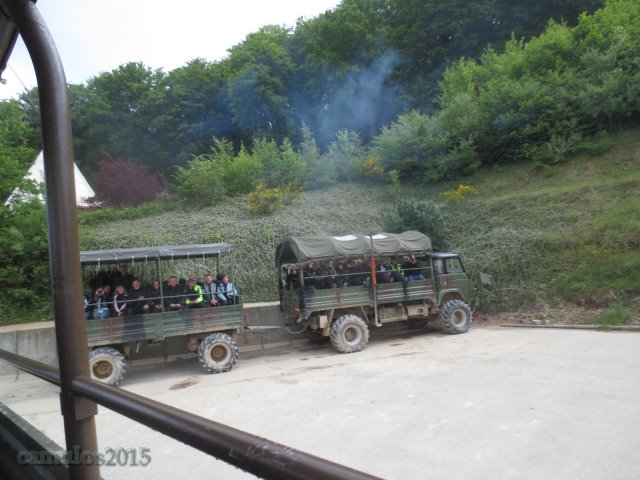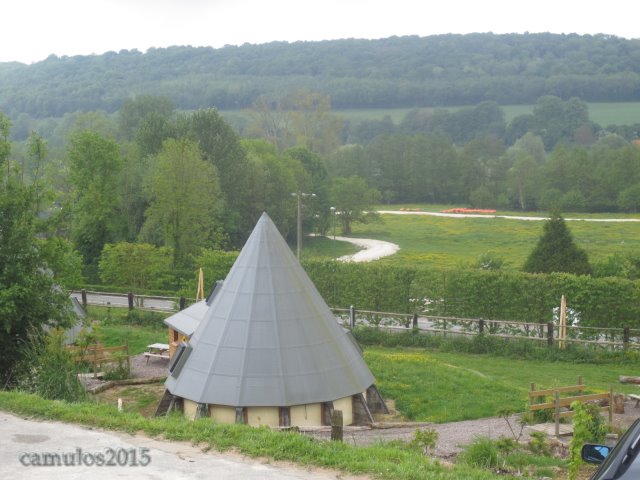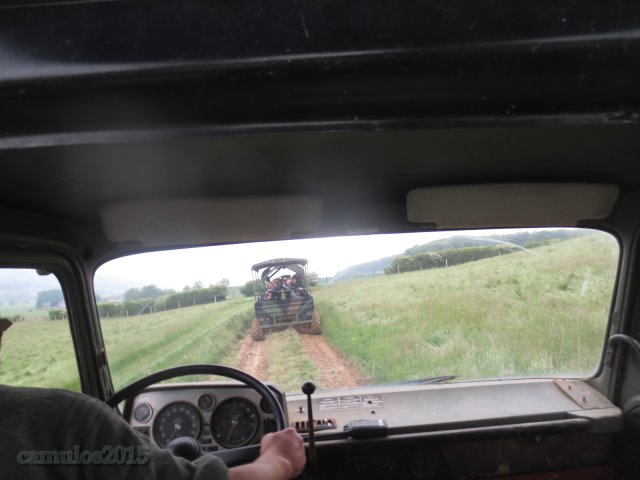 Bump, bump, bump, across some fields we went, until we realised that we were going to see some bison.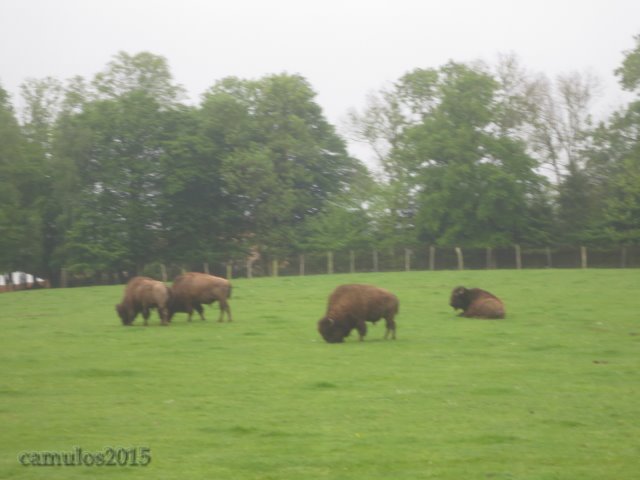 I got the gist that these were castrated males and that they tended to stay together for preference.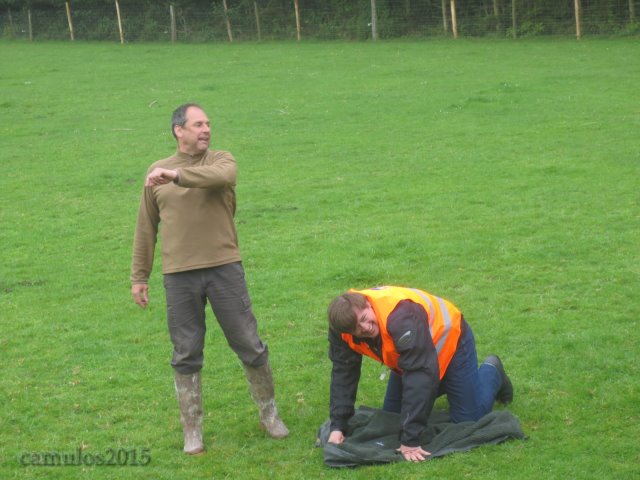 Our guide got down and started to tell us about the bison and invited one of us to assist him. The volunteer was Perceval. Onto his knees he was placed, followed by some hilarious antics by both men. Alubat's YouTube video captured some of it. Our guide was a supreme comedian. Perceval was the butt of his jokes. He played his part well.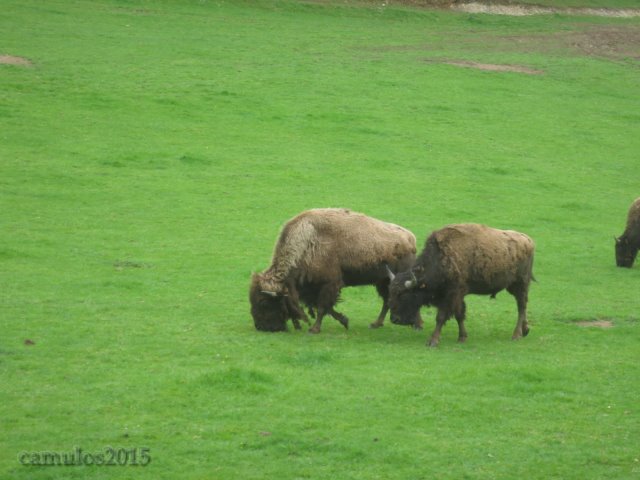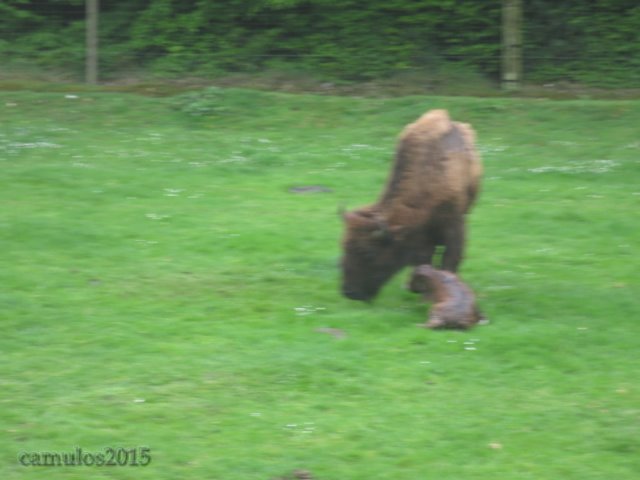 As we were driven around, quite by chance, our guide noticed that one of the females was giving birth. So we stopped and waited and watched this wonder of nature. A new baby bison had arrived.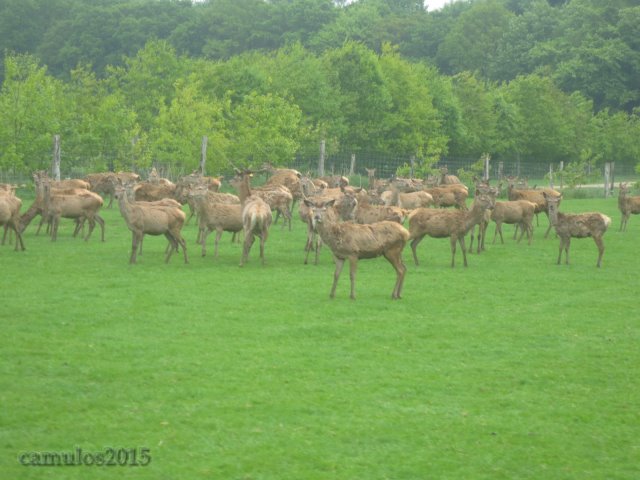 A few fields along we saw another source of income for this farm, a herd of deer. This, our guide also told us about, how they shed their antlers, etc. A wonderful sight!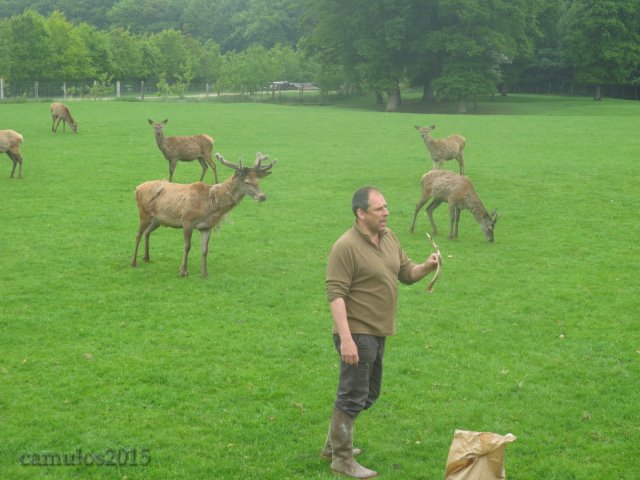 DAY 3 160515
Saturday - Up at 7, aware that I had been snoring. Quite moist outside but not raining. To breakfast as yesterday and then to get on the bike ready to ride. We all set off 'en masse' for another mystery ride. Lots of small road riding taking in the scenery. A 1200 year old oak tree made into a shrine. Then a stop for coffee where there was an amazing miniature husky dog that looked like its owner. We stopped around midday at a town square and we were allowed to eat our picnic in a brasserie where we had another coffee. Then on along the Seine, seeing some beautiful countryside with a particular style of house, later some thatched with irises growing on the apex. We took a ferry across the Seine. Went up to high point that overlooked the Seine delta. Honfleur was a place shown, a place I know from Captain John Jeffcott. Then on through a forest with lots of lovely little villages. We headed north and went through a honeypot seaside town Etretat where there were thousands of people and vehicles milling around. We went up to a high point and enjoyed amazing views of the beaches below. Then headed back and T delighted that she was first into the shower ahead of Aicha, who looked a little grumpy about it. I set to work outside in the sunshine downloading route maps onto the Garmin 500 that we have borrowed from Christophe. Also our photos. And so to dinner. We joined Christophe and Natalie again, with Erik and Ann-Gro, this time with Swing and Toni Montiel, both English speakers. We had rolled ham and vegetable stuffing thing for starter, followed by a chicken quarter and sauce with mixed vegetables. Pudding was a yogurt type cream that you needed to add sugar for sweetness. This followed by speeches and drinking and various dubious alcoholic beverages were exchanged, requiring 'cul-sec' to drink them. Apparently, dry-arse is the act of downing in one. The end of a superb day and a climb up to the top of the hill to our cabin.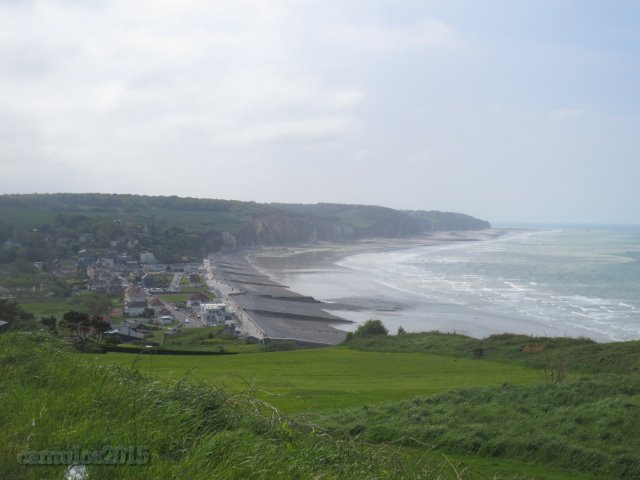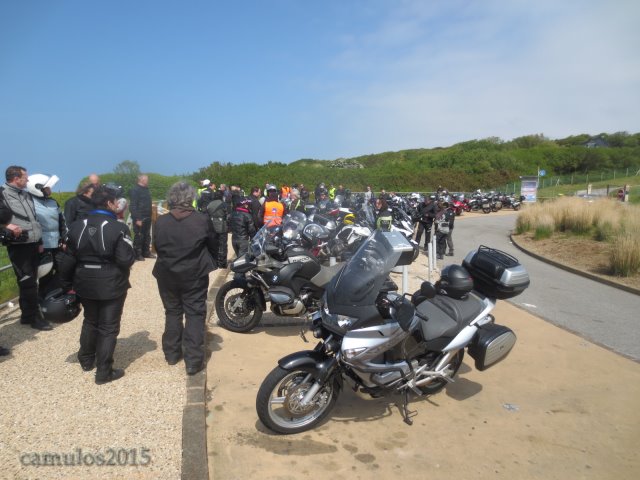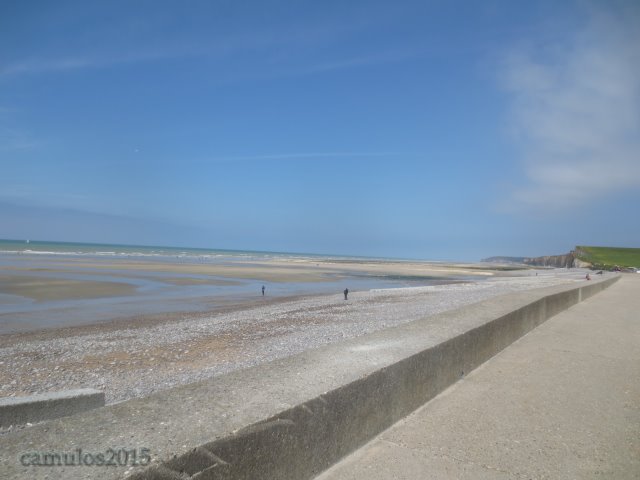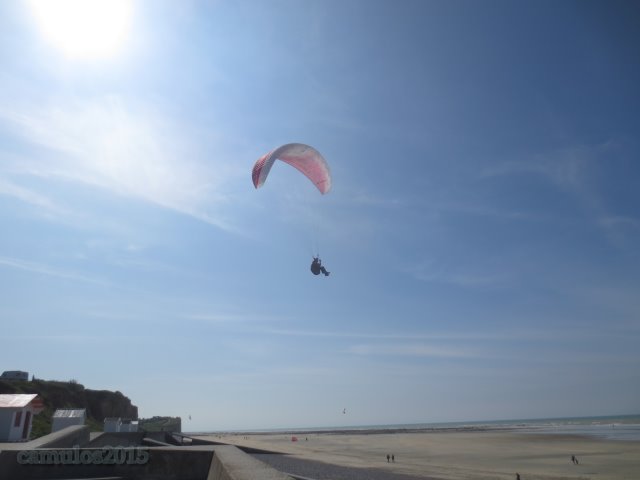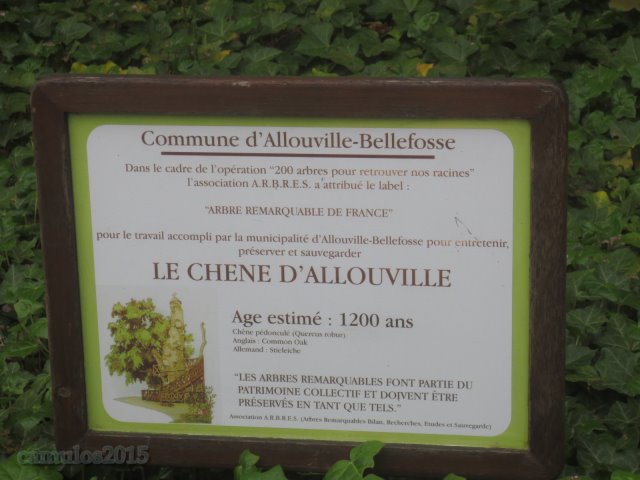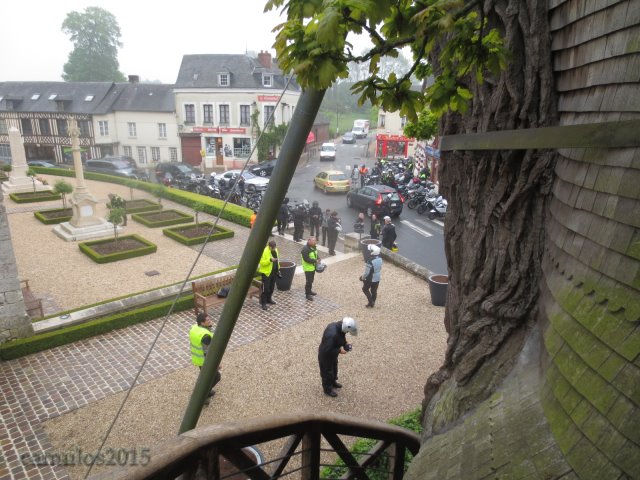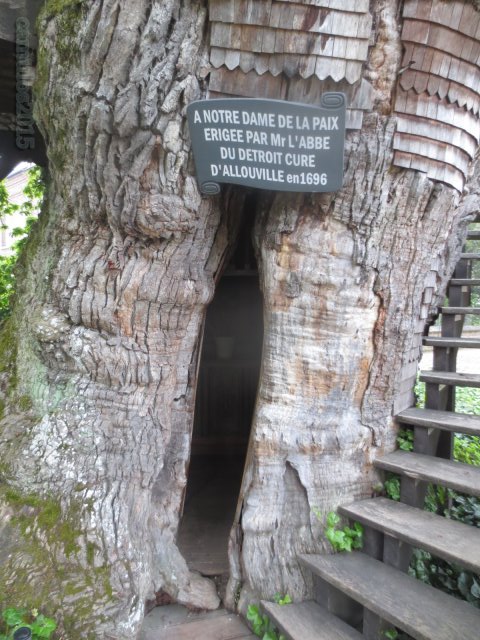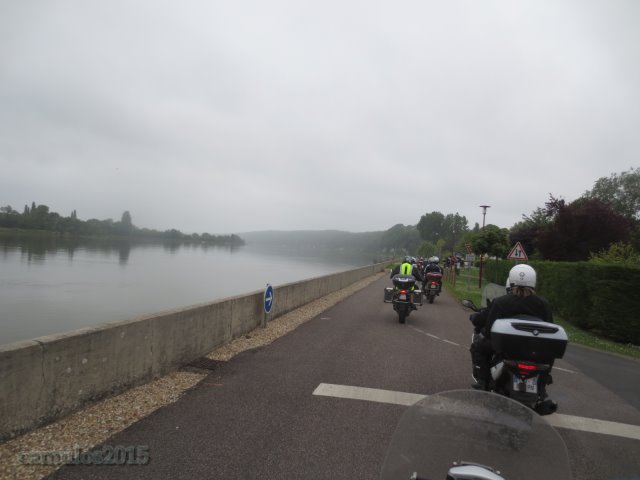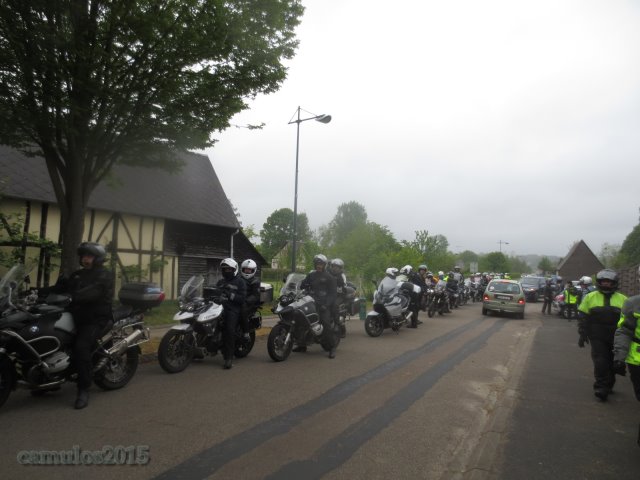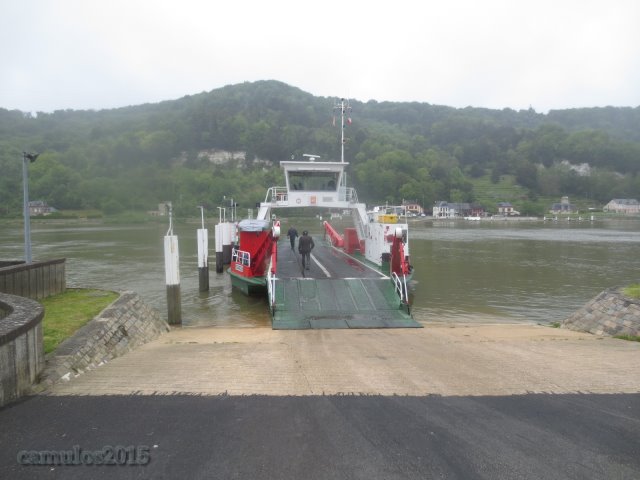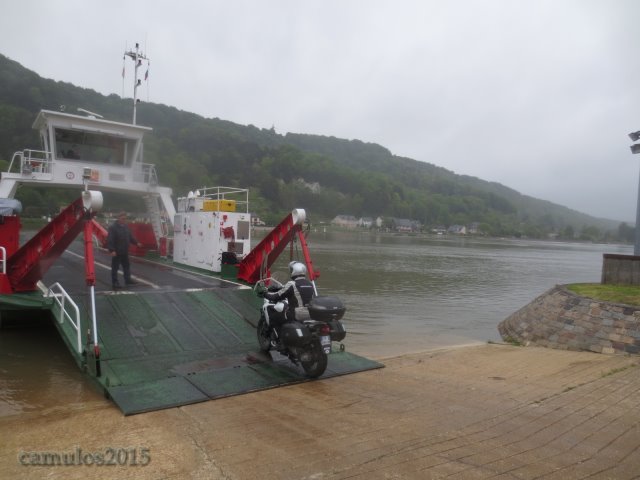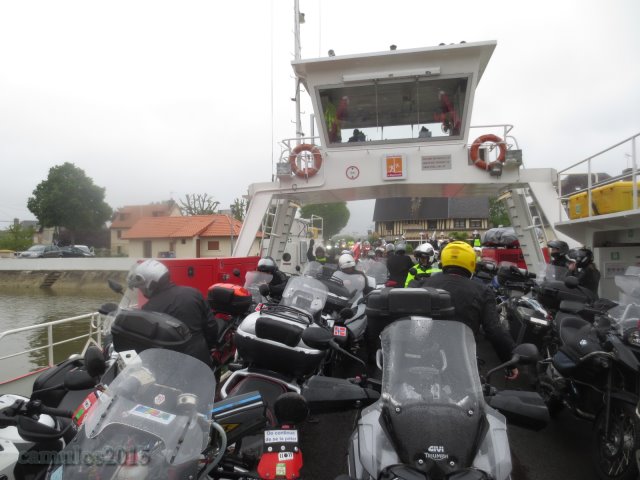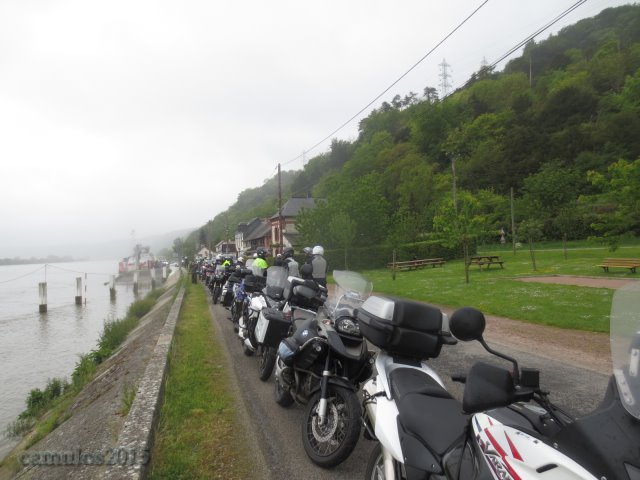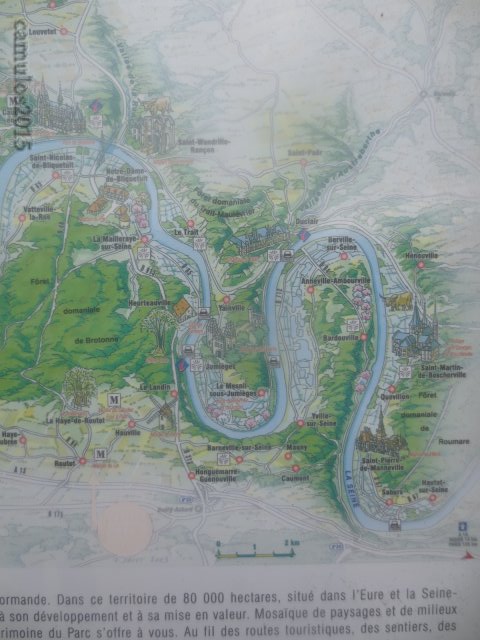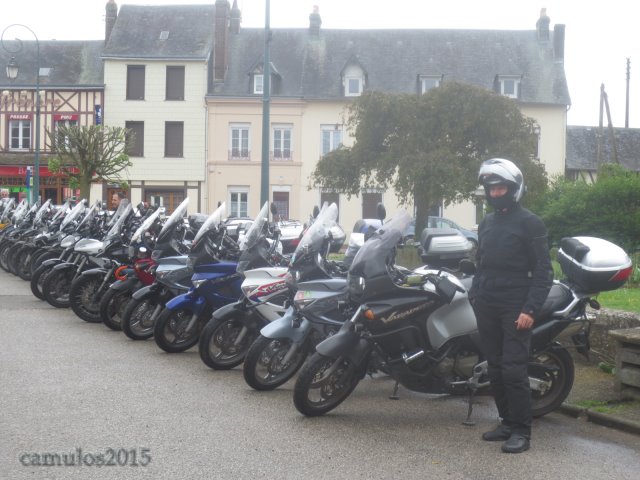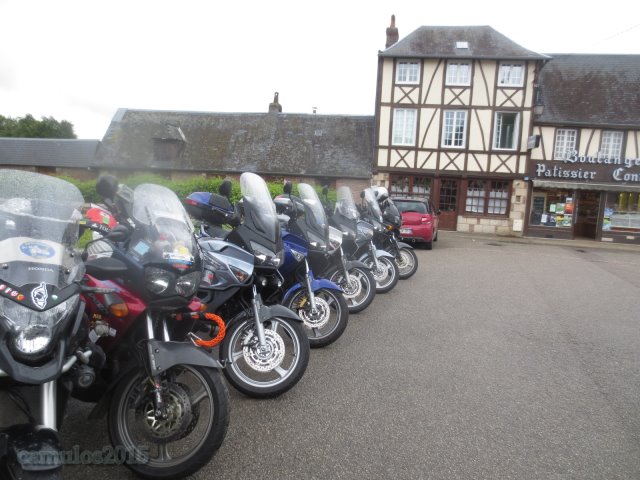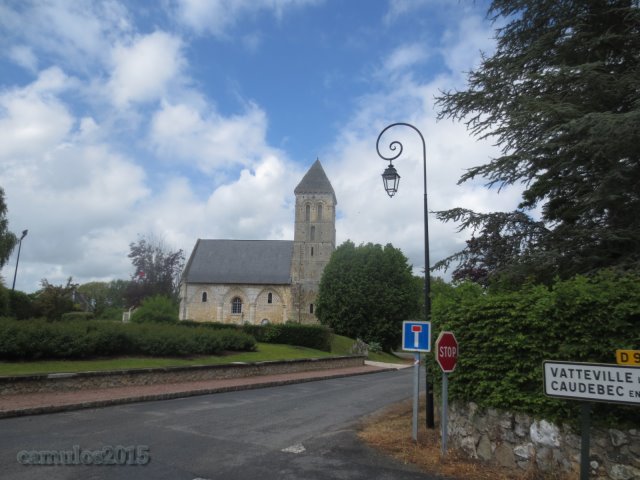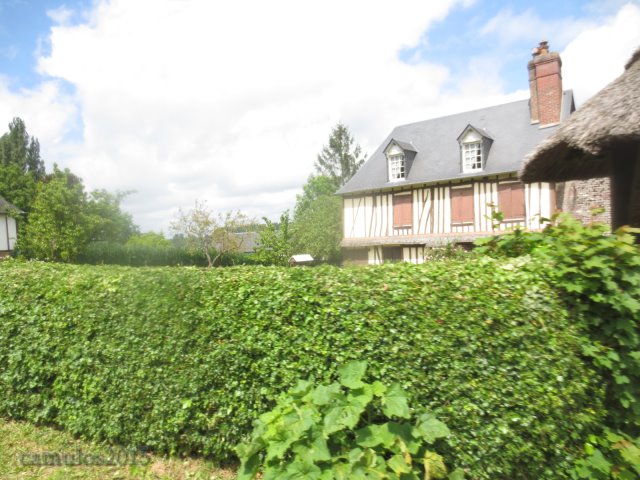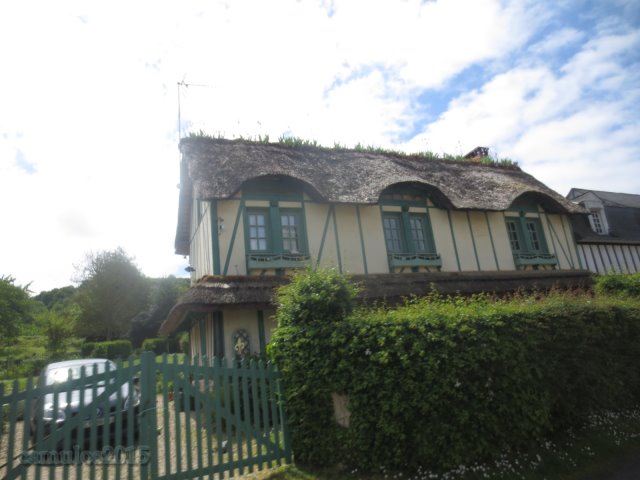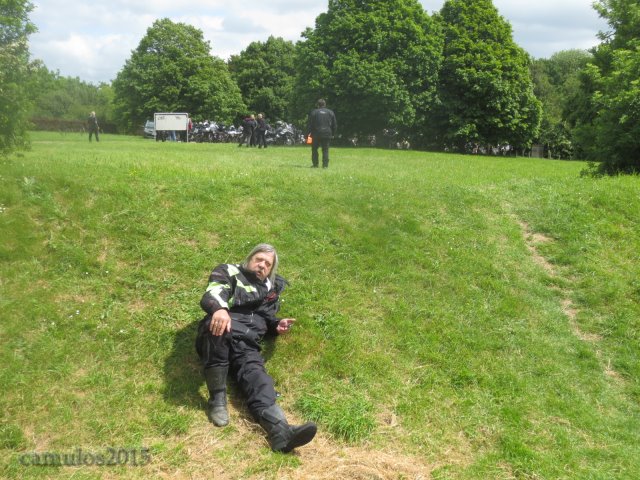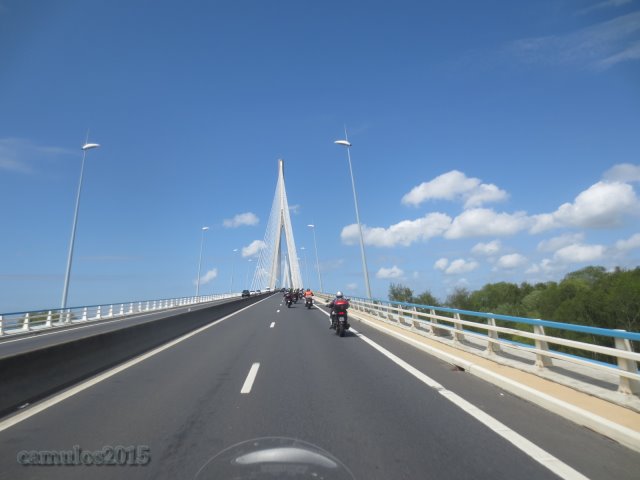 Le Pont de Normandie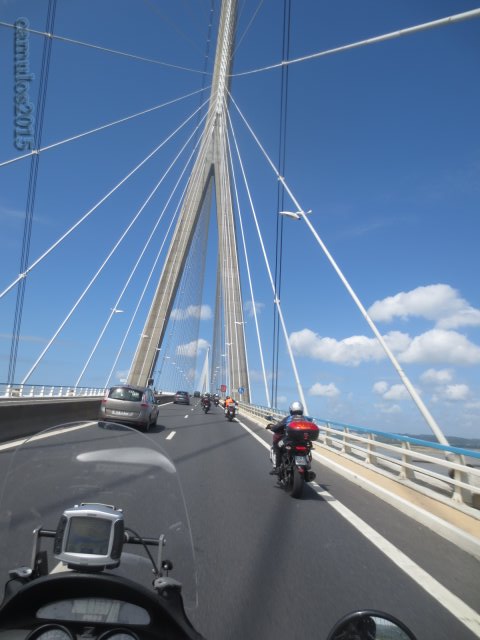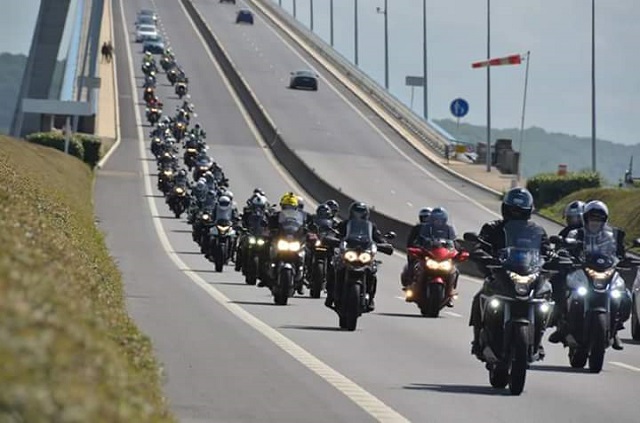 A picture taken by the organisers of our traverse of the Pont de Normandie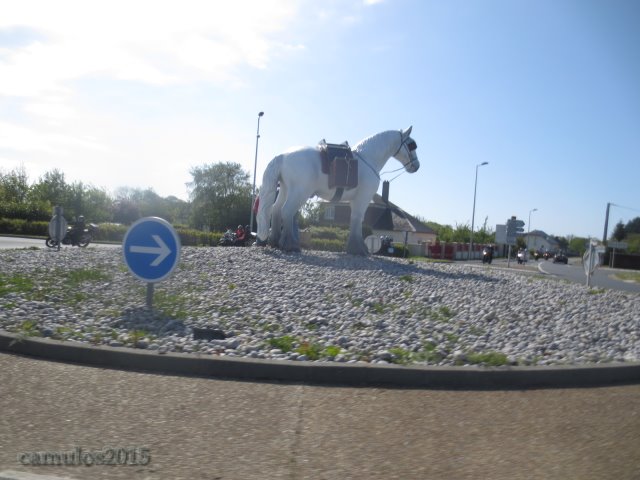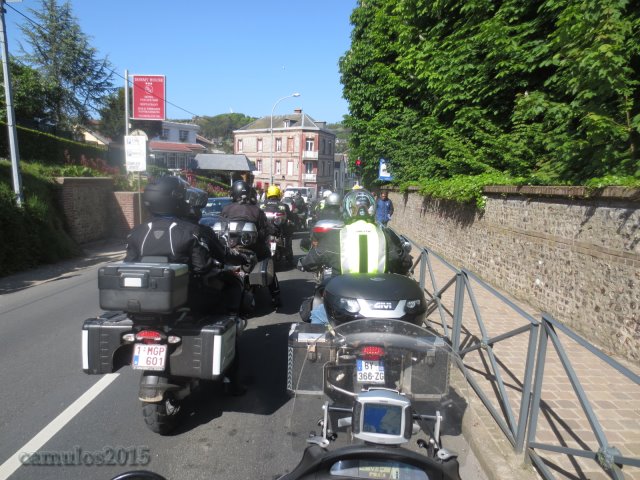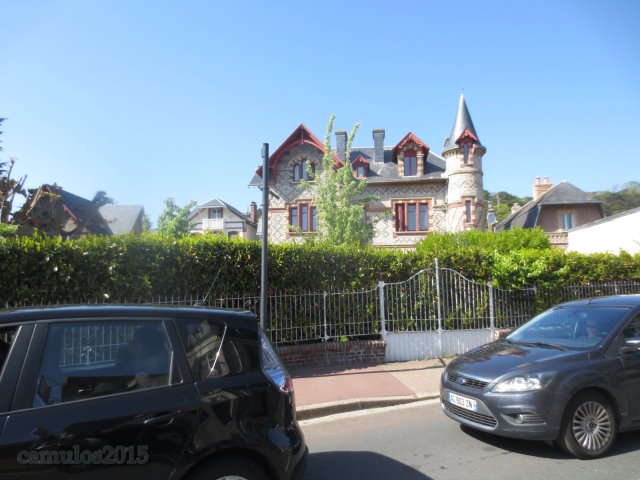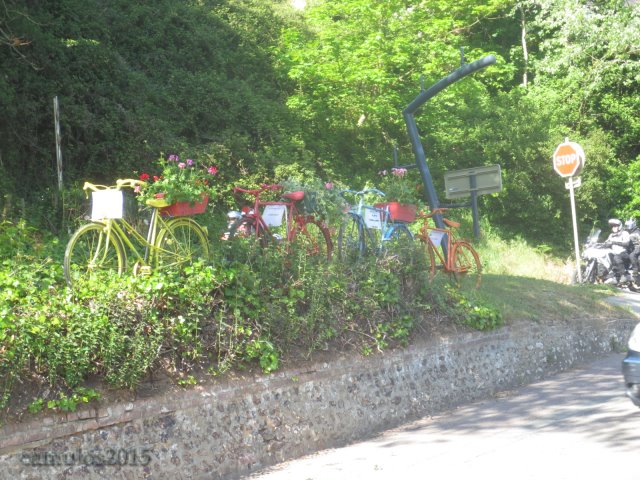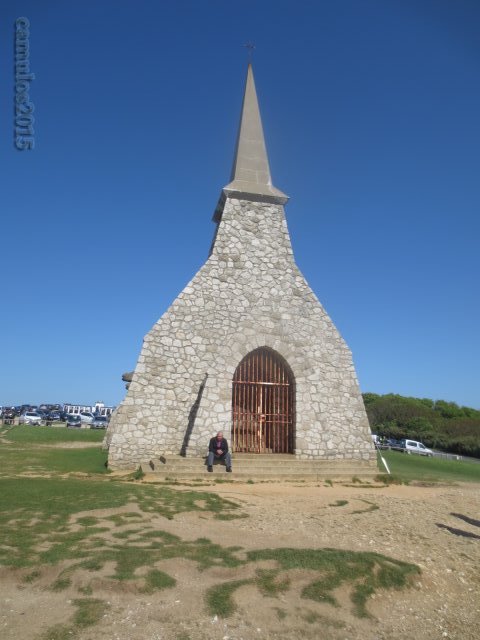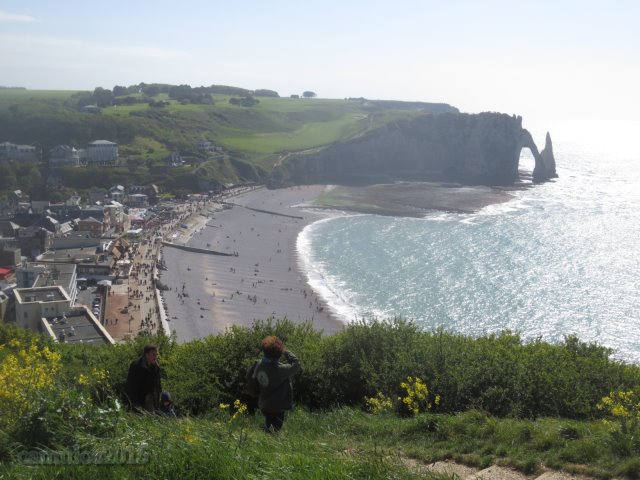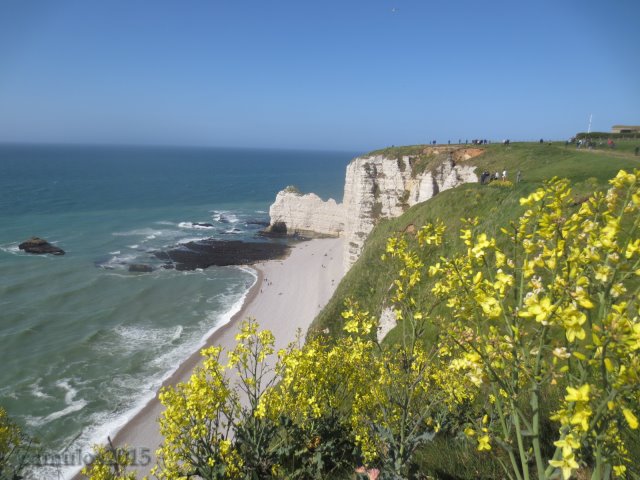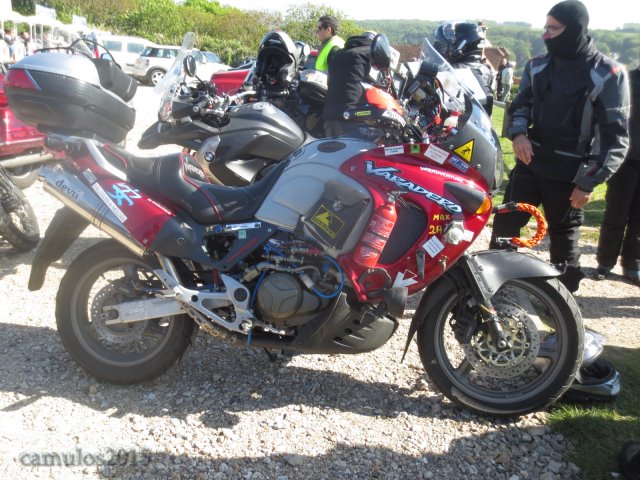 The remarkable Varadero of Didier, my hero (because he came to my resue and mended my bike for me and because he has mellowed with his previous rejection of speaking English and because he is a great bloke, full of fun and mischief).