VaraMassembre 2018 (France)
Jess' (le seul anglais) Account
(en anglais)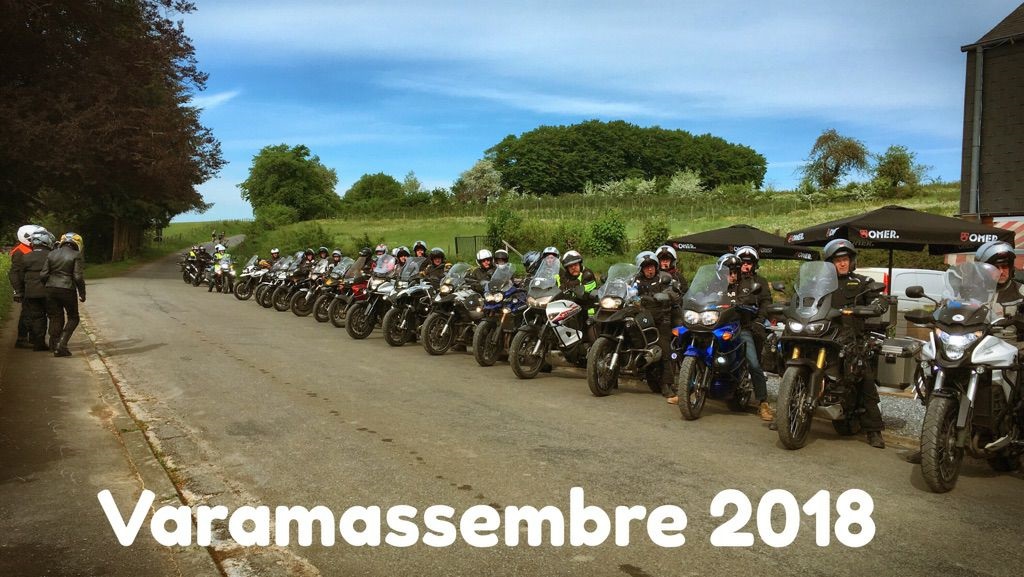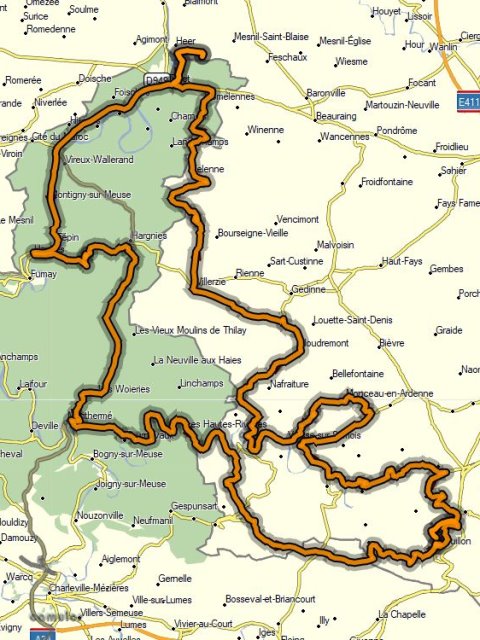 Wednesday 9th May 2018 - I set off at 10am, waving goodbye to my wife Theresa and our three dogs, eager to get on with my great adventure. Lst year, the meeting was in the Tarn, only a small distance to ride. This time it was some 100km to the north, over the border and into Belgium. Bram, Carcassonne, Narbonne, Montpelier, Lyon, Dijon. Arrrived at the Ibis hotel in Dijon with 425 miles travelled. Weather fair but a storm brewing. It rained quite heavily later and during the night.

Mercredi 9 mai 2018 - Je suis parti à 10h du matin, saluant ma femme Thérèse et nos trois chiens, impatients de poursuivre ma belle aventure. La dernière année, la réunion était dans le Tarn, seulement une petite distance à rouler. Cette fois, il se trouvait à environ 100 km au nord, à la frontière et en Belgique. Bram, Carcassonne, Narbonne, Montpelier, Lyon, Dijon. Arrivée à l'hôtel Ibis de Dijon avec 425 miles parcourus. Météo juste mais une tempête se prépare. Il a plu beaucoup plus tard et pendant la nuit.

Thursday 10th May 2018 - Roads drying up and weather looking good. Dijon, Reims, Ardennes, stopping to have a brief look around Charleville, but most shops closed as it was a Thursday. Stopped at Woinic to visit the sanglier. Then on to find Massembre, arriving at 5.30pm to the welcoming committee. My room was a dormitory of eight bunk beds and a washroom and I had it all to myself. Got unpacked and changed into my shorts and then to the bar to find where the beer was at. Had some interesting conversations and said my hellos to people there and new ones arriving. Quite stressful as usual, as I needed to speak French and only French. Then we all wandered up to the main block for our welcome speeches and then dinner. All was good. Around 40 people, 30 bikes. A nice dinner was served and plenty of wine available.

Jeudi 10 mai 2018 - Les routes se dessèchent et la météo semble bonne. Dijon, Reims, Ardennes, s'arrêtant pour jeter un coup d'oeil autour de Charleville, mais la plupart des magasins fermés comme c'était un jeudi. J'ai arrêté à Woinic pour visiter le plus grand sanglier au monde. Ensuite, pour trouver Massembre, arriver à 17h30 et j'ai trouvé un comité d'accueil. Ma chambre était un dortoir de huit lits superposés et une salle de bain et j'avais tout pour moi. J'ai déballé et changé en mon short et ensuite allé au bar pour trouver où se trouve la bière. J'ai eu des conversations intéressantes et dit bonjour aux gens là-bas, et de nouveaux arrivés. Assez stressant comme d'habitude, car je devais parler français - et seulement français !!!! Ensuite, nous sommes tous allés au bloc principal pour nos discours de bienvenue et ensuite nous avons dîné. Tout était bien. Environ 40 personnes, 30 motos. Un bon dîner a été servi et beaucoup de vin était disponible.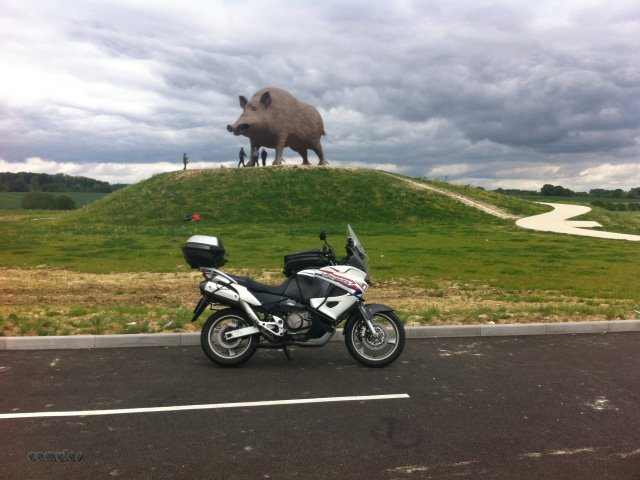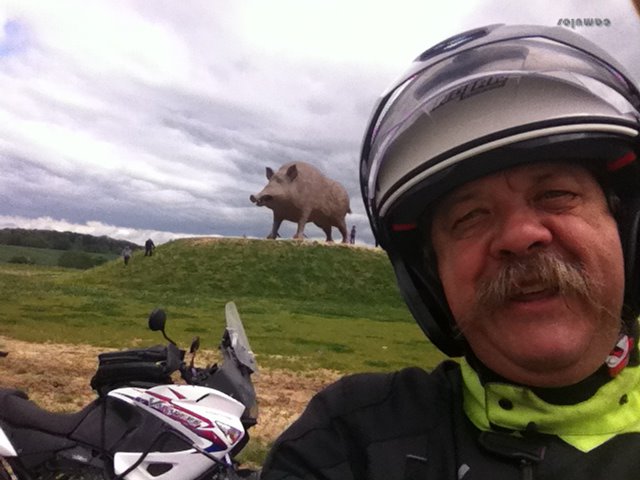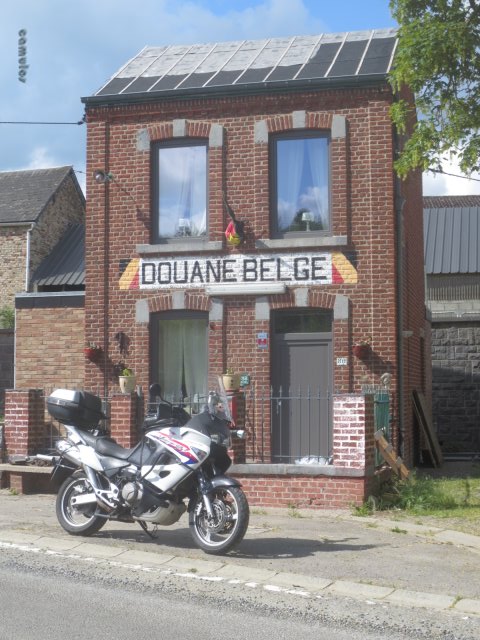 The bar, together with some Highland Cattle.
Le bar, avec quelques vaches Highland.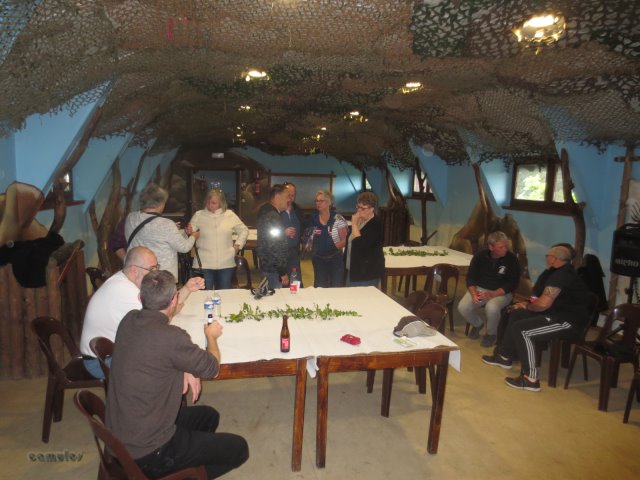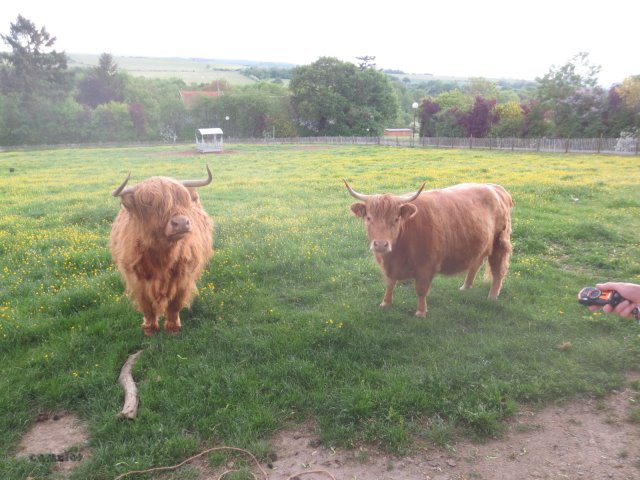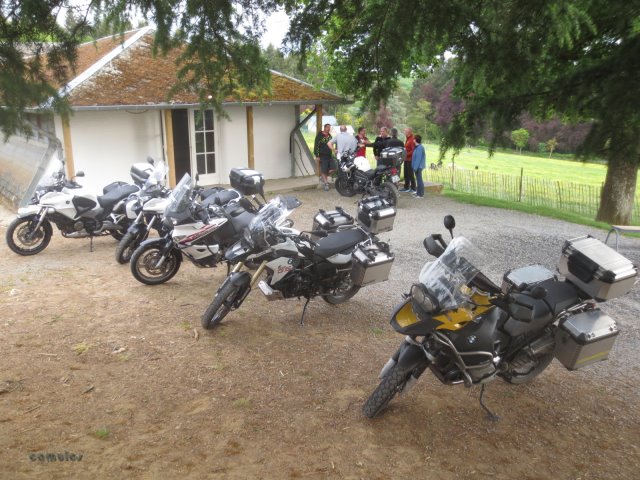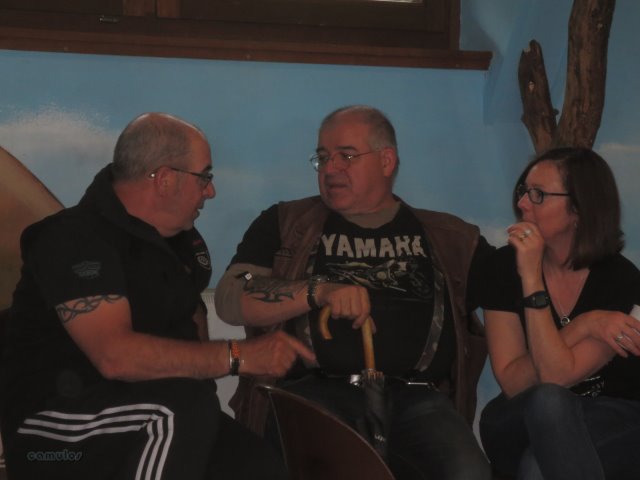 Jacques Segret (Le Chef) welcomed us all and introduced the organising team.
Jacques Segret (Le Chef) nous a tous accueillis et nous a présenté l'équipe organisatrice.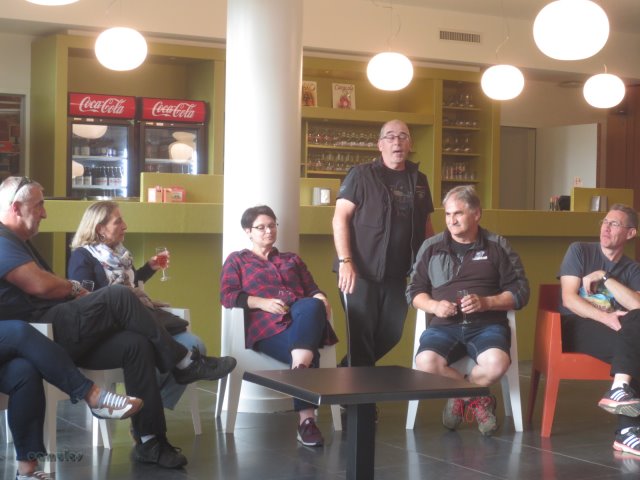 Friday 11th May 2018 - 7.15am for breakfast and 8.30am we were to be away on our road trip. Nice sunny day. Into France and back into Belgium. Lots of riding on good roads in the forest, visiting Bouillon Castle where we all went in to have a look around and were delighted with a birds of prey display. The usual stops for coffee and cigarettes. Had a rest when we got back and then to the bar for the repeat performance of last night. Another excellent meal, chicken in a mushroom sauce, cauliflower, dauphinoise potatoes, etc. sitting with Sebastien Poisson and my new friend Olivier from Le Touquet. More beer in the bar afterwards. Lots of happy chat sitting outside in the warm heat of the evening.

Vendredi 11 mai 2018 - 7h15 pour le petit déjeuner et 8h30 nous devions partir pour notre voyage de découverte. Belle journée ensoleillée. En France et retour en Belgique. Nous avons eu beaucoup de rouler sur de bonnes routes dans la forêt, en visitant le château de Bouillon où nous sommes tous allés jeter un coup d'œil et nous avons été ravis de voir une exposition des rapaces (les oiseaux de proie). Aussi les 'pauses café' habituels pour le café et les cigarettes. Je me suis reposé quand nous sommes revenus et ensuite je suis allé au bar pour la répétition de la nuit dernière. Un autre excellent repas, poulet dans une sauce aux champignons, chou-fleur, pommes de terre dauphinoise, etc. assis avec Sébastien Poisson et mon nouvel ami Olivier de Le Touquet. Plus de bière dans le bar après. Beaucoup de bonne conversation assis dehors dans la chaleur chaude de la soirée.
Olivier, Jacques (waving), Tintin, Mikko and Christophe from Pau, headed this table.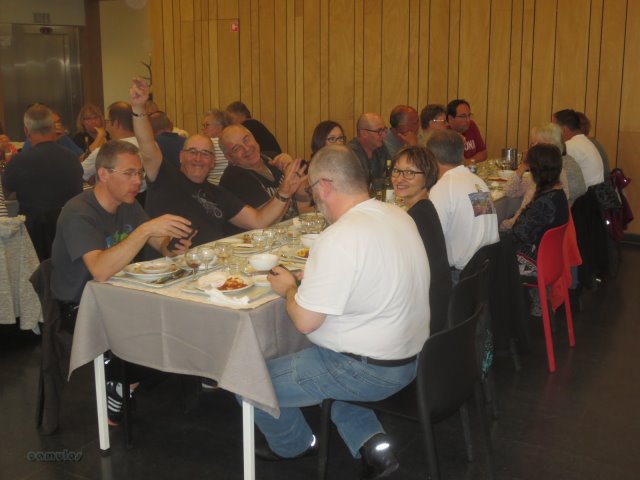 There were only four Varaderos at the meeting, including mine. Also one Africa Twin.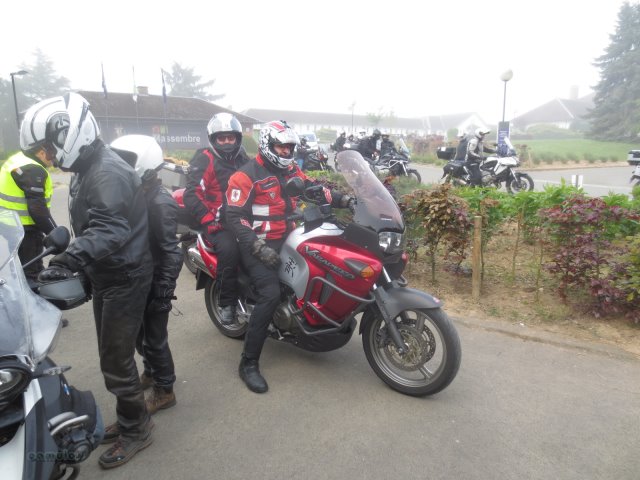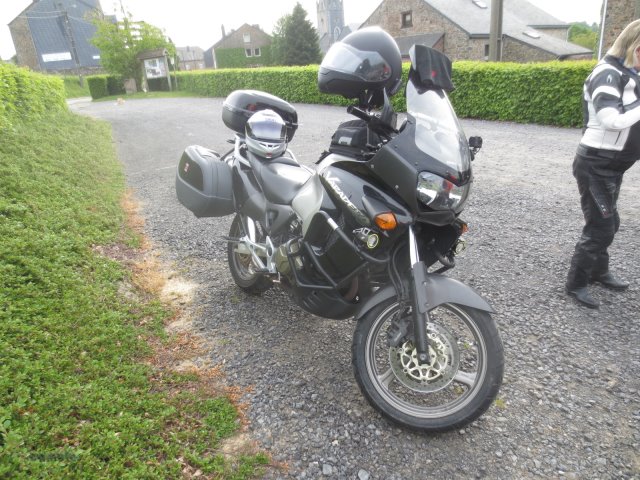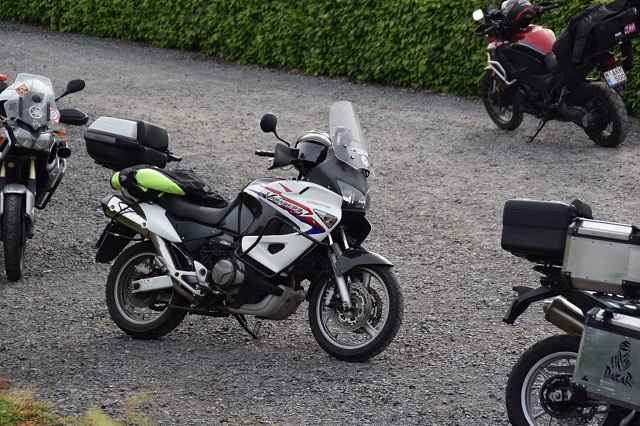 The sole Africa Twin.
La seule Africa Twin.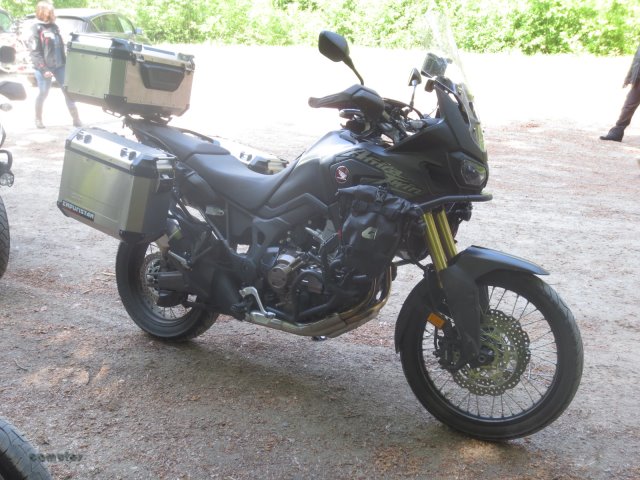 A reminder of the huge part that Belgium played in the first world war especially. Also in the second.
Un rappel du rôle énorme que la Belgique a joué dans la première guerre mondiale en particulier. Aussi dans la seconde.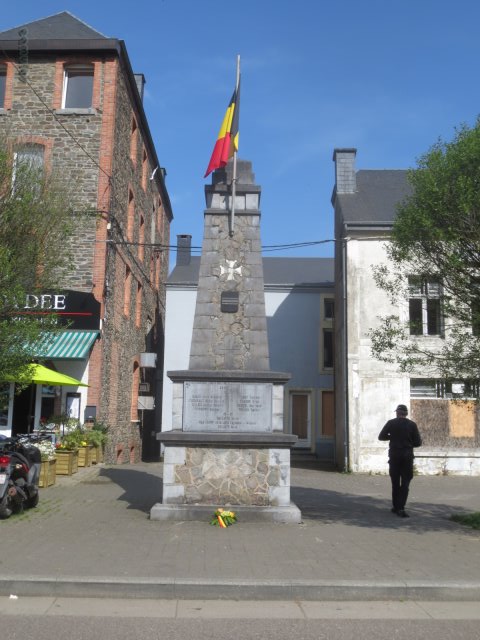 A fantastic birds of prey display at Bouillon Castle.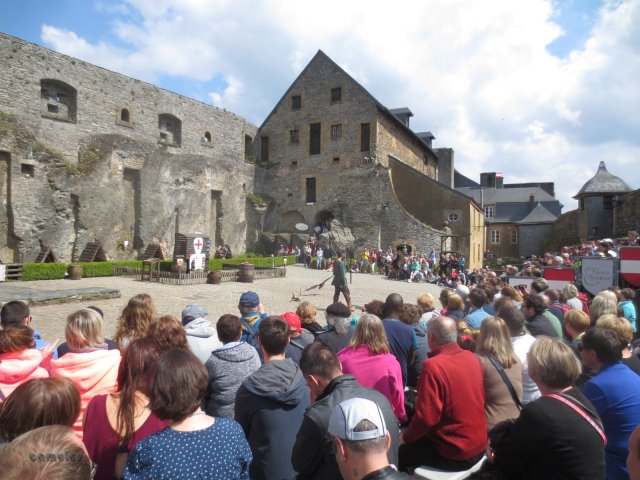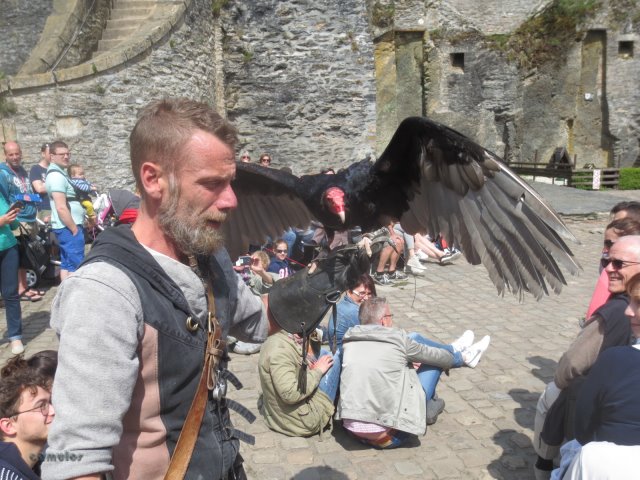 We were all provided with a splendid 'pique-nique'.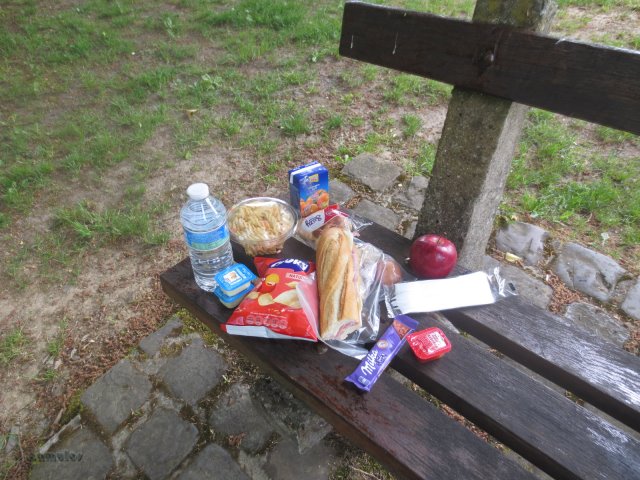 This stop was to enable us to overlook Bouillon from this tower.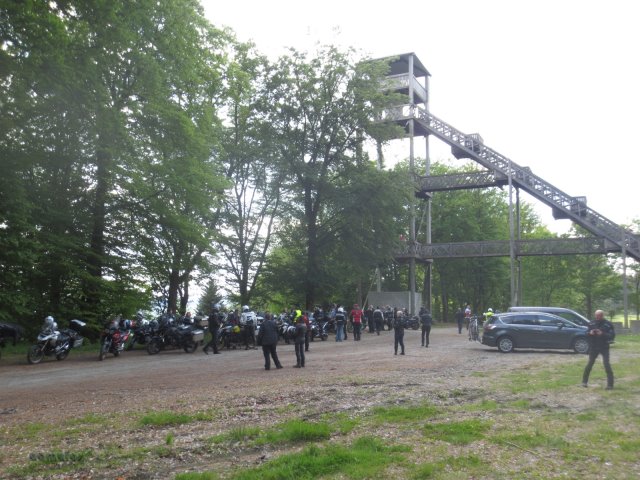 Saturday 1th May 2018 - More riding as a group, exploring the region of the Ardennes, riding different types of roads and tracks. One long dirt track led us down to a big lake that was clearly fisherman's territory, where we took a break to explore the hydroelectric dam that we found there. Then on to the Orval monastery where the Orval beer was brewed, for our picnic. The weather was very hot and I was hot and sticky by the time we got back to camp. We had stopped for a group picture at a café. When we got back there was a skill course set up for people to try. I didn't participate but spent a while watching others. Bar and then a barbecue afterwards, for our last evening. Nice and warm and excellent food with six Belgian beers set up for us to try. The tombola was run, as it always is, and I won a bear and some coasters. An excellent day - and so to bed. Home tomorrow. The clouds were coming over, as was forecast.

Samedi 1er mai 2018 - Plus de rouler en groupe, en explorant la région des Ardennes, en conduisant différents types de routes et de pistes. Un long chemin de terre nous a menés à un grand lac qui était clairement le territoire des pêcheurs, où nous avons fait une pause pour explorer le barrage hydroélectrique que nous avons trouvé là. Puis, au monastère d'Orval où la bière Orval a été brassée, pour notre pique-nique. Le temps était très chaud et j'étais humide et collant quand nous sommes revenus au camp. Nous nous étions arrêtés pour une photo de groupe dans un café. Quand nous sommes revenus, il y avait un cours de compétence mis en place pour les gens à essayer. Je n'ai pas participé mais j'ai passé un moment à regarder les autres. Le bar et ensuite un barbecue après, pour notre dernière soirée. Belle et chaleureuse et excellente nourriture avec six bières belges mis en place pour nous d'essayer. La tombola a été appelée, comme elle l'est toujours, et j'ai gagné un petit ours et des sous-verres. Une excellente journée - et donc au lit. Chez moi demain. Les nuages venaient, comme prévu.
Getting ready for the group photograph.

Se préparer pour la photo de groupe.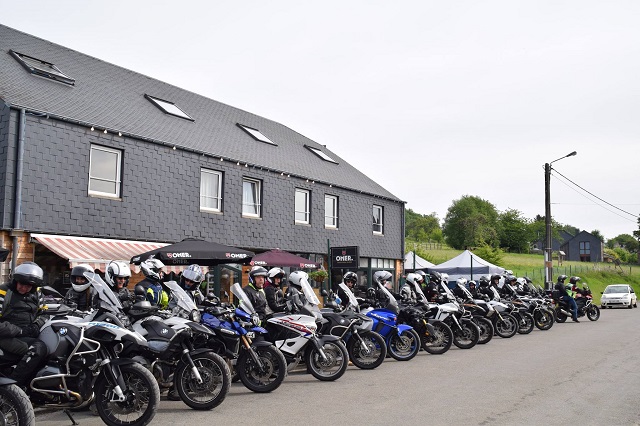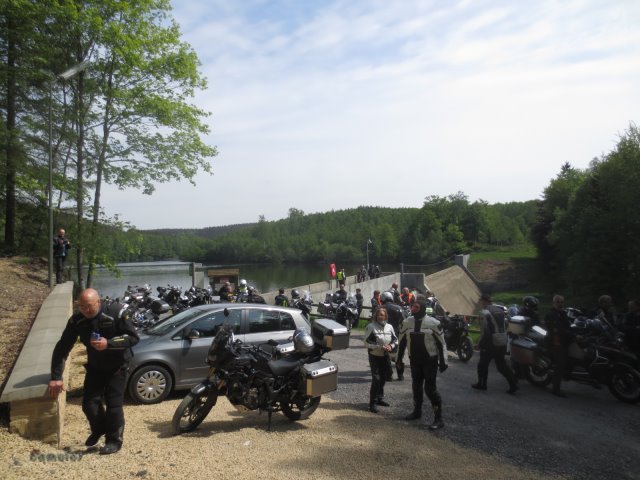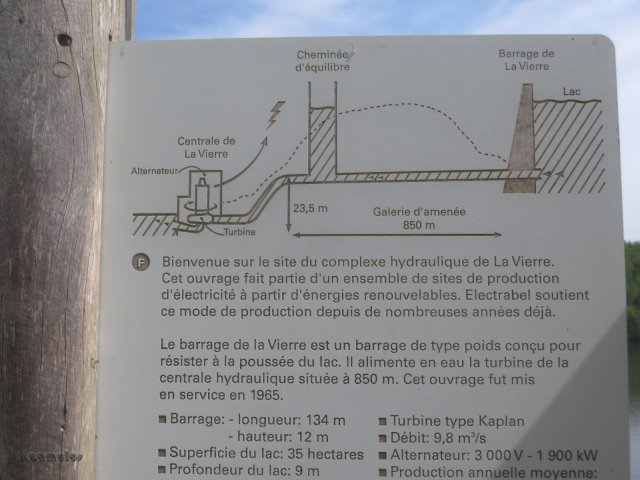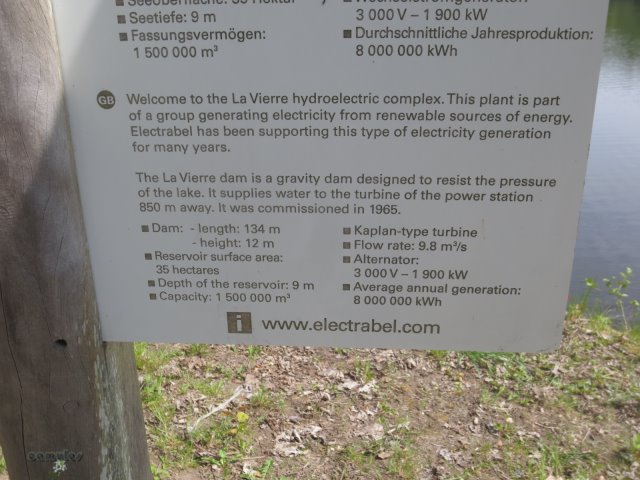 Orval Monastery.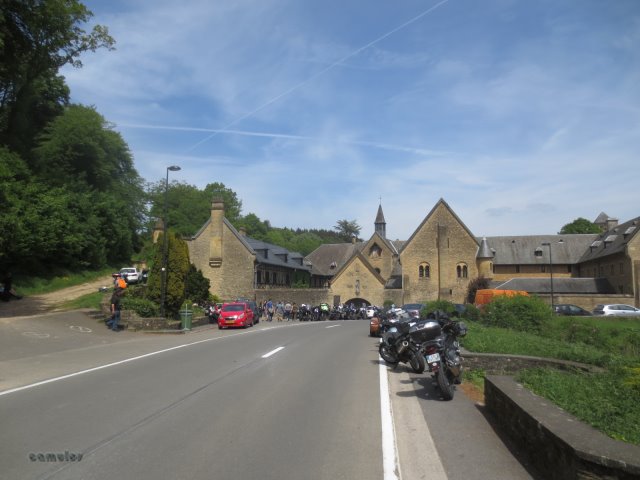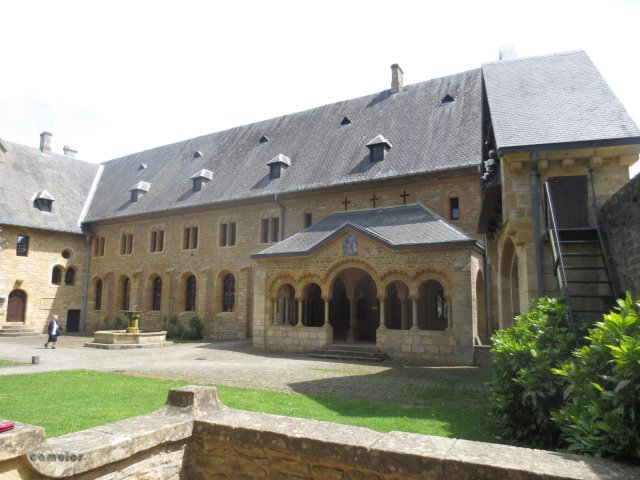 A skill course. Le Chef and Jey pictured.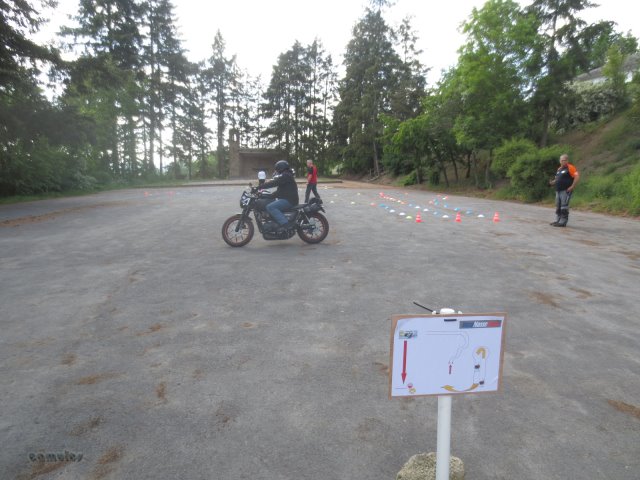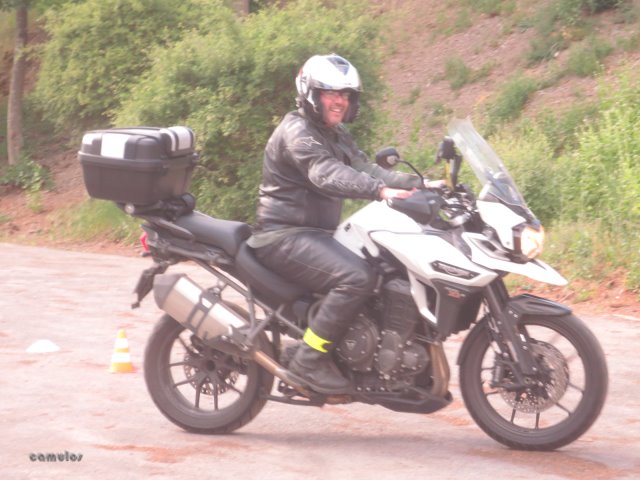 A selection of Varaderomania T Shirts from previous years in the first picture, and one from this event in the second.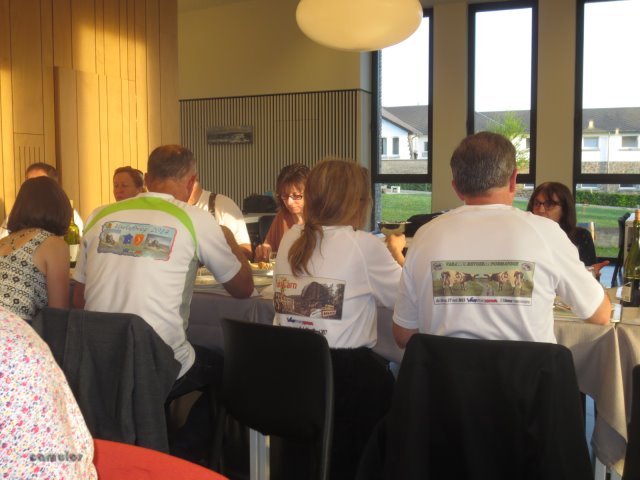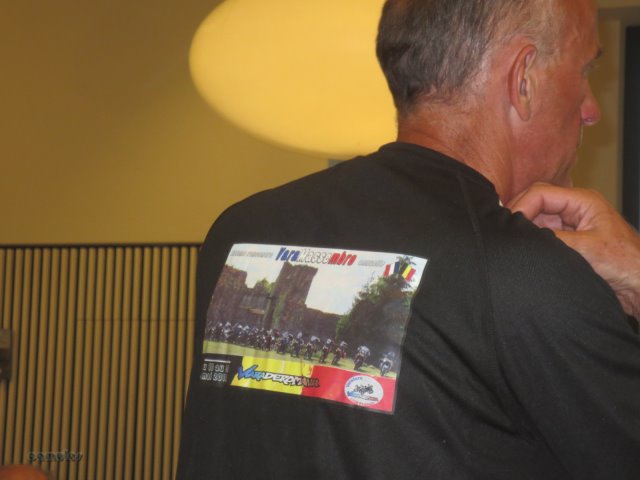 The participants at dinner.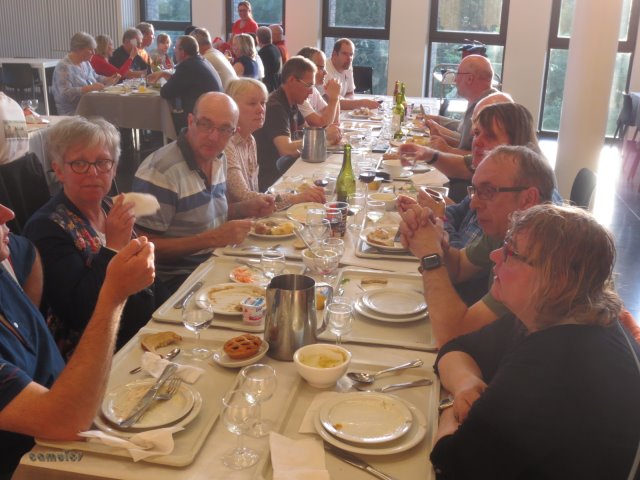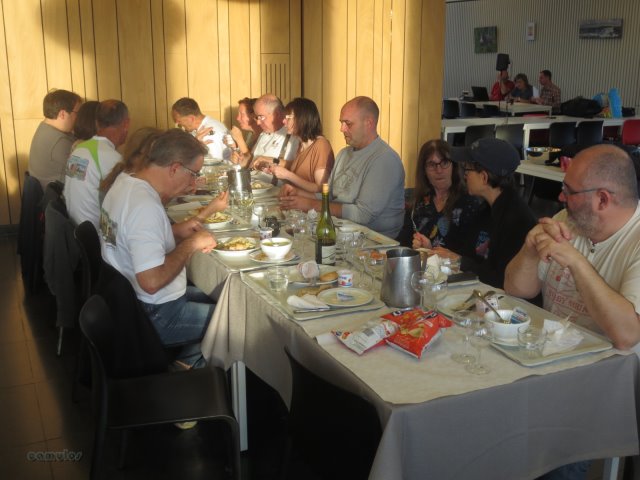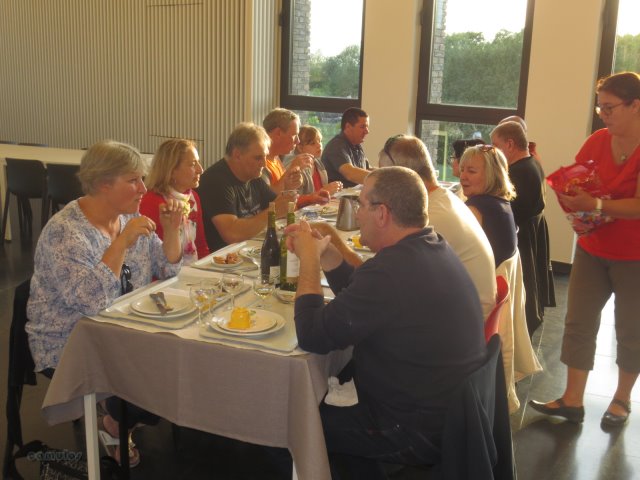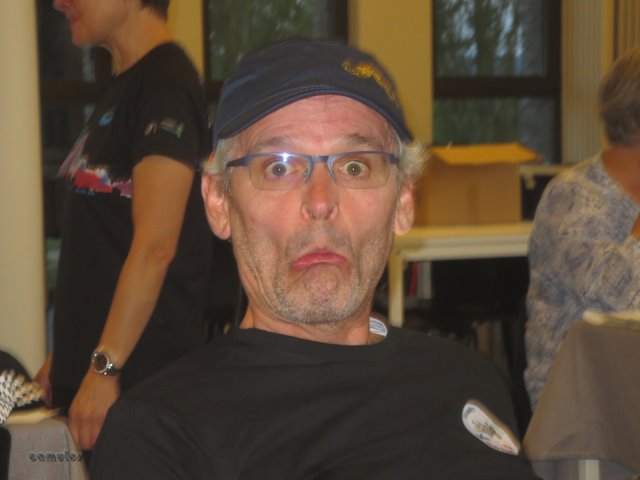 Beer Tasting and Barbecue during our last evening of the meeting.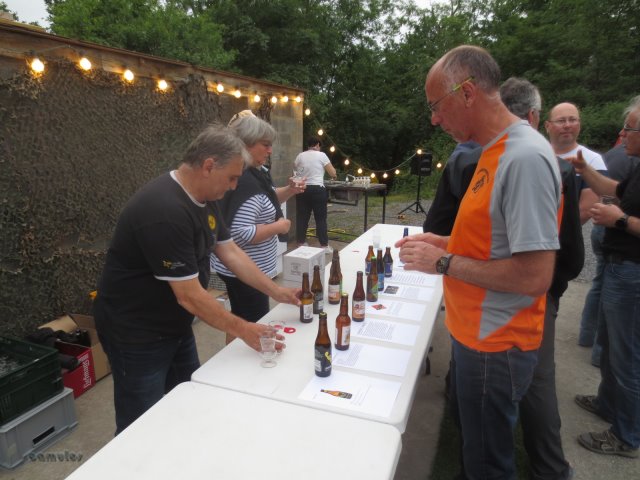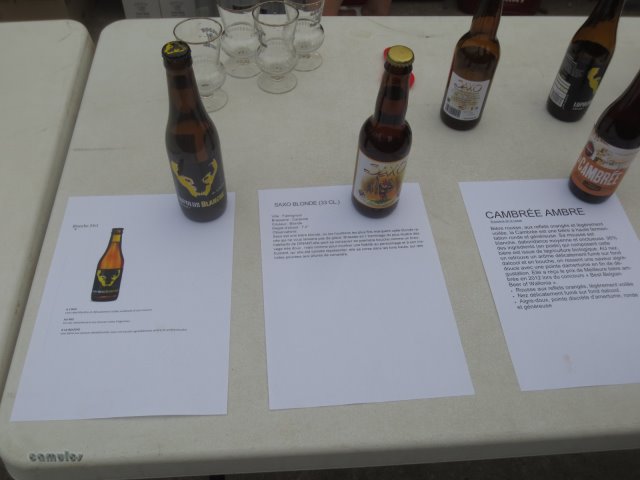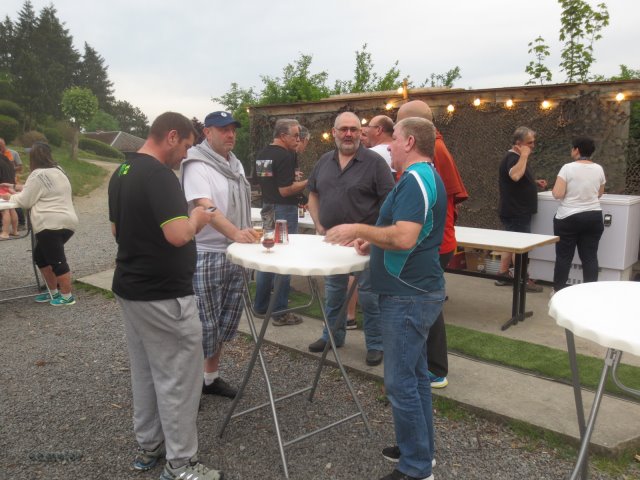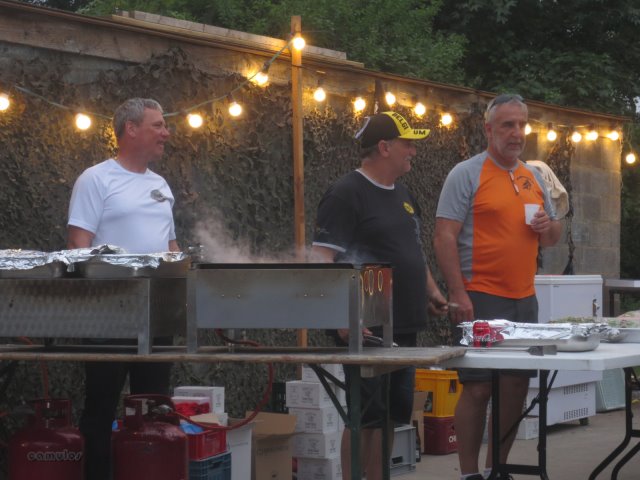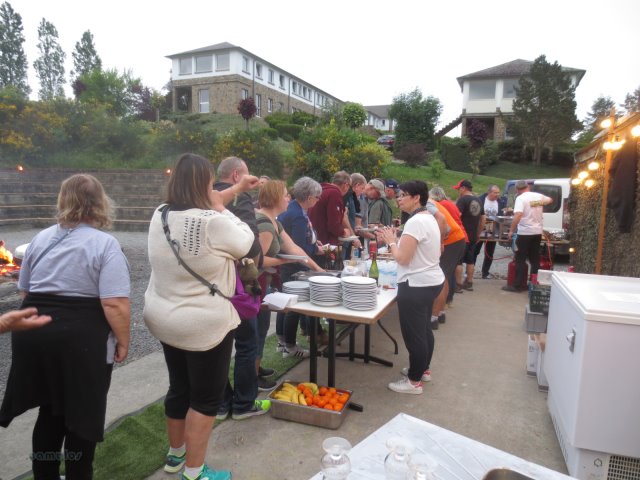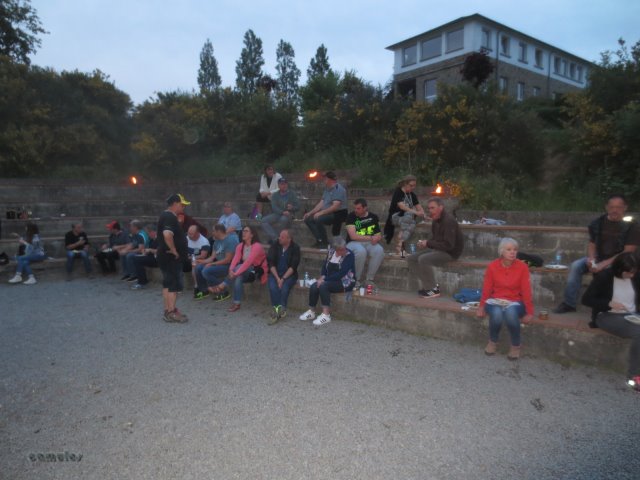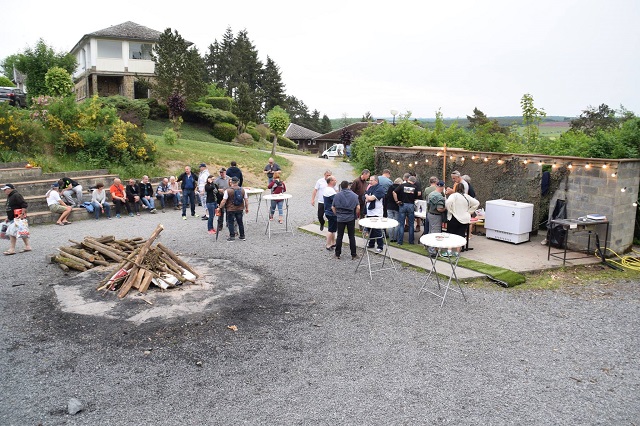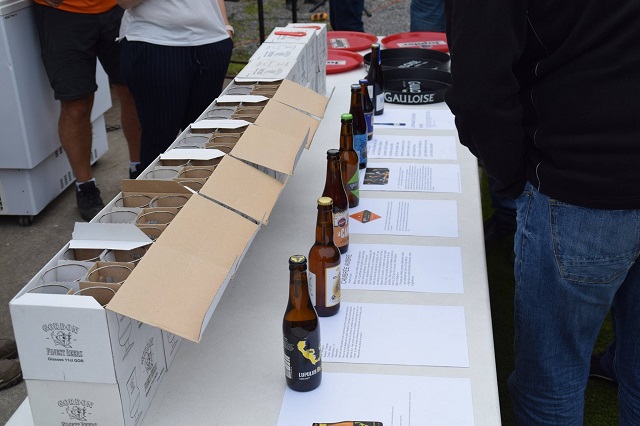 Sunday 13th May 2018 - This was the day that I wasn't looking forward to. A long ride home in the rain. Or had the forecasters got it all wrong? So, up and to breakfast by 7.30am to find many others there, tucking in to their last breakfast at Massembre. Said my goodbyes and headed back to my room to do the packing and loading up. Sure enough, the sky was grey and looked like it would rain soon. So different to the past couple of days. Set of at 0846 hours with 26775 odo. Into Givet to get some petrol and then onwards to Charleville through the wonderful national park. Then to Reims, where I joined the motorway and the heavens started to open up. I had around 700 miles to cover and I really wanted to do it in one day. Stopping every 100 miles to stretch my legs and every 200 miles to fill up, the day wore on, and I got wetter and wetter. Oh, the joys of motorcycling. On and on and on. Eventually onto the A61, past Caracassonne to the Bram turnoff and then home to a happy place that I had left a few days earlier. Great to be home again. I had ridden 715 miles today, with 1721 in total. The two riding days were 135 on Friday and 156 on Saturday.

So, until next time my French and Belgian and Swiss friends, I bid you adieu!

Dimanche 13 mai 2018 - C'était le jour que je n'avais pas prévu. Un long trajet à chez moi sous la pluie. Ou les météorologues avaient-ils tout faux ? Donc, en y va et au petit déjeuner à 7h30 pour trouver beaucoup d'autres là-bas, en rentrant à leur dernier petit déjeuner à Massembre. J'ai dit mes adieux et retourna dans ma chambre pour faire mes bagages. Effectivement, le ciel était gris et semblait qu'il pleuvrait bientôt. Si différent des deux derniers jours. J'ai parti à 0846 heures avec 26775 odo. A Givet pour obtenir de l'essence, puis à Charleville à travers le magnifique parc national. Puis à Reims, où j'ai rejoint l'autoroute et où les cieux ont commencé à s'ouvrir. J'avais environ 700 miles à couvrir et je voulais vraiment le faire en une journée. Arrêt tous les 100 miles pour étirer mes jambes et tous les 200 miles pour l'essence, la journée a continué, et je me suis plus humide et plus humide. Oh, les joies de la moto. Encore et encore. Finalement, sur l'A61, passé Carccassonne à la bretelle de Bram et ensuite à la maison à un endroit heureux que j'avais quitté quelques jours plus tôt. Super d'être chez nous. J'avais roulu 715 milles aujourd'hui, avec 1721 au total. Les deux journées de roulage ont été de 135 le vendredi et de 156 le samedi.

Donc, jusqu'à la prochaine fois mes amis français et belges et suisses, je vous dis adieu!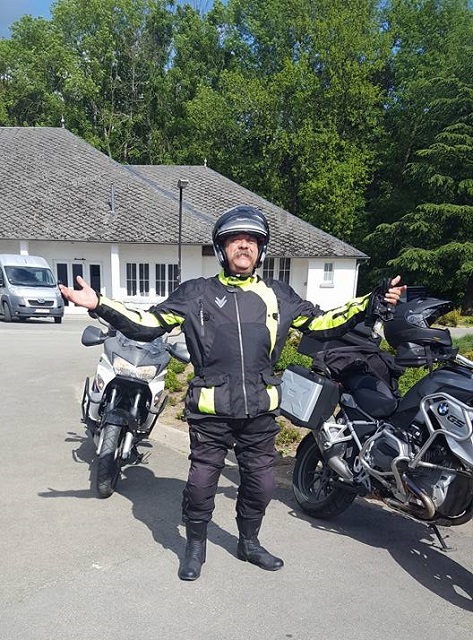 My special Frenchman, the clown, Sebastien Poisson.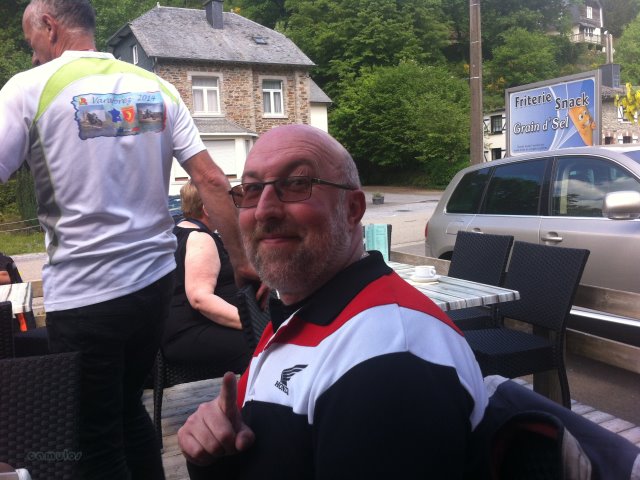 Varaderomania et Mikko
Robe 13
Cactus et Vero
Alubat et Aicha
Choupinet (Alain81)
Lesdomis + Domi
Tintin + Beka
Fred et Fifi
FRED71 et ISA
Sylviane et Jean
Sylv-F et Muriel
Jey
Jess (Sdapeze)
Biker (seb)
Papoun et Ghislaine
Fabien, Mimi (les ch'tis)
Varabien (Didier) et Sylviane
Steph 67 et Clarisse
VFR 750 (Olivier)
Gilou (PiouPiou)
Christophe (1 ami en 1200 GS)
Deigne et Béa
Varagrego et Yannick
Sneeke et Nanoo
Denis et Isa

To contact me please email to sdapeze@aol.com
Jess or Theresa Jephcott, 11240 Hounoux, France
tel 04 68 69 60 77
back to the

Home Page
last updated 030618