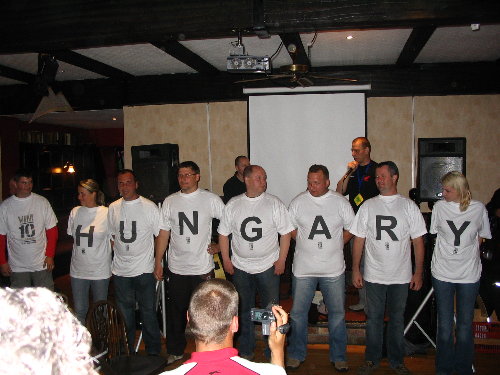 Our introduction to VIM10 was at VIM9 in 2007 in Ballycastle, Northern Ireland,
when the Hungarian team gave their excellent presentation.
It looked good. Would it be good?

OUR
VIM 10
We share our experience of VIM 10 with you in the form of a diary and pictures.
For us a Varadero International Meeting begins at the point we leave home and ends at the same place. It is our adventure.
Our Varadero is an XL1000VA6. A 2006 silver model with ABS, centre stand, heated grips, panniers and top box. To that we added a 12 volt charging socket, a Baglux tank cover, a Baglux tank bag, an MRA screen, a Garmin Zumo 550 GPS system mounted on a desertstorm.de bar and Touratech mounting bracket. This is used in conjunction with our Bluetooth mobile telephone and a Cardo Scala Rider Teamset headset system.
Wednesday 7th May 2008
We left home at 0945 with 886 miles on the odometer with fuel at 920 miles at Brentwood. £23.60 for 21 litres at £1.124 (1.42 Euros) per litre. It was a nice sunny day and the forecast looked good. Somehow, this wasn't right for a VIM! We got to Folkestone and caught the 1125 train. We found ourselves travelling with one other biker, a lad on his way to work in north Germany, riding a Ninja of some sort, sweating buckets due to his leathers. We have the fabric suits that breathe. If you have a Ninja, you have to wear leather. Anything else just wouldn't look right. If you have a Ninja, you can't have a top box and panniers. So we said our goodbyes on the French side as he set off, all hunched up on his little machine, with a huge rucksack on his back. Who was to have the most comfortable 200 miles we wondered? We set our Garmin 550 for the Etap hotel that we had pre-booked, with Nugget's help, in Vienna and sat back and followed instructions as we headed for Dunkerque to pick up the fastest motorways route. At 1139 miles we re-fuelled in Brussels (Bruxelles) in Belgium. 219 miles, 33.04 Euros for 21.58 litres at 1.531 Euros per litre. We aimed to stop every 100 miles for a bum rest/leg stretch and every 200 miles for fuel. So we stopped at 1242 miles in Germany after an uneventful journey across France and Belgium. By around 2000 hours we reached the next 100 miles needing fuel and a place to stay the night. The lady in the GPS found both for us with ease. This is the first time that we had used GPS on the Varadero and it was a very helpful tool for us. Petrol at 1338 miles, 31.53 Euros for 21.61 litres at 1.459 Euros per litre. We found the Hotel Gierend in Gonnesweiler at 67 Euros the night with breakfast. It had a bar and a restaurant, both of which we made use of. Schweinschnitzel and pomme frites and a few glasses of beer and the first day of our grand adventure was at an end. The bike had performed perfectly and we had collected many insects on our newly fitted MRA screen, along the way. 1342 miles odo.
1139 - 920 = 219 miles = 350 km on a tank
21.58 litres = 16.2 km per litre
1338 - 1139 = 199 miles = 318 km on a tank
21.61 litres = 14.7 km per litre
1342 - 886 = 456 miles = 730 km travelled today
Thursday 8th May 2008
A nice breakfast, we said our 'auf weidersehens' and headed off at 0900, taking the A6/A61 in an easterly direction. A stop at 1440 miles and for fuel at Aurach at 1536 miles at 1215, 32.03 Euros for 20.88 litres at 1.534 Euros per litre. We had a bum rest at Regensburg at 1350 hours and a further fuel stop at Aisterheim at 1747 miles at 1539, 20.39 litres for 27.91 Euros at 1.37 Euros per litre. We rang Nugget to let her know we were on target for the meet-up in Vienna as planned. We crossed the border into Austria and, with a bum rest at 1841 miles, we arrived in Vienna with 1893 miles odo, the GPS taking us right to the door of the Etap hotel at 1815 hours. So perfect was our arrival that, as we drew to a halt, there was the Speeding Stag, sitting at the window with the expected beer in his hand. He had arrived earlier with Loudpedal. We checked in and put the bike in the underground car park and we met Big Dave for the first time, who was also staying at the Etap and who, together with the SS and Loudpedal, were attempting to drink the beer vending machine dry. We had a wash and brush-up before going down to find the others. They had already left but we spied Jan Willem having a customary cigarette at the door. The hotel room was nice and comfortable but hardly to the standard of last night's superb stopover. Thankfully we were not eating there as Nugget and Merlin had arranged for us all to be collected and taken to a nearby restaurant. Wolfgang arrived in his Hummer (or something similar) and we were taken to the restaurant to meet the others. We had our own mini-VIM. We met up with Barbara, Mike the Mad Swede, Klavs and Marika Glass from Latvia, Short Alex and his lady Monika. Schnitzels and Cordon Bleus all round and a few beers and lots of chatter and the end of the second day of our grand adventure was at a close. The weather had been superb all day, except for a little light rain whilst we sat outside the restaurant in Vienna. Back at the sterile Etap, another assault was made on the beer machine, with the inevitable result that the beer kept coming. We left them to it and went to bed after our long and tiring day.
1536 - 1338 = 198 miles = 317 km on a tank
20.88 litres = 15.2 km per litre
1747 - 1536 = 211 miles = 338 km on a tank
20.39 litres = 16.6 km per litre
1893 - 1342 = 551 miles = 882 km travelled today
| | |
| --- | --- |
| | Nugget, the Speeding Stag, Big Dave and Loudpedal at the restaurant in Vienna. |
| | Chilling out in Vienna before the ride to Hungary tomorrow; with Monika, Mike the Mad Swede, Barbara (Nugget), Jess (Sdapeze), Wolfgang (Merlin), Tony (the Speeding Stag), Dave (Big Dave), John (Loudpedal), Jan Willem and Short Alex. |
Friday 9th May 2008
Weather was good. We had been promised a fine breakfast at the bakery near to Barbara, Wolfgang and Short Alex (whom we understand lives in a pink house) so we opted for that, rather than the Etap standard at 5 Euros. After filling up with fuel at 1893 miles, 18.79 Euros for 14.54 litres at 1.292 Euros per litre, we all set off, guided by our GPS, for breakfast. We met up with our Austrian hosts and, indeed, enjoyed an excellent breakfast, Vienna style at Strock on Langobardenstrasse at 4.50 Euros each. Afterwards, our convoy set off for Hungary, with at least two blue ducks (from the VIM Vienna), now comprising eight Varadero's (us, Merlin, Loudpedal, Jan Willem, Mike the MS, Klavs, the SS, and Big D), one Transalp (Barabara) and one TDM (Short Alex). We stopped just across the border in Hungary and had a coffee and look at the local produce. We re-fuelled at 2011 miles at 1440 hours at Celldomolk in Hungary, 10.46 litres for 3148 Forint at 300.90 (1.228 Euros) per litre. A short stop later to change money and Alex bought doughnuts for us all, discovering that he had been slipped a duff banknote at the petrol station. After some quite bumpy roads in Hungary, we eventually arrived at our destination in Zanka at 1630 hours, mileage not recorded. The sun was shining and the welcome, as always at a VIM, was excellent. We never seem able to get there first! We were reunited with many old friends from previous VIMs, the main ones being the recently married Big Man, Mr Bernard Stikfort and his wife Karinda. We were directed through the registration process, given the customary bag of goodies and directed to our accommodation. The location was set in a beautiful setting on the north side of the Balaton Lake. As far as we could make out it was a place built during the Cold War as a place where Russian children were sent as part of their training for future service to the state. They called them pioneers. Now it is a place that is looking for a good use, hosting school parties and generally anybody who wants the use of such a facility. For a VIM it was a superb choice. So, to our room, a basic twin bedded room sharing a shower and WC with an adjacent room. It was fine for a couple of days but the lack of a big bed was going to prove difficult for us two sharing a single bed. Washed and changed and off in search of friends and ale. We changed 100 Euros for 24500 Forint. Dinner was served at 7.30pm in a large hall. Beer was 230 Forint (0.94 Euros). We had meatballs and stuffed cabbage. Not particularly exciting for our first meal in Hungary but it was very tasty. So there began our first evening at the 10th VIM, meeting old friends, making new friends and sharing our experiences. We joined a group that included two Israeli's who had come along, flying to a safe country and hiring a couple of bikes. They were very interesting people to talk to, especially to get a view of their life in Israel. Our conversation was political and religious, two subjects normally avoided in social discussion, but interesting nevertheless. Nimrod is a spine surgeon. We were amazed that he had never heard of Elgar's Nimrod, a famous piece of English music written for his friend Jäger (meaning hunter). Nadav's family came from Germany after the war - enough said in present company. The Brits sought each other out and attempted to drink the bar dry, which we think they had a degree of success with, as canned beer was being served later! We noted that the Poles had gathered together and were dispensing neat vodka from a large bottle with a special nozzle fitted. All over the site, old friends were seeking each other out and renewing their acquaintances, as well as interaction with new friends. That is what is so nice about a VIM; we get to meet new people. There is very little technical talk about the bikes, so it is all inclusive, with plenty of jokes and laughter. It was an excellent conclusion to the third day of our grand adventure. We were back in the Varadero family again, our 7th VIM. Our GPS told us that we had achieved 177 km/hr at some point on our journey. We also realised that we should have bought a motorway pass for travelling in Austria. We would have to get one for our return!
Play Nimrod as background music
1747 - 1893 = 146 miles = 234 km
14.54 litres = 16.1 km per litre
2011 - 1893 = 118 miles = 189 km
10.46 litres = 18.1 km per litre (slower riding)
2100? - 1893 = 207? miles = 331? km travelled today
| | |
| --- | --- |
| | Just over the border of Hungary, doing a little shopping and taking some refreshment. |
| | Arrival at Zanka. |
Saturday 10th May 2008
We went for breakfast and were pleasantly surprised by a superb spread of food, nice rolls, meat, cheese, cereals, yoghourts, fruit, juice, coffee, etc. (although the coffee was premixed with sugar, so a bit sickly). We enjoyed a laugh with Mad Mike who told us about Jan Willems's escapade last night. Apparently he had been lured by the sound of a party in one of the halls and, in his drunken state, had got lost. It was a big site to get lost in. He texted Mike for the coordinates of his room so that he could find his way back by GPS. When he arrived he was covered in mud. He didn't make it on the tour to Sumeg. We got ourselves ready for the event of the day. We had signed up to join a group led by György Kalman from Slovakia for the trip to Sumeg. We were joined by quite a few of our friends, Barbara and Wolfgang, Klaus and Marika, etc. György had little English but his partner Jana Potúcková made up for that. What a lovely lady! So we set off at our allotted time, taking a scenic route around the lake and arriving at Sumeg, where there is a castle on top of a big hill. We fuelled-up with 10.3 litres at 306.90 F (1.253 Euros) per litre costing 3161 F. The weather was excellent again. Lunch was served in the Knight's Hall, a splendidly vaulted series of rooms laid out for medieval feasting, with the servants (knaves and wenches) dressed in medieval costume. We found a table and were treated to a meal starting with soup, followed by roast goose, black sausage, roast potatoes, vegetables, etc., fruit juice or water (all their water is slightly gassy) and with a dessert of fruit cake. The Big Man loves his desserts and managed to get a second helping of the delicious cake. There was a small orchestra of elderly gentlemen, all seemingly playing out of tune, with quite a unique style, like a bunch of 'mad eejits'. They were highly entertaining. Afterwards we were all (there were 300 or so of us) entertained to a medieval jousting display. This comprised an arena with the magnificent backdrop of the castle on the hill. The show commenced with a lady on a horse, giving an amazing display of dressage. It was not possible to see how she was giving instructions to the horse but the performance was impressive. After that, a solemn procession came through the doors from our right and included knights and ladies. The ladies were to be the object of the knight's affections, giving flowers to the champions. Various displays were given of throwing lances, hatchets and steel crosses. There were four gallant horsemen who showed tremendous skill with their horses, one especially shone out with the sheer speed that he rode at. Theresa fancied the one with the long hair. There was also a display by four archers who were very accurate as they worked their way further and further away from the target, even in amongst the audience, shooting over their heads. The horsemen capped it with their own archery display whilst travelling at a gallop and their use of the lance. As each knight won an event he would direct that his prize (a flower) was to be given to somebody that he chose from the audience, usually a good looking women (no shortage thankfully!). It was a superb display, enjoyed by all. Then back to Zanka for a safety display of some very clever tight circle riding around road cones and later on, a trials bike demonstration by Szelei Ferenc. This guy was highly skilled and a great showman. He was able to jump his bike over about ten men without the use of a ramp or run up. The Hungarians were really running a great VIM. For dinner we had an excellent meal of noodle soup to start, with a main course of various dishes including couscous and goulash. Cake for dessert. And beer, of course. Mealtimes are always a good opportunity to meet with new people as you can sit down where you like and just get chatting. We sat with Willie the Beast and his mate Angela. After dinner we had an official welcome to VIM by our Hungarian hosts, followed by a high powered presentation by an official Honda team. This was true recognition by Honda of our Varadero organisation. There was also a salsa display by two dancers. A disco followed which sent us to the bar. A few beers and more chat at the bar and it was time for bed. A superb end to the 4th day of our grand adventure.
Parked up at Sumeg in Hungary, with the amazing hilltop fort in the background.

Mr and Mrs Stikfort, Bernard and Karinda, at the medieval feast.

We can tell you in strictest confidence that Karinda is learning belly dancing. Lucky old Bernard! If Theresa were to try it, the whole thing would probably go into resonance and wreck the room!

Our table at the medieval feast with Mike the Mad Swede nearest the camera. A couple from Croatia (names please), Karinda, Bernard, Short Alex, Wolfgang, Barbara and Theresa.

Another of the tables in the banquet hall. Names please.

The banquet hall at Sumeg.

One of the dishes.

One of the knaves bringing some food to our table.

After the feast we were splendidly entertained by a series of events in the arena. This lady said nothing and moved very little but her control of her horse was incredible. The dressage that was displayed really was impressive.

Knaves or knights? These gentlemen were very entertaining.

One of the horsemen. This one in particular stood out for us for the sheer speed that he rode his horse at. It was another incredible sight.

The archers had some fun with us but were very skillful.

Jousting with a spinning target that, if you didn't get out of the way quick enough, would sting you with the ball on the chain.

Sponsors ORCO got their banner in place during the display. This picture shows some jousting between knights.

When we got back from Sumeg, the organisers had arranged for a safety demonstration in the form of a couple of dudes whizzing around a variety of traffic cones in amazingly tight circles, with a volunteer riding pillion for good measure. We couldn't imagine why it was a safety demonstration. It looked bloody dangerous to us.

Note Bogdan in his shorts looking on. Now there is a 'character'! Quite mad!

It was certainly very skillful.

After that we had another display. This time by a trials bike stunt rider. We was doing some amazing things with his bike which included lining up a bunch of participants and, with the aid of a little block of wood, proceeded to jump over them. It could only happen in Hungary!

He was a very clever man.

We couldn't imagine doing this with a Varadero.

The base camp at Zanke had many works of art displayed, including many sculptures. This was one of them.

The Big Man, Bernard Stikfort, takes to the floor to help with the welcome presentation.

And introducing the Honda team, whose names we know not. The fellow with the microphone is the CEO of the factory in Spain that assembles the Varadero motorcycles. It is also the Montessa factory. They gave us a slide show presentation charting the development of the Varadero and some of the secrets behind it.

After that, we had a dancing display. Very watchable!
Sunday 11th May 2008
Another excellent breakfast was enjoyed before we set off on a tour with György again, bound for Budapest. The sun was shining and we had 2158 miles odo. Filled the tank at 2233 miles with 9.82 litres at 3004 F (12.26 Euros), 305.9 F (1.249 Euros) per litre. We rode to the Citadelle at the top of a hill overlooking the city of Budapest. From there we had amazing views of the city and took several photographs. Theresa bought a poncho style coat. György and Jana then took us on a tour around Budapest stopping for photos at the parliament building and ending up at Heroes Square. The Varadero's were gathering and we were put in line for a group photograph. It was a very impressive sight. We sat on the museum steps and ate our packed lunch of schnitzel sandwich, fruit and bottled fizzy water. Then we all set off in convoy with a police escort and to the utter amazement of the people of Budapest. When we eventually broke away from the group and found György we had a lovely fast motorway ride home finishing by riding over a huge bridge near Balaton and then back to base via a ferry boat. Great fun! We couldn't ride too fast as we had Short Alex with us on his TDM (only joking Alex). In the evening there was a stunt riding display but we were too late to enjoy it properly. We had a couple of beers in the bar with a group of the German contingent, one of them claiming to be a 'babe-magnet'. A curious claim as he had a beer muscle and didn't have much hair. The Big Man (Mr Stikfort) took the opportunity to deliver his translated version of the 'Der schwein mit drei beine', a joke first told at VIM Germany, delivered by Theresa in English and translated into German. Following this piece of tomfoolery, we went and enjoyed a good dinner in the hall, followed by the farewell meeting that included a presentation from the Turks for next year's VIM11 in Turkey, a proposal from the Big Man, backed by us for VIM 12 in the Alps, various other speeches, presentation of awards, etc. There was a biggest belly contest which was fun. The disco followed and we headed for the bar for our last evening with our Varadero friends. We had a core meeting to discuss VIM 12 which Bernard seems to have got well sorted in his mind and sounds really good. And so to bed! A superb end to the 5th day of our grand adventure.
2233 - 2011 = 222 miles = 355 km for two fill-ups
10.3 + 9.82 = 20.12 litres = 17.7 km per litre
2362 - 2100? = 262? miles = 419 km travelled during VIM
Much missed had been our friends from previous VIMs.
Barry, Trey, Dessie, Mickey, Geert, Uwe, Mense and Lidy, James and Gina, Owen, JP and Judy,
and many more, who could not make it this year.
Up and out to breakfast. We had seen this bike at the petrol station the day before and had wondered what it was. We were reliably informed that it is some sort of prototype Honda. Willie the Beast said that it was the only one in the world. It was low.

Thanks to Darren, we have since learned that it is a DN-01, new out this year!

http://www.honda.co.uk/motorcycles/2008/DN-01/gallery/index.html

So we had breakfast and set of in our groups bound for Budapest,. Another sunny day.

Budapest is a World Heritage Site. We stopped at the Citadelle to take in the view of the city and to study some art. This nasty man seems to be hurting two little dragons.

Breathtaking views of the city.

Catherine (Wife Spice), Jess (Sdapeze) and Theresa at the Citadelle.

Budapest in all its wonder.

Our guides György and Jana. Lovely people.

We understood that György is 'Mr Pro-Oiler'. Don't mention Scottoiler to him, if you want to get home. He has an interesting chain oiler system on his Varadero.

Our group at the Citadelle. Jess, Gareth, Big Dave, Wolfgang, Barbara, Theresa, Short Alex, György, Jana, Klavs, Marika, etc.

Merlin and Nugget (Wolfgang and Barbara). Note Wolfgang's 116 number from the VIM in Portugal.

The parliament building in Budapest.

Jess and Theresa, the Danube and that parliament building again.

Hero Square in Budapest, where the big gathering of Varadero's was taking place.

Hundreds of them. We sat on the museum's steps to eat our packed lunch. The organisers had thought of everything!

...and then we set off for Zanka, with a police escort, the city brought to a standstill for us.

It was a very impressive sight.

Short Alex - soon to be Father Short Alex!

Mass exodus from Budapest.

After we had left the city, we found our groups and set off at intervals, so as to help the traffic flow.

We took a ferry across Lake Balaton.

Happy smiling faces after an excellent tour of Budapest and some of the countryside. A beer or three next.

The command centre of our ferry.

Later at dinner in the hall we had a presentation from the Turkish participants for next year's VIM 11. It promises to be a hot one!

It will be a long ride for some.

Prizes were awarded as is usual, youngest participant, most number of kilometres (Bogdan won with 170,000km on his Mk 1), furthest travelled (Loudpedal from Belfast), etc. This gentleman was receiving a prize for the biggest belly - 179 cm? Very humorous!
Monday 12th May 2008
We packed up and loaded the bike, ready for the journey homeward. We had breakfast in the hall with our friends and said our goodbyes, until the next time. The Hungarians had been excellent hosts. Very friendly people. They had made a great job of organising this VIM, which really has been the best ever for us. It didn't rain once. It seems unlikely that we will attend VIM 11 as Turkey is simply too far for us. Hungary was a big journey for us but Turkey is just too much, especially as we can only take one week away from work. We could fly out and hire a scooter but we doubt whether that will happen. We shall have to wait and see. So we set off, GPS set for Graz in Austria. 2362 miles odo. Another wonderful sunny day. We asked the GPS to find us a petrol station close to the Austrian border which it did, so that we could use up the last of our currency. At 2455 miles odo we spent 4700 F at a price of 302.9 F (1.236 Euros) per litre. The GPS had a little trouble finding the roads but we made it across the border and into a land where we understood the language. Hungarian was a total mystery to us. We stopped again to fill the tank and buy a vignette (motorway tax cost 4.40 Euros), 2486 miles odo, 8.43 litres at 1.289 Euros per litre, costing 10.87 Euros. We stopped at Herzogberg at a high altitude (960 metres) to view the Alps between Graz and Klagenfurt on the A2. At 2715 miles we were in Tassenbach at 1845 hours and filled up again with 20.73 litres at 1.249 Euros per litre costing 25.89 Euros. We had intended to do some mountain passes and had chatted with a group of Germans the night before about what we intended. They laughed when we said we had a day to do all the passes and only three days to get home. They said we needed three weeks to do the passes. They knew what they were talking about and gave us some suggestions. Barbara (Nugget) had been listening in on our conversation and recommended that we ride to Villach - Hermagor - Obertilliach - Sillian - Lienz. Just above the Italian border. This we did, although we diverted via the Gailbergsattel Pass and were delighted with the scenery of the route. We decided to ride until we reached Italy. We took the Gailbergsatter Pass at 982 metres, Lienz, San Candido and down into Cortina D'Ampezzo. We were at 1485 metres altitude at one point. The sky was clouding over and looked like it was raining ahead. The roads were wet but we had no rain. It was quite cold in Cortina where we discovered one of the few hotels that were open, the Impero Hotel (bikers welcome) at 70 Euros with breakfast. We had a nice friendly welcome from a lady with very little English and were shown to a very nice room, the bike to the underground garage. The room had a bath so I had a good soak in it. It was a quiet day in Cortina and the son of the lady directed us to two pizza restaurants across the town. I hate pizza but I thought, what the hell, when in Rome do as the Romans do. We enjoyed pizza and a beer and reflected on the 6th day of our grand adventure. The town was deserted.
2486 - 2233 = 253 miles = 405 km on two tanks
15.52 + 8.43 = 23.95 litres = 16.9 km per litre
2715 - 2486 = 229 miles = 366 km on one tank
20.73 litres = 17.7 km per litre
2749 - 2362 = 387 miles = 619 km travelled today
| | |
| --- | --- |
| | Mrs Stork on her nest. Most villages seemed to have had a stork nesting somewhere and with special platforms provided for them. |
| | An information board for an alpine area in Austria. |
| | Having a break somewhere in Austria. |
| | Amazing views that just got better and better. |
| | Still quite low altitude but getting higher and higher. |
Tuesday 13th May 2008
We had a nice breakfast in the lovely breakfast room decorated in a very alpine manner, with leather seats, old pictures on the wall, carved lamps, et al. A great start to the day with fantastic views of the snow capped mountains from our bedroom. We paid our bill and set off at 0930 on the next leg of our journey homeward with 2749 miles odo. Sunny weather again, if cool. Our chosen route took in a few of the passes that we thought we could do in the available time. This went through the fantastic Falzarego at 2100 metres, via Arabba, Passo di Campolongo and the, even more spectacular, Passo di Gardena. We were above the snow line for much of the ride and were pleased that the roads were open to us. We had heard that many were closed at this time of the year. Enough was enough. We would have liked to have done more but we had to go home. We headed north for Innsbruck over the Brenner Pass (8 Euro toll) and back into Austria. We had been very impressed by this part of Italy and would love to return some day to do a proper job of riding the passes that we had to miss out. A22 to Brenner, Innsbruck, A12 to Bregenz. We soon discovered the incredible tunnels that had been cut through the rock. Tunnel after tunnel, often kilometres long, culminating in the Alberg Tunnel of some 12 kilometres length and with a toll of 8.50 Euros. Both of these tolls we had to pay was the same as it is for cars! We stopped at Pettnau at 1500 hours with 2917 odo for 17.82 litres at 1.37 Euros per litre costing 24.41 Euros. We stopped for a meal at the Oldtimer restaurant in Preitenegg at 1540 hours and enjoyed the experience. We need restaurants like that in England. Again, it had a very alpine feel about it. We took the A81 to Freiburg and got caught up in the traffic there and then across the Rhine into France via Colmar. We found a delightful hotel called 'Aux trios Merles' in Ammersschwir, 72 Euros with breakfast, at the foot of the hills that we looked forward to crossing. We had a funny series of conversations with the lady of the house who had no English and seemed to think that we were German. We ended the evening having some perfectly good discussions with her in French, which we are both studying at the moment. The room was very comfortable and the cuisine superb. And so ended the 7th day of our grand adventure. It didn't actually end there as I had a bad attack of calf cramp during the night which was very painful. The body was fighting back against the several days of riding perhaps. My hand had been numb as well and I tried a throttle lever for a while, borrowed from Karinda.
2917 - 2715 = 202 miles = 323 km on one fill
17.82 litres = 18.1 km per litre (slow riding)
3140 - 2749 = 391 miles = 626 km travelled today
This is the view from our room in the hotel at Cortina in Italy.

The Hotel Impero, Cortina.

Imagine living here. Back home in Essex, the closest that we come to a mountain is a mole hill.

Climbing higher towards Falzarego Pass in Italy.

Above the snow line now.

The chair lift wasn't operating, otherwise we would have taken a ride on it.

Wow!

An information board in the Dolomites, Italy.

On our way again, homewards.

Another view.

...and another.

...and another. Essex is going to seem very flat after this.

Come on, let's get going.

The Germans bring their bikes here on trailers and then seem to roar up and down the passes like mad eejits. Where's the fun in that when the views are so magnificent?

Breathtaking!

Heading north for Austria.

We stopped at a shop that specialises in carved wooden objects, to buy a souvenir of our brief visit to the Dolomites.

Even the car park posts were carved.

Gretl?

Hans?

Another lowland view, still in Italy.

We wondered who might have lived there.

It takes some getting used to with the Cardo headset. To talk to your pillion or vice versa, you have to shriek or shout to get it to cut in. Then it lasts for about 30 seconds and cuts off. Thankfully, Theresa is not a great talker. Imagine if you had a pillion with verbal diarrhea, like somebody we work with.

The Cardo system worked well for us and, of course, is essential for use with the GPS.

Towards the Brenner Pass and Innsbruck. The barriers were all rusty. Intentional or poor choice of materials?

After a long ride through many tunnels cut through the rock, along Lake Constance and Switzerland, to Freiburg and across the Rhine to Colmar, we found a superb hotel in the Alsace. This was the menu. Deux entrecôtes s'il vous plait , et deux biéres.

Note the warning about the evils of drink at the bottom. Those politically correct health and safety pea-brained idiots have found their way into France too - it would seem!
Wednesday 14th May 2008
We were in the beautiful Alsace region of France, famed for its wine production. We had a nice breakfast, paid our bill and set off on the last leg of our journey at 3140 miles odo. We were in need of some petrol so we asked the nice lady in the GPS to find us some. Only 3km she said. Across the nearby hill by narrow, unmade track, she didn't say. We discovered a delightful village over the hill called Freland where they had one pump at the local garage. 21.56 litres at 32.56 Euros and 3156 miles odo. In discovering this little French paradise we got to see the beauty of the area which we otherwise would not have seen. Back over the hill again and onward on our journey. It was another beautiful day and very warm. To Nancy on the N4, Bar de Luc, Vitry le Francois, north to Reims on the N44 and then on to the toll road signposted to Calais. The traffic was getting heavier and we wanted to get home faster. A fuel stop on the autoroute at 3392 miles odo, 21.69 litres for 33.40 Euros at 1.54 Euros per litre. We set the Varadero on automatic pilot and arrived in Calais at 1810 hours, getting an easy booking on the train. The Peage toll was 11.20 Euros. Nearly home! Petrol at Dartford in England at 3604 miles odo, £24.90 for 22.45 litres at £1.109 (1.40 euros) per litre. At the tunnel we encountered an angry truck driver who objected to us beating him to the gate. Welcome to England! We had experienced the first a**hole in over a week. Then on to the A12 to home, the worst road in England for traffic. It was horrible to be back. We had had such a lovely time at VIM - again! All was well at home. The children seemed pleased to see us. The dogs were ecstatic to see us. Aunty Mary, who had been looking after them all for us (lovely lady in need of a husband) was happy too. A grand adventure. The best yet! Work tomorrow! 3655 miles on the odometer.
3156 - 2917 = 239 miles = 382 km on one tank
21.56 litres = 17.7 km per litre
3392 - 3156 = 236 miles = 378 km on one fill
21.69 litres = 17.4 km per litre
3604 - 3392 = 212 miles = 339 km
22.45 litres = 15.1 km per litre (riding faster and faster)
3655 - 3140 = 515 miles = 824 km travelled today
| | |
| --- | --- |
| | Aux Trois Merles - The three blackbirds (or ouzels). We were now in France, with a German flavour. Excellent place to stay. |
| | A signpost pointing our way across the Alsace region via the mountain pass. |
| | Alsace architecture and more blue skies. |
| | Freland, a small village in the Alsace where Mrs GPS said we should go if we needed petrol. |
| | The petrol station in Freland. One pump, unleaded 95 or diesel. |
| | The Alsace countryside. After this is it was all very uninteresting. We hit the highway and rode until we got home. It had been a wonderful VIM for us and this was the icing on the cake. Thanks to everybody that made it possible. |

Countries Visited
We had travelled in seven countries
ENGLAND, FRANCE, BELGIUM, GERMANY, AUSTRIA, HUNGARY, ITALY
and had slept in all of them except Belgium

Distance Travelled
We had travelled 2789 miles (4462 km) in total

Fuel Prices
in Euros per litre were as follows:
England - 1.40 and 1.42
Belgium - 1.53
France - 1.51 and 1.54
Germany - 1.53 and 1.46 and 1.37
Austria - 1.25 and 1.29 and 1.37
Hungary - 1.23 and 1.25

Fuel Consumption
varied according to the style of riding, as you would expect.
This was between 14.7 and 18.1 km per litre
or,
between 9.2 and 11.3 miles per litre,
or,
between 41.8 and 51.4 miles per gallon.

Our VIM Comment.
This was our 7th VIM. Each one has been enjoyable for so many reasons.
1. Luxembourg was good because of the countryside, the castles, the roads - but bad because of the rain and the horrible damp accommodation. We were in a caravan and the bike fell over in the wet ground and our windscreen shattered.
2. Vienna was good because of the beautiful ride to get there and the impressive riding that we were shown. The guided tour of Vienna was superb. We didn't enjoy this VIM so much because we were separated from the main group due to our accommodation. We don't do tents or dormitories!
3. Germany was good because of the biker motel at Holtgast. The food was excellent (those schnitzels!) and the organisation was superb. It was bad because we were separated again by our accommodation, but Bernard and Karinda made up for it with their taxi-service. It is not Germany's fault either that there are no mountains or scenic routes in that area, making the riding a little dull.
4. Portugal was exceptional because of its location in the mountains and the beauty of the country. The riding was superb and the organisers were a great team who really knew how to guide us on the various routes. It was bad for us because our accommodation was so far away from the base camp and because we ate at restaurants away from the site, thus preventing us from enjoying the beer properly. The sun shone and we were bowled over by the beauty of the country. Despite the limitations of the base camp, this was the best VIM for us because of the sun and the excellent food and the beautiful hotel that we stayed in - and of course, the riding.
5. Poland will never be forgotten by us because we took our children with us. The base camp that was chosen was superb, the best location that we have ever experienced at a VIM. Our accommodation was comfortable and everybody was able to be together. The organisation was excellent, the food was brilliant (best breakfasts ever), the entertainment was great, the barmaids in the bar were beautiful, the area chosen was lovely to explore. But it was wet! It was the wrong time to visit Poland for us.
6. Northern Ireland was unique. We expected rain and we got rain. In fairness, we had a superb ride to the site and the first evening was sunny and warm. We felt really sorry for the organisers as they had everything planned perfectly. What they could not plan was the weather. We had a lovely time meeting our fellow Varadero friends and the sightseeing was excellent, especially the trips to Londonderry and to Carrickfergus Castle.
7. Hungary! What can we say about Hungary? It was the 10th VIM and the best VIM for us. We had good weather, great company, a splendid location with everybody together, splendid organisation, trouble free riding, nice food, cheap beer, varied entertainment, a great tour guide in Gyorgy and Jana, good riding to and from VIM, mountain passes, nice places to stay, etc., etc.