Saturday 23rd May 2015
Up and to breakfast and then out to fill the bike with petrol. A nice sunny day. Whilst people gathered and bikes arrived I counted 56 bikes, including 27 Varaderos and 8 Crosstourers. We had 13953 miles odo. We had done 434 miles since getting here on Monday, that being done with a day out to the Camargue and then a return to Montpellier. We learned of an upset last night at the campsite between Menno and Martyn and the Portugal guys. The latter were making a lot of noise until 2am and the Dutch guys and others were no happy about it. So. Onto the bikes for a 9am start, led by Zebulon and Michelle and tailed by the Blues Lovers, Herve and Murielle. We operated the usual 'tiroir' system and when it was our turn to mark the way, we counted 40 bikes in our tour. Le Cavallerie, St-Jean de Arcas where we had a guide, Alex, to tell us, in English, about the place. Then on to Roquefort to the Papillon site where we were guided by Samuel. We had been before but this time it was in English and we understood better about the cheese was discovered and how the product was developed. Then to a café that hadn't a clue for coffee and the two women running it were a joke. So we went without, as did most others. We had dinner by the River Tarn. We picked our way through many twisty roads, stopping at the exhibition place under the Millau Bridge. Meyruis, Les Vauteurs, etc. We were up to around 1220 metres at one point, with an amazing contrast in landscape; up on the Causses and down in the gorges. We eventually arrived back at 6pm after some fast and twisty riding, with T complaining about her knees hurting. Some others had either not gone out or had got back early or had done their own tours. There are a few awkward situations in the group. Bernard and Karinda and Bernard's new lady Kristin, for a start. Then we have Jack who cannot keep up with the rest of us. He cannot handle the hairpin bends. Then we have the Prodded Dog who has a chest infection and is not well. Then Numpty Spence, whose rear brake is buggered. After a wash and brush up we went to the bar to see what was happening. We had a bit of a wine tasting and then to dinner. We took Gareth the sheep with us. We sat on a table with Mr and Mrs Big Dave, Numpty, Martyn (who was really quite ill and quiet), Iron Butt Ole, and others. A good meal with breaded turkey, rice, ratatouille, followed by a dessert of birthday cake. Then we all went to the threatre for our presentation and tombola. T won some Kirschwasser and Gareth won a hat. Then to the bar where people were well oiled and getting more so, especially with Sebastian's Calva bottle and other won bottles being tasted. We watched a little of the Eurovision contest and then made our excuses. Another excellent day.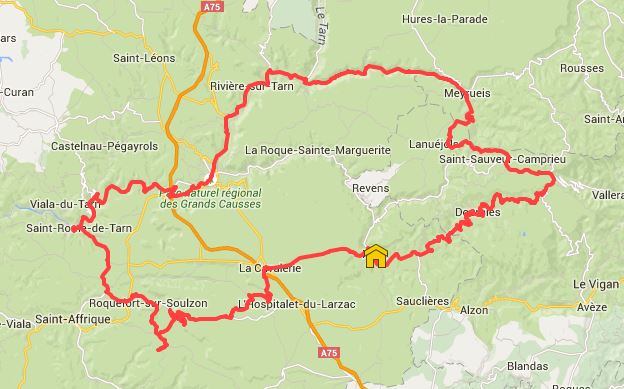 Trip 1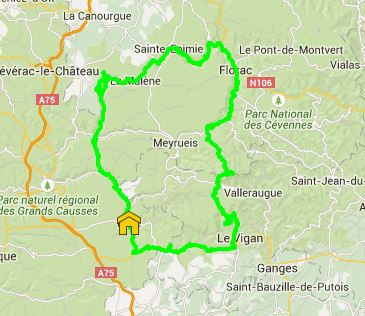 Trip 2
Outside the Roc Nantais.

Armrests on a Varadero.

Zebulon at St Jean d'Alcas

...on to Roquefort.

Theresa and cheeses.

Our guide at Roquefort.

Pause for lunch.

Millau Bridge

The Millau Bridge visitor centre.

The Tombola in the evening with Zebulon and Michelle

and the little girl who was totally bemused by foreign people in general.

Spence and Gareth act the fools.
Sunday 24th May 2015
To breakfast and then to the bikes to get ready for another day of riding. This took us on a trip through much more amazing scenery that culminated for us at Mt Agouail at 1556 metres according to our GPS, with good weather and magnificent views. On the way we had stopped for our picnic at a riverside location and had started off a stone skimming session. The Portuguese won that easily. Point Sublime for a coffee and to see the gorge. There we watched a vulture way below us soaring on the wind, and then a huge eagle above us. We decided to leave the group at around 3.30pm and head back to base camp, somewhat worn out by all the twists and turns on the road which tax me heavily and make T's knees hurt. The end of the riding for a while until we head for home tomorrow. So to a bit of rest in our room and later to the terrace to meet up for another wine tasting and more chat and some photographs. Then in to dinner where we enjoyed a main course of lamb steaks, roasted tomatoes, aligot. Then we had the bearing and presentation of gifts and speeches and thanks given to our hosts and organisers and proposals for next year. There is some doubt about next year in Belgium but we must wait and see. Zebulon was overwhelmed with emotion and Bernard read his speech for him. T and I gave Zeb and Michelle a little solar powered garden gnome and some Tiptree jam. If the gnome works properly he will remind them of us. T to the packing and me to writing this - and then off, with Brian Lloyd following along with us for the ride to our hotel tonight. He is nervous about travelling alone it seems.
| | |
| --- | --- |
| | |
| | |
| | A stop for lunch and some stone skimming. |
| | Le Point Sublime and some truly sublime views of the gorge. |
| ...and back to base camp for another of Yvan's wine tasting - this one of different Rose wines. | Ole (Bonne), Bernard, Big Dave, The Tall Guy (Menno), Martin Koek the Cool Guy, and Yvan crouching. |
| A group photograph | We say our goodbyes and close the 2015 VCIM. |
Monday 25th May 2015

VIM is over and we must go home. So to breakfast for the last time at Nant. Lots of saying goodbyes and stuff and we found our companion Brian for the journey home. He didn't want to stay with Big Steve and Keith, as they were staying on for a couple of days, and Brian asked if he could travel with us. Steve and Keith offered sympathy. We were yet to find out why. First thing, Brian needed petrol. So, having said goodbye to just about everybody, we set off for our long journey home. Clermont, Bourges, Orleans, Evreux, with Brian needing fuel stops and cigarette breaks on a regular basis. We were getting the general feel of the man. We dined at the Zebra near to our Ibis Hotel in Evreux. We had a nice steak and chips and T managed a bottle of wine, and so to bed. Home tomorrow.
Tuesday 26th May 2015

Up and to breakfast to meet Brian at 8am. Typical fare. Then to packing and loading bikes and off, the GPS playing up but easy to find the road to Rouen and then on to Calais. Stopped at next petrol station as Brian worries about 'only' having a quarter tank of fuel. A good run all the way through to Calais, with sunny and warm weather. We got there early and took an hour earlier train. Brian had to pay for a ticket as he had some concept that it was cheaper to get a single out and a single back. He also wanted to get duty free cigarettes and get us to enable him to get three times his limit. As it turned out, his ticket was for the same train as us and he trundled in behind us, having been told he had to board immediately. Anyway, we got to the other side and soon realised we were in England again from the idiots that lane hog. Stopped for a meal at Thurrock and home by 3.30pm. Great relief! Great welcome from the dogs. A little lie down and then we were settled back into our mundane life. Took the mutts out for a run. Our blind Pirate was very happy, we could tell. The bike read 14930 miles, 975 odo.
Here are a few pictures that we didn't take but have borrowed from others.
| | |
| --- | --- |
| At Millau Bridge. | Gareth hiding in the undergrowth. |
| Gareth, Merlin and Nugget. | Our exquisite host Yvan. |
| Yvan and Zebulon. | Jack prepares his bike. |
| Gareth at the table with a pitcher of wine. | Zebulon and Yvan in the wine vault. |
| In 2015, this was known as a 'photobomb'. | Yvan preparing a wine and sausage tasting for us on the night before VIM. |
| Pre-meal drinks with the Dutch contingent. | As the hog roast gets under way. |