the

Second

Varadero International Meeting

held July 2000

at

La Rochette, Luxembourg

Jess and Theresa's Pictures and Comment

Friday 7th July 2000 - We set off on the Varadero, loaded up for a weekend in Luxembourg for the 2nd International Varadero meeting at the Daytona camp site in Larochette. Caught the Stena Fastcat at Harwich, had a meal and read a little. Landed at the Hook and set off on our adventure. Drove to Rotterdam, then Antwerp (getting really lost as we were looking for signs for Liege, but there were none. We later learned that they have three names for Liege and we should have been headed for Luik) passing under the Kennedy tunnel a few times in the slow rush hour traffic. It had started to rain by then. Then on to Liege and south into Luxembourg. By now the weather was really turning bad and it was getting dark and we felt really horrible. We eventually arrived at midnight in the pouring rain, like drowned rats, Theresa quite traumatised by the scary journey. We checked into our caravan, got changed into dry clothes and then proceeded to drink the bar dry. Met up with René the organiser and several of the others. There were about 70 bikes there and perhaps 90 people. The bad bit was when the bike fell over on its stand in the wet grass and smashed the new Powerbronze screen (we had only recently replaced it after a football had smashed it to pieces). Shit happens sometimes. A bad day that gradually got better. The others thought that the screen incident was hilarious and that it could never have happened had we fitted a Givi screen.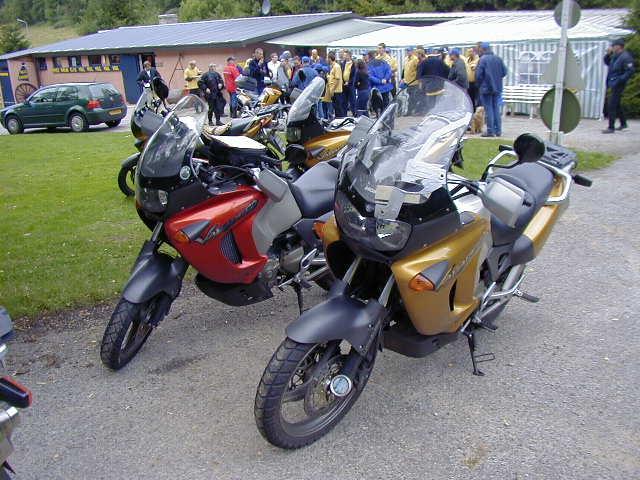 Note the patchwork screen!
Saturday 8th July 2000 - In the morning René produced a roll of duct tape and miraculously repaired the screen for us. Breakfast was good and all was fine. We collected our shirts and road books and decided to go it alone for a Castle Tour of some 110 miles. It was dry and the roads were fun to ride. We rigged up the intercom and T did the navigating. We caught up with a big crowd of our lot at and inn and had a meal there with them. They all went off and we stayed on our own as we didn't want to travel as a group. It was getting quite late and the rain was threatening so we cut the tour a bit short and headed back to Larochette. Had a nice evening at the site, a barbecue and plenty of beer and chat. A great bunch of people of all nationalities. What a shame the weather was so bad! Did some group photographs and René and Bernard and Richard were presented with some gifts of appreciation.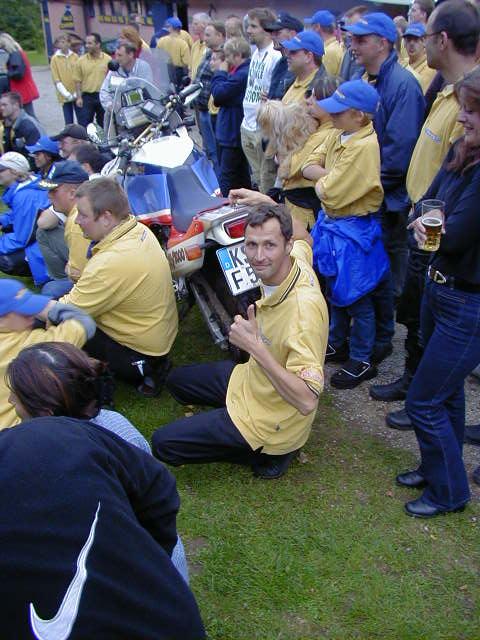 René of ze Resistance
Sunday 9th July 2000 - Weather overcast and threatening rain. Had breakfast in the bar and then packed our things and set off. Used the intercom and it worked really well. Soon started to rain and after a 265 mile trip, we felt that we had really been put through it. The side winds and the rain were very bad but we stayed fairly dry, except for Jess' boots which were full of water. A little concerned that the boat would not be able to sail and that we would be stranded and unable to go on our pre-arranged holiday to Spain - but all was well and home by around 7.00pm our time. Our two children were pleased to see us again.
Here's to a drier VIM3!
back to the

Home Page