Jess' Account of his 2023 Varadero Meeting.
This is another of my grand Varadero adventures that I would like to share with you.

I have owned three Varaderos since my first was purchased in 1998. My current Varadero was bought new in August 2012, last of the model XL1000VA, shasta white model with ABS, centre stand, heated grips, paniers and top box. To that I added a 12 volt charging socket, a Palmer Products screen, a set of crash bars, and a Garmin Zumo GPS system.

I used to ride with Theresa, my wife, however, a few years ago, she decided that biking was no longer for her, but is happy to let me play. We retired from work, sold our house and emigrated from the UK to Occitanie in France in February 2017. This is us at VIM 7 in Poland in 2005, the year we took our sons Lewis and Harry with us, Theresa riding her Virago 535.

The last VIM that I attended was to neighbouring Andorra for VIM 20, in 2018.

Covid interrupted later VIMs, with VIM 21 held in Denmark in 2019, and VIM 22 eventually held in Poland in 2022.
080523 Monday - Set about checking my itinerary and sorting out what I need for my trip. Took the Varadero for a short ride to see that all was OK. Chain a little over tight so slackened that off a tad.

090523 Tuesday - Another test ride to check chain and to fill up with fuel. Packing my kit for the trip. Got all my things packed on the bike, paniers, warm clothing, maps, GPS, etc. Not particularly looking forward to tomorrow as the weather looks bad. First leg is to a hotel in St Omar.

100523 Wednesday - Up and away at 8.22pm, all loaded up, extra wet suit over my bike clothing and into the unknown. Headed for Toulouse, then Bordeaux, then Nantes, Rennes and finally, St Malo to find my hotel. A long slog with a little rain, but not too bad. 570 miles done, 11 hours riding, including a few stops for rest and refuelling.

110523 Thursday - I have no Plan B. It either all works to Plan A or I have a problem. Checked out of Hotel Eden, where the patron had allowed me to garage the bike. A short ride to the ferry dock and had to wait with others to board. It was a calm sea all the way and it was a bit boring with the 8 hour crossing with Brittany Ferries. Arrived on time, 18.20 hrs. Disembarked and then headed north, Portsmouth, Winchester, Oxford, Birmingham, M6 Toll and on to find the Holiday Inn at Stoke on Trent where I was hoping my son Lewis was, ahead of me. He had ridden from Dedham on his KTM bike. He soon found me as I checked-in, and went to find some parking. We had a beer together and then it was time to get some rest. It had been a little wet on the way, but I had missed the worst of it. Lewis had to ride through the heavy rain on his way there.
120523 Friday - We had a good breakfast and then headed on our way to Liverpool to find the ferry port. The Eurovision Song Contest was going on, so there was a lot of activity around the area. Found where we needed to be and then had to wait with the others. Saw Spence and Shelley in the queue so caught up with their news. We were on the way to VIM23. After boarding, we met other VIM friends, Josep from Spain, Sebastien and Alexandre from France, John from Switzerland, Jack from Israel, and may others. It was a FastCat, so the journey was fast and smooth. When we arrived in Douglas, we were soon disembarked and on our short trip to the Palace Hotel on the seafront. It was the usual thing for VIM, a big welcome from 'Big Dave' Harris, the organiser, and others. Found our rooms and then it was dinner at 7pm. Bernard Stikfort, founder of VIM, sat with us. We organised that we would ride together tomorrow with Rainer (aka meine dicker), four of us.

Jess and Lewis in Liverpool, waiting to board the ferry. Picture by Spence.

Jack Sawadee from Israel, whose journey story is always fascinating.

To get from Israel to VIM without being killed by his neighbours, is a matter of good planning.

Here he is on the ferry from Liverpool to the Isle of Man.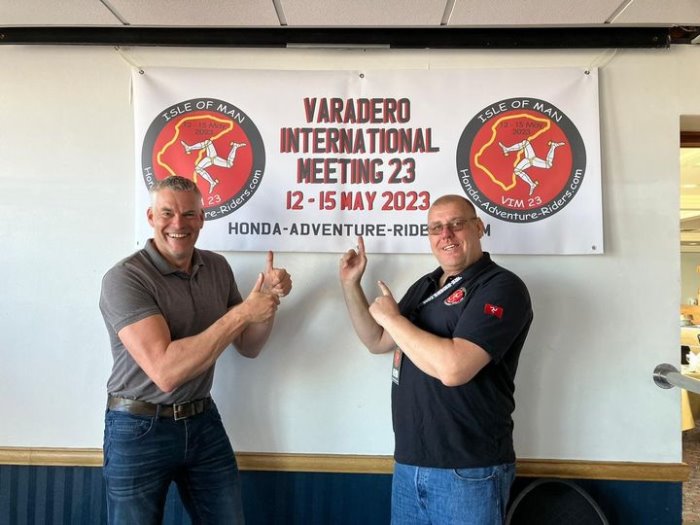 Bernard Stikfort, founder of VIM, on the left with 'Big Dave' Harris, organiser (with wifey), of VIM 23.
130523 Saturday - A good English breakfast from an excellent buffet and enjoyed by all of us. We have a separate room to the side of the restaurant with four round tables, each seating around 10 people. We then set off as a group of four to explore the island. We discovered some of the TT circuit and saw some of the crash barriers that were erected for the forthcoming race season. It's a beautiful island, with lots of individual cottages with white painted frontages. The wild bluebells were looking splendid along the roadsides. A nice sunny day and not many cars to hold us up. In the evening we went to dinner and had a splendid single course meal, no frills. As is tradition, the Poles brought vodka, the Norwegians brought some rocket fuel and Sebastien brought his family made 60% calvados. I sampled a couple of shots, but spirits don't suit me. It was a splendid evening, Lewis and I split up at the dinner table, as did everybody else, to avoid mates sitting with mates every time. A nice touch I thought. Lewis was clearly very comfortable with talking to people. He certainly didn't need me watching over him. He was a geek in paradise, talking to other geeks. He had come to a previous VIM with me, his mum and little brother, when we all went to VIM 7, in 2005, in Poland. He vowed that, given the opportunity, he would do VIM again, on his own bike. This was a dream fulfilled for him.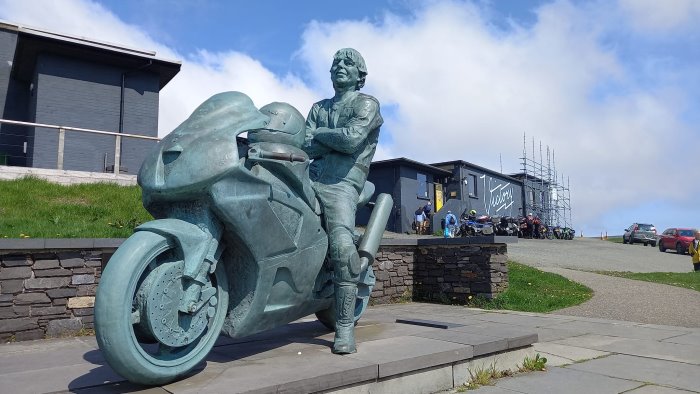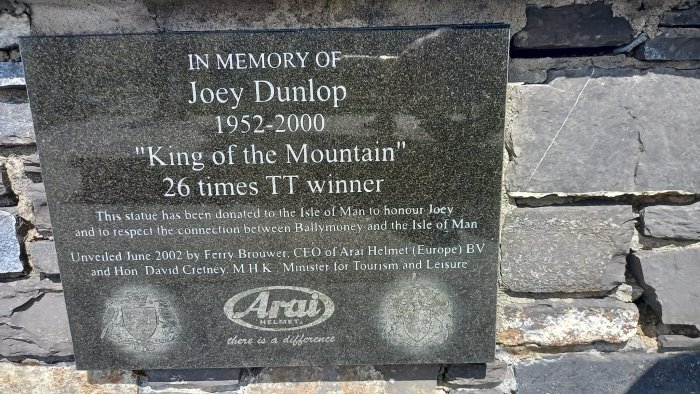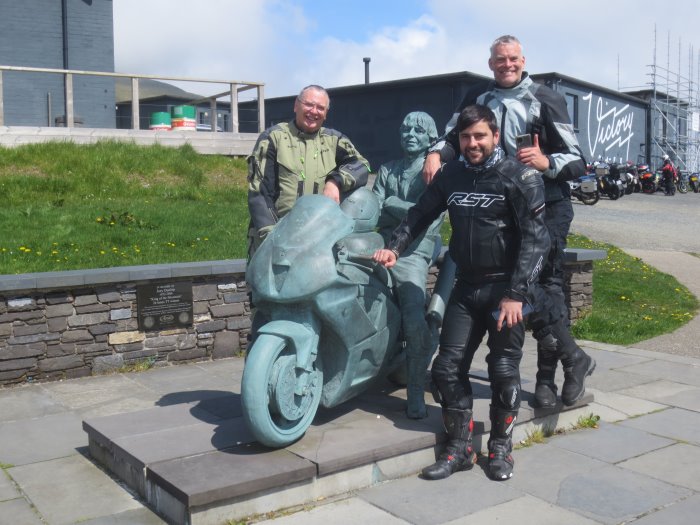 A stop at the Victory inn, where the famous Joey Dunlop statue is located.
With Rainer, Lewis and Bernard.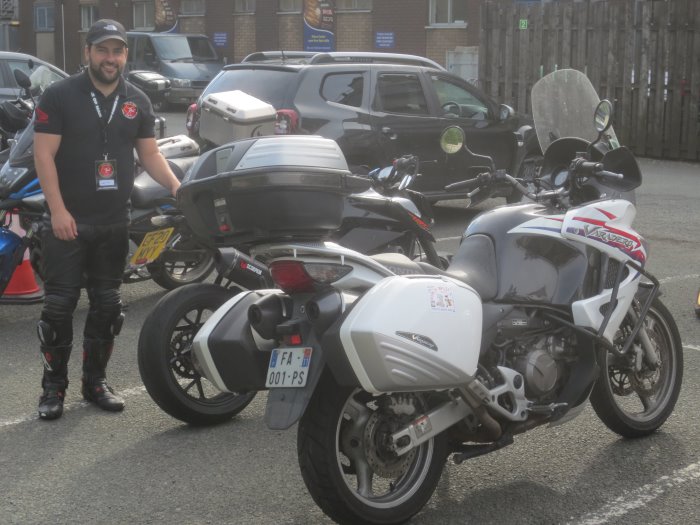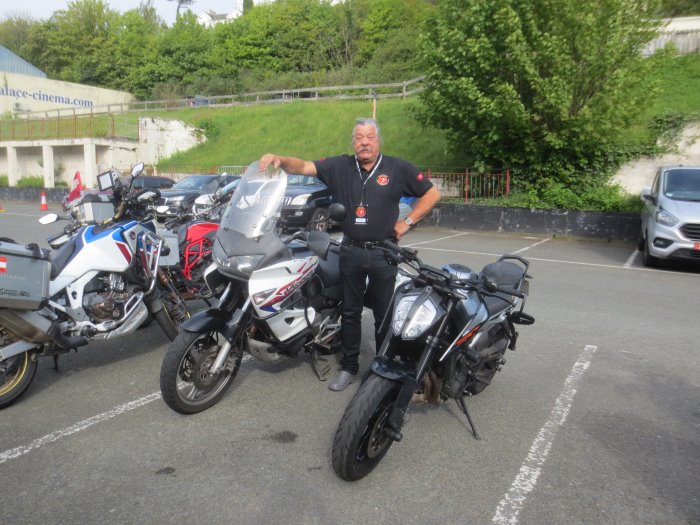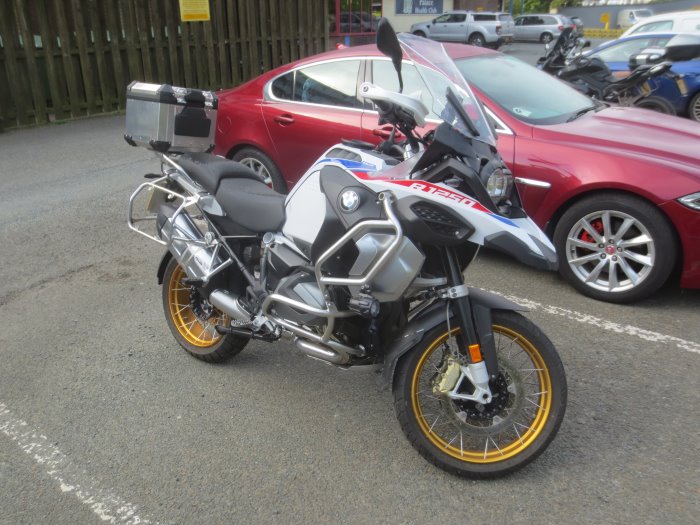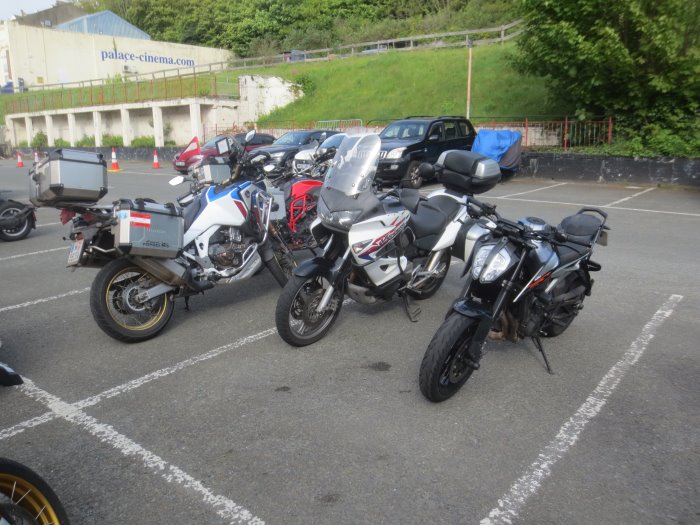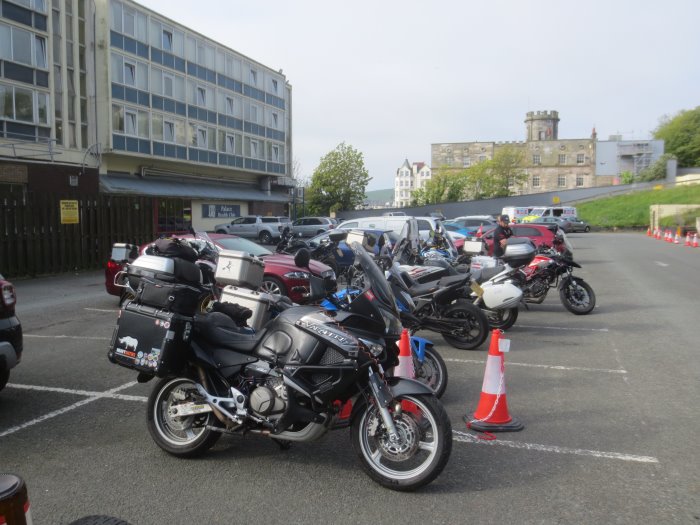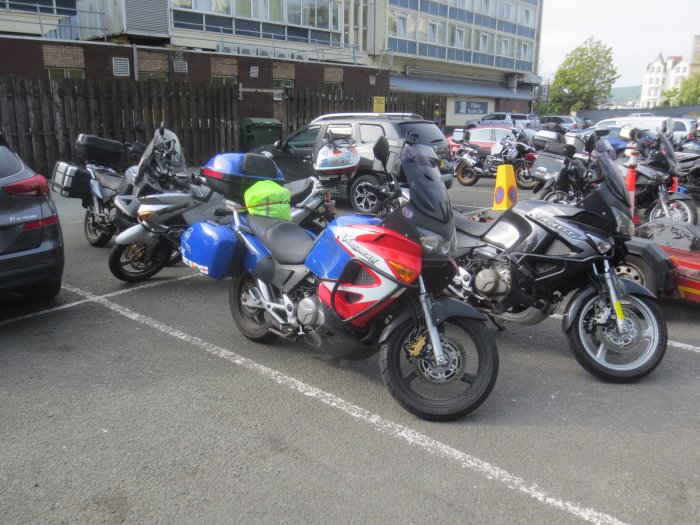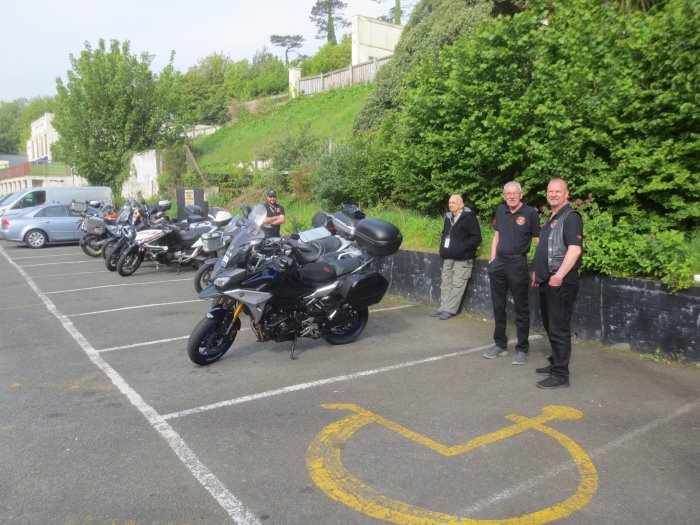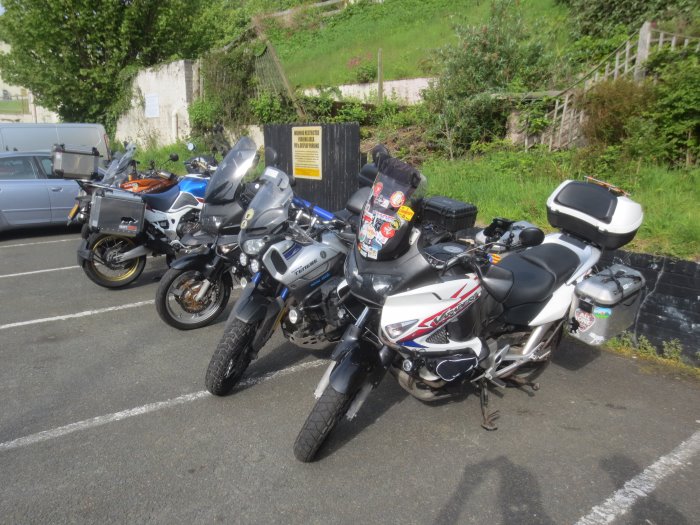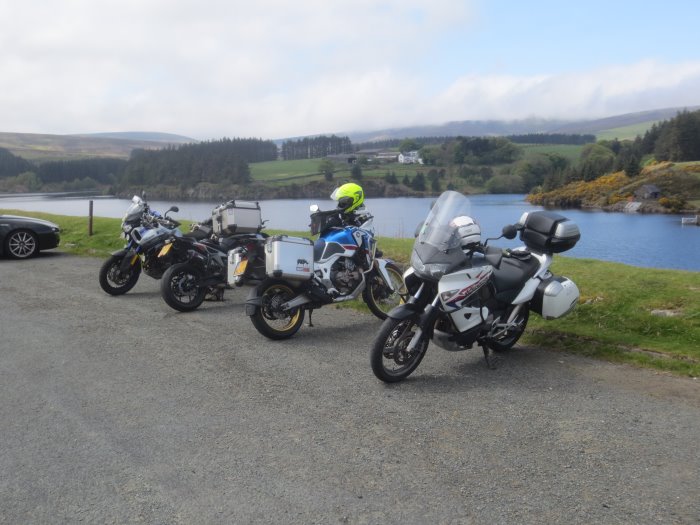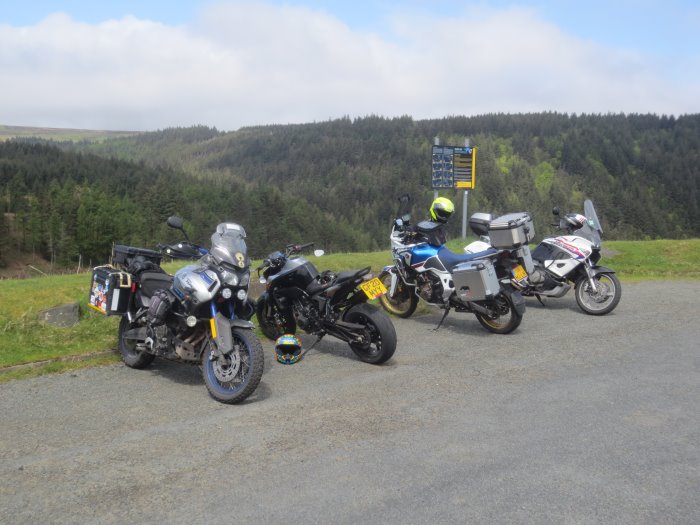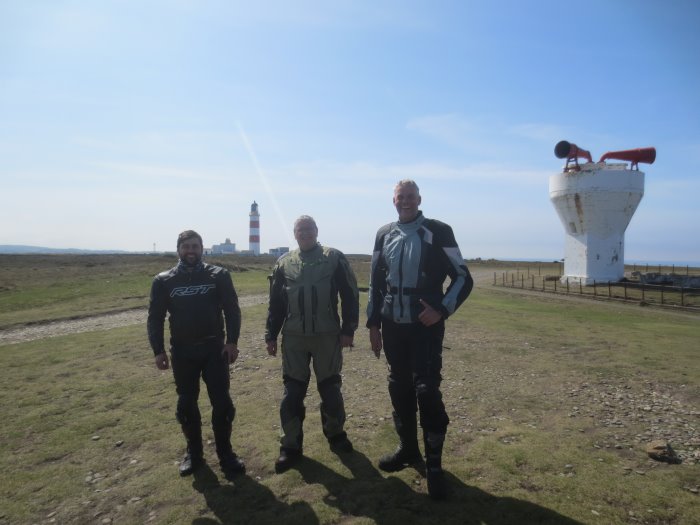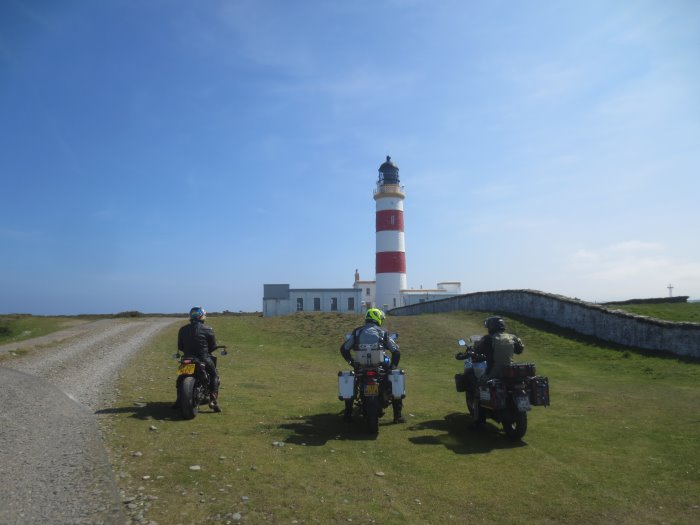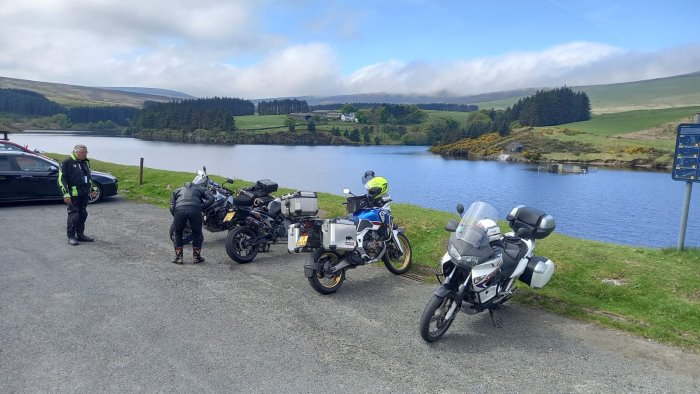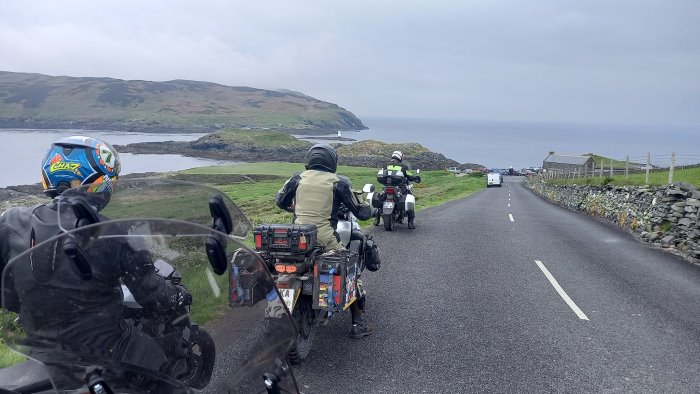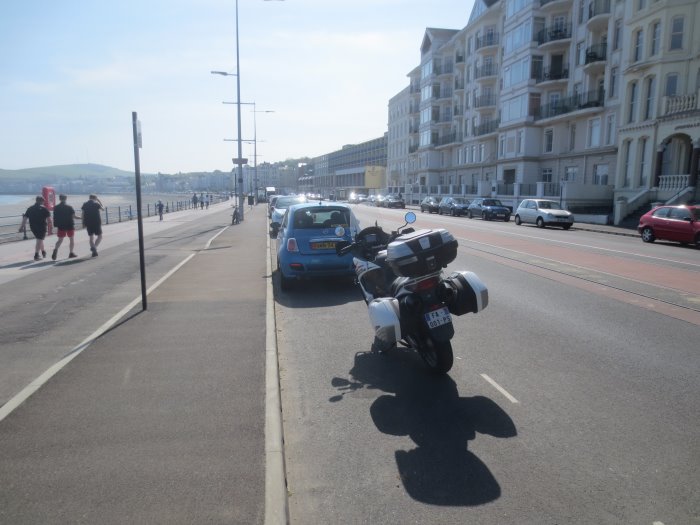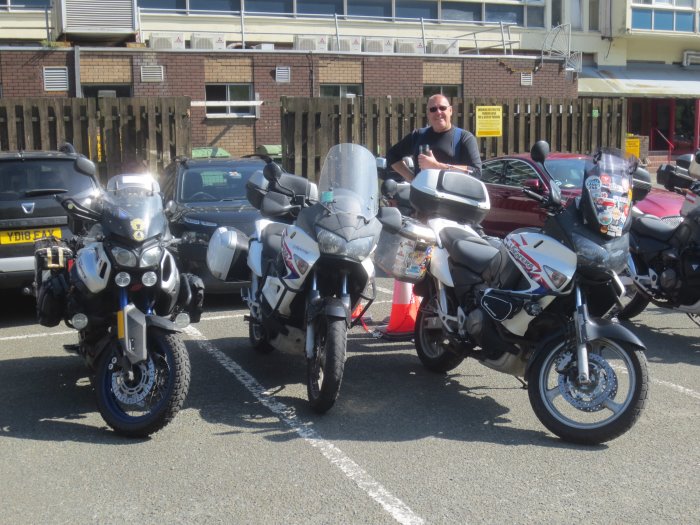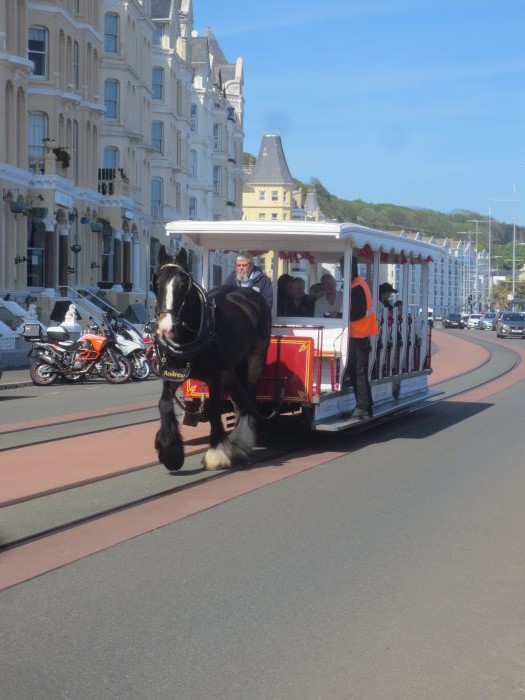 Douglas sea front with a different sort of horse power.
Saturday 13th May
Getting together for the evening meal.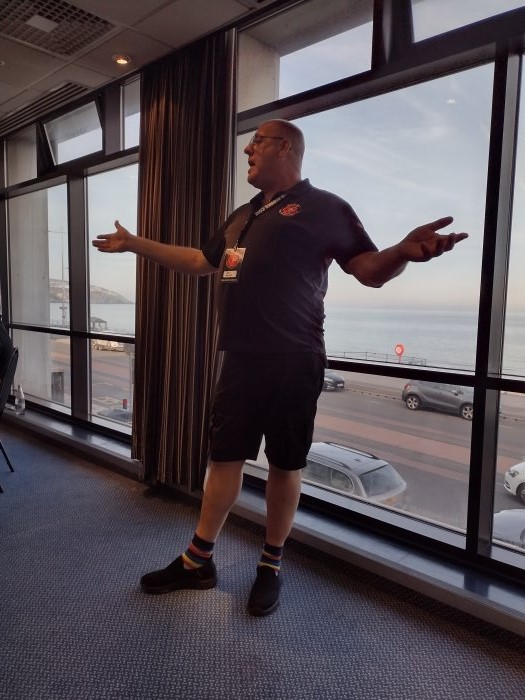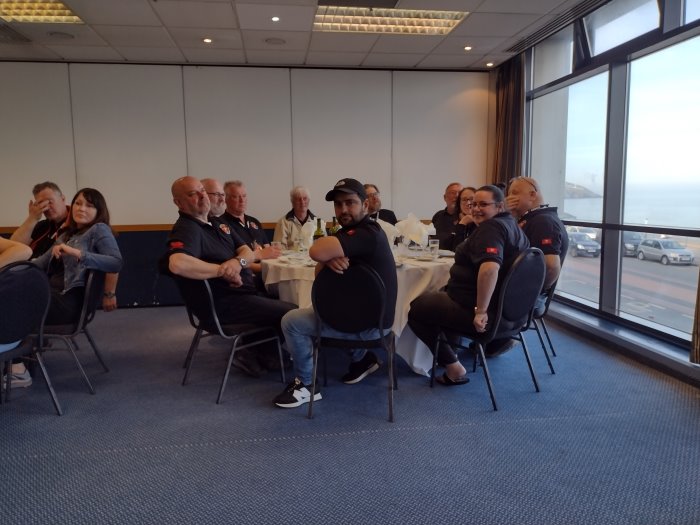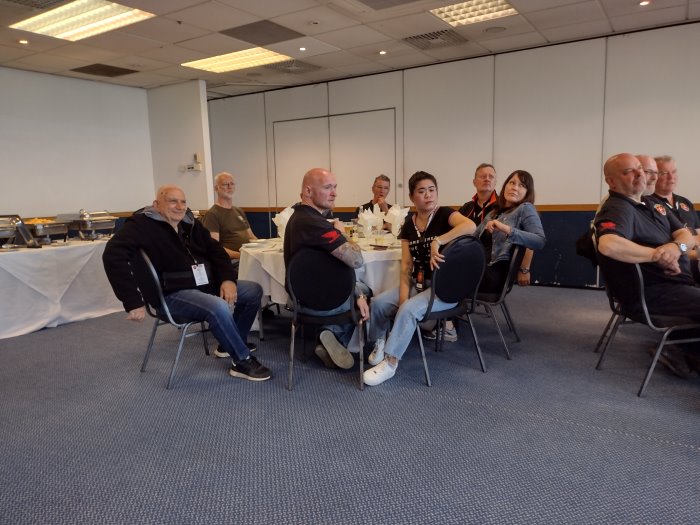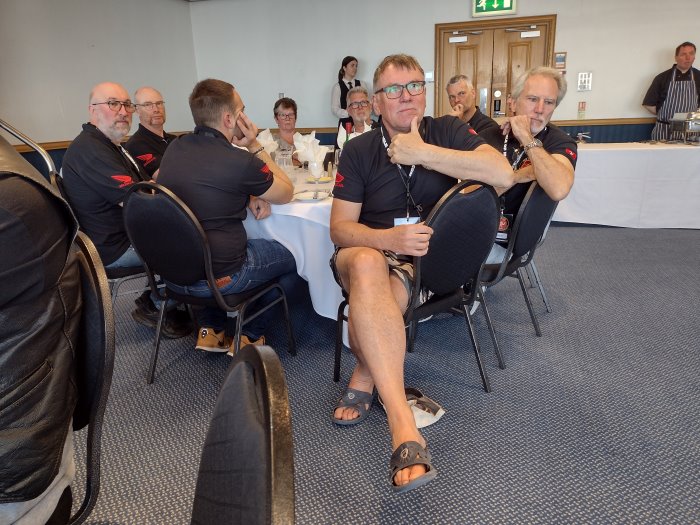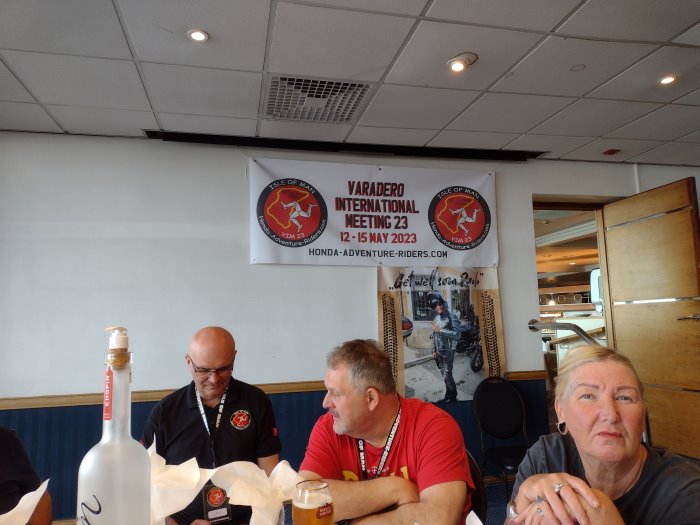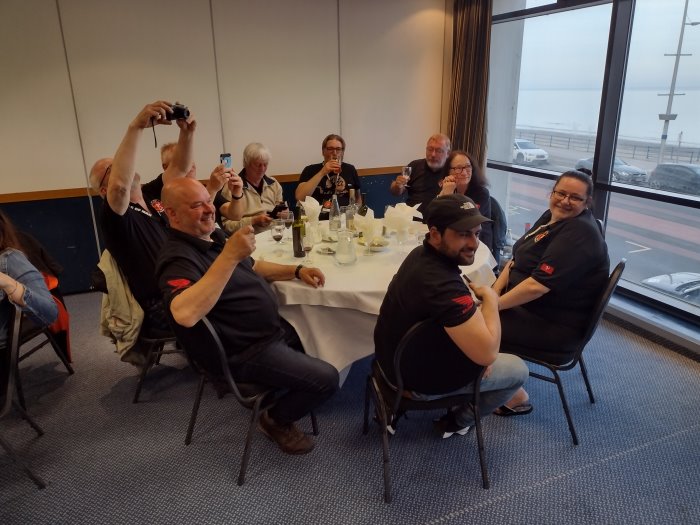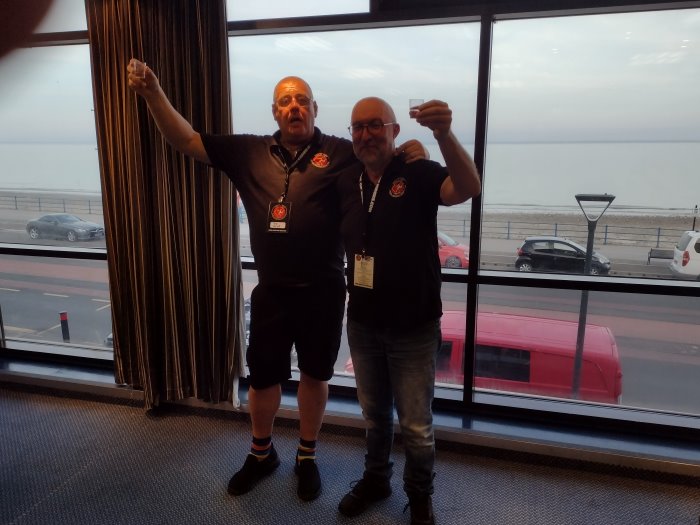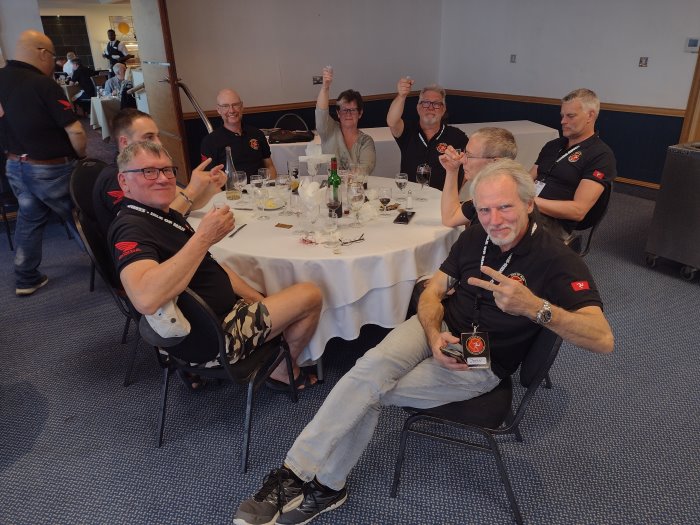 Saturday Evening.
Missing Friends
Gilles in France was unable to attend, after he was injured in a skiing accident. Jess, Sebastien and Big Dave.
Also Paulo, who had to remain at home due to a family matter.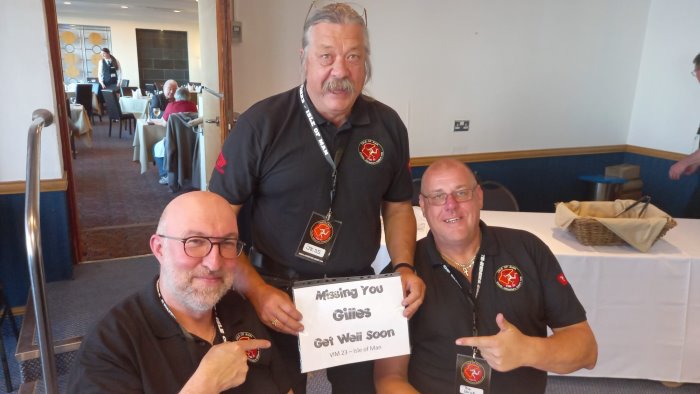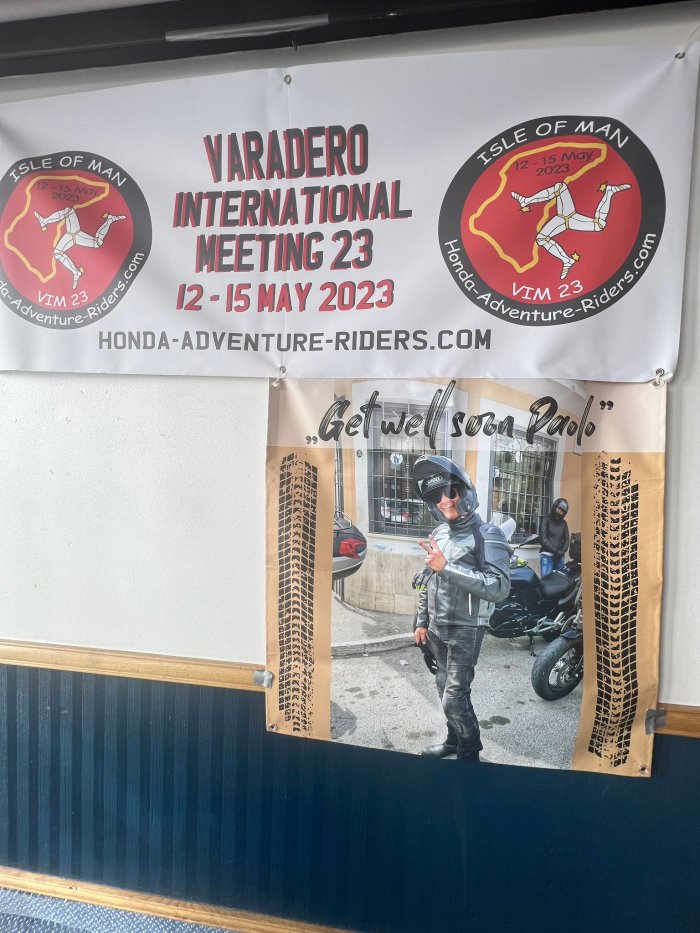 140523 Sunday J - Having made no plans with anybody, after another superb breakfast, Lewis and I set off to find the big wheel that we had seen pictures of in tourist brochures. I had no idea that this was a piece of industrial heritage. What an amazing structure it was. We explored the monument to try to understand how it worked, what its function was and to see what purpose it had in the mining process that it once served. It had been extensively restored in 2022, so we were seeing the result. We climbed to the top and then did the winding house walk further up the valley. Another genius designed piece of our industrial heritage. As we came out we spied Rainer, so we teamed up with him for a ride to the south of the island. When we stopped for coffee at Castletown, Bernard happened by, so he joined us. We were four again. We tried to hug the coast for some riding, going down to the Calf of Man. My back was hurting with the bumpy road. I had been shifting stones before I came away and I was feeling the after shock. As we had a photo-shoot appointment we then headed for Creg-Ny-Baa, as it started to rain a little, a restaurant perfectly situated on a long bend of the TT circuit from where they must have spectacular viewing of the riders as they come down the hill. A knickerbocker glory for me and a group photograph for those that were there, and then we headed back to our hotel. At dinner, we had the usual prize raffle chat and gift offerings. Reiner had cleverly kept the secret from us that he was hosting next year's VIM in Germany. Norway would host in 2025. Would I be going? There lies the question. 1047km to proposed site in Germany, from where I live in France!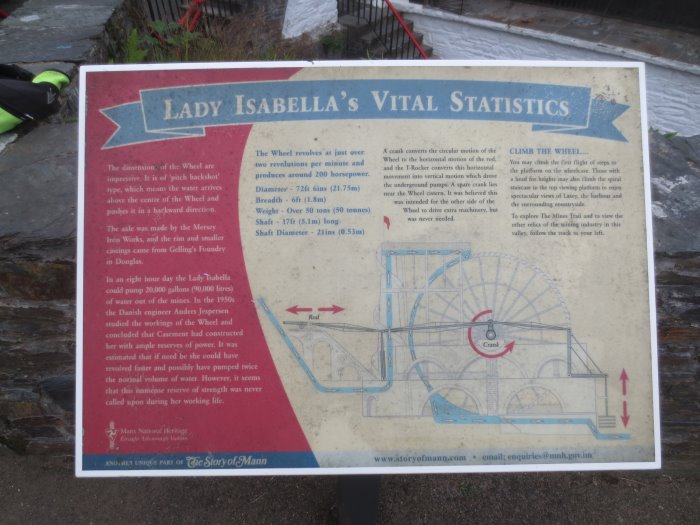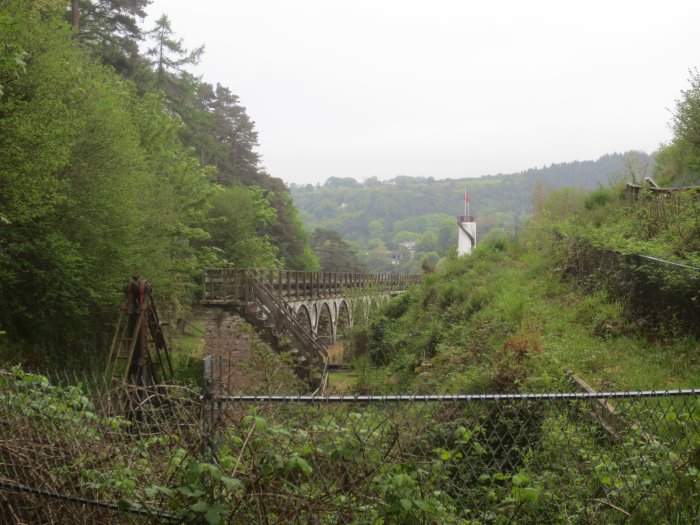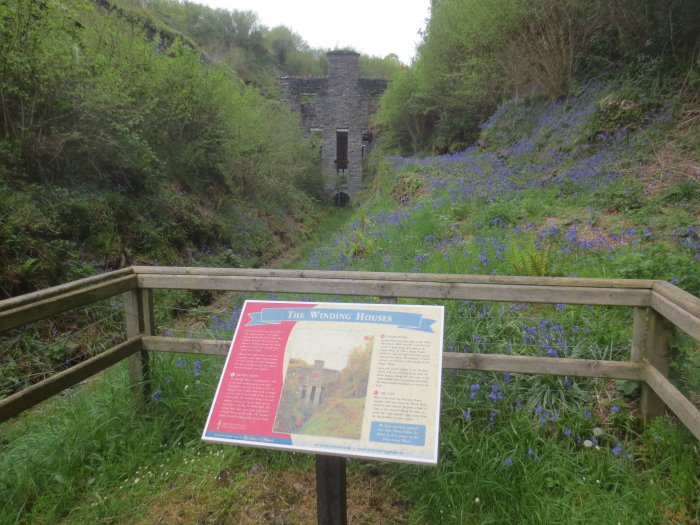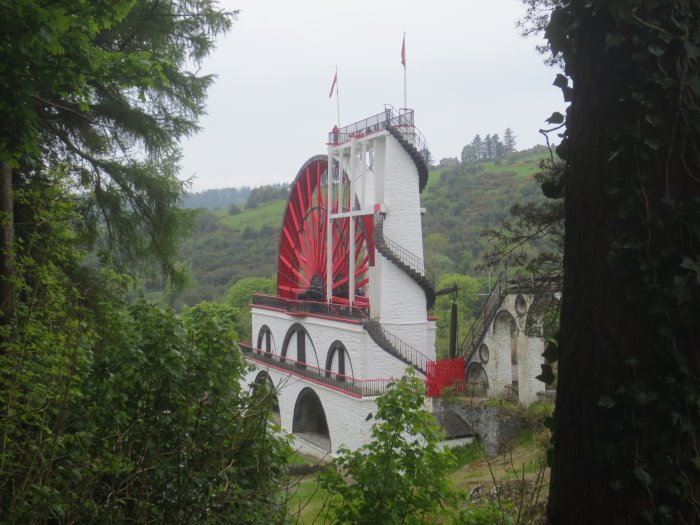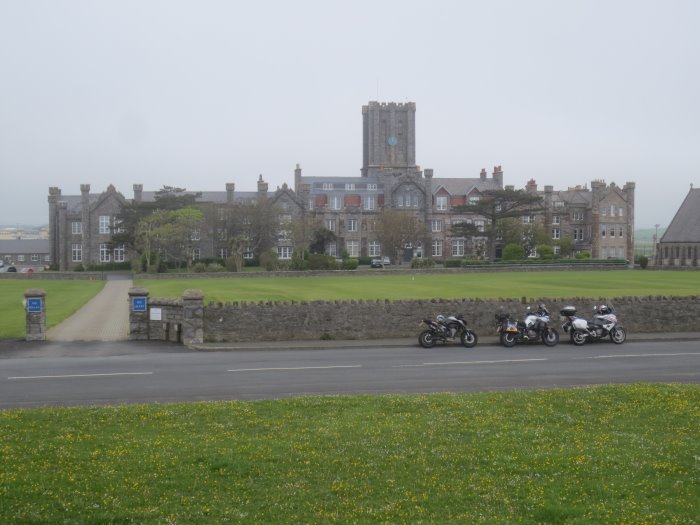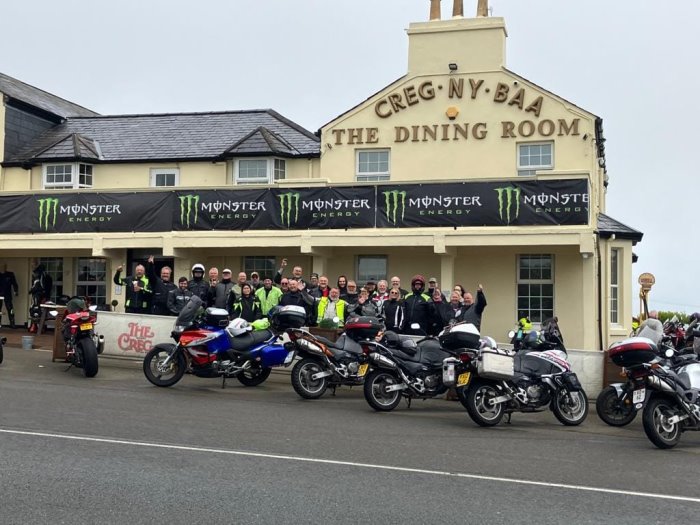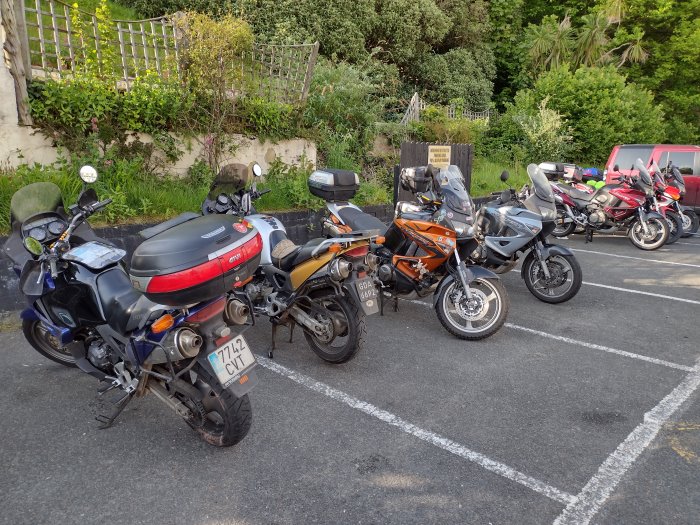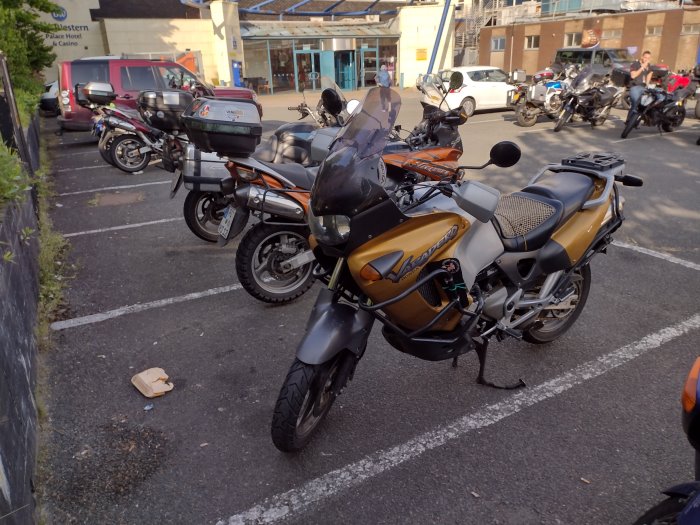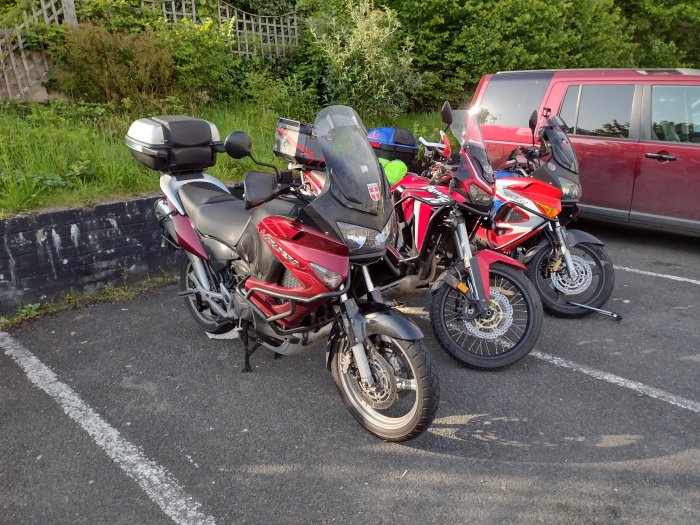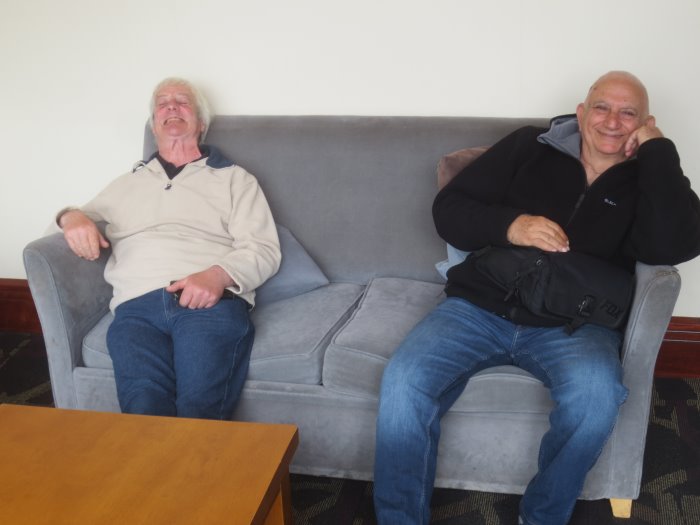 Final Evening of VIM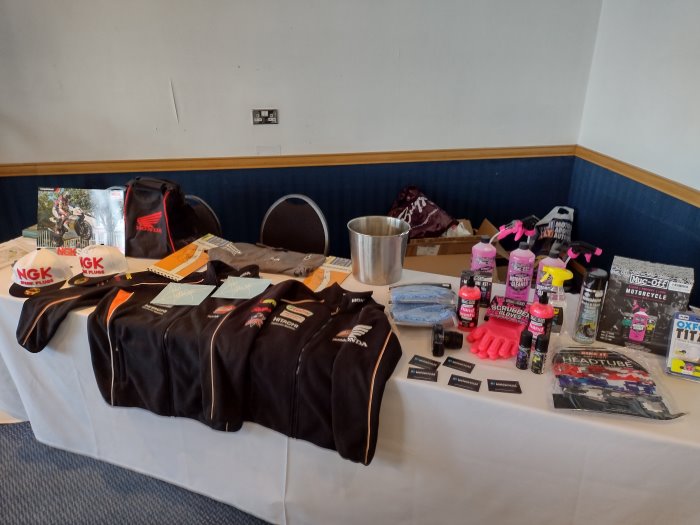 Raffle Prizes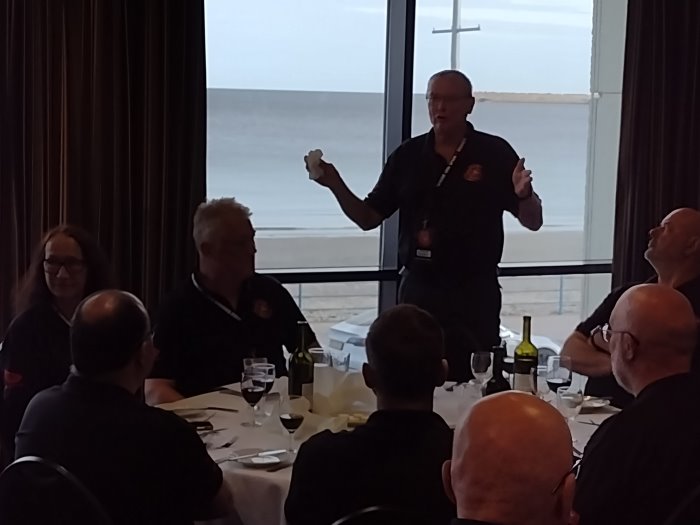 Rainer presents his plans for next year's VIM in Germany.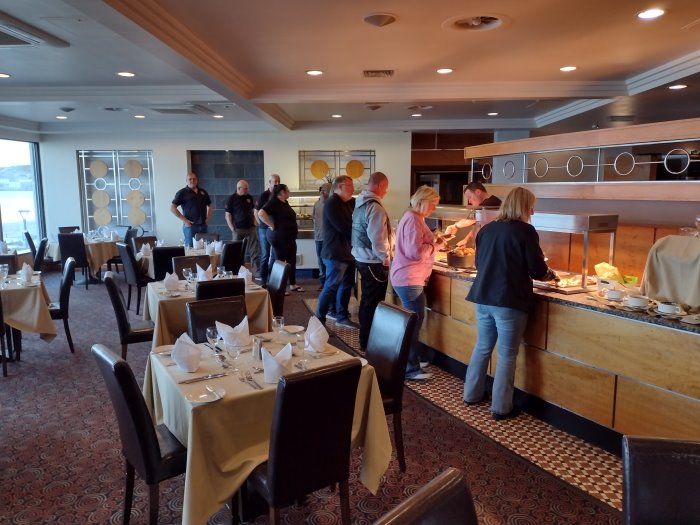 Dinner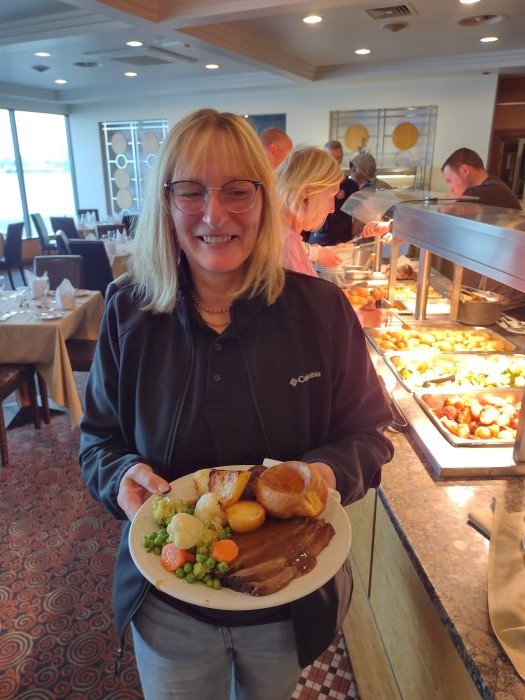 Linda, 'wifey', 'Mrs Big Dave', organiser.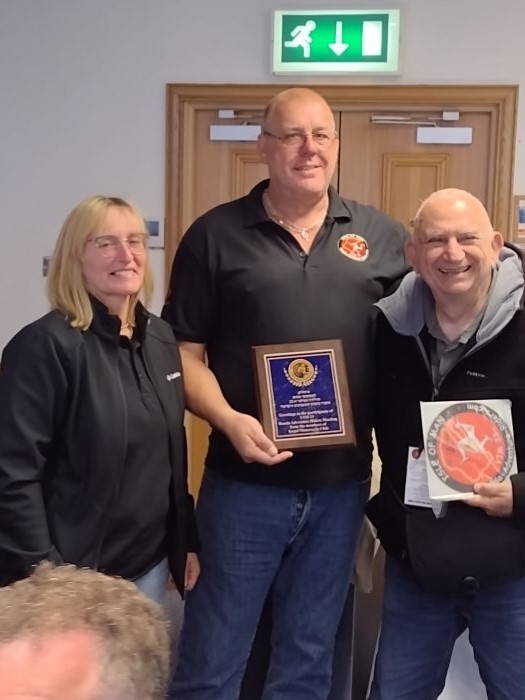 Presentations - Linda, Big Dave and Jack from Israel.
The Usual Suspects.
Vive la France !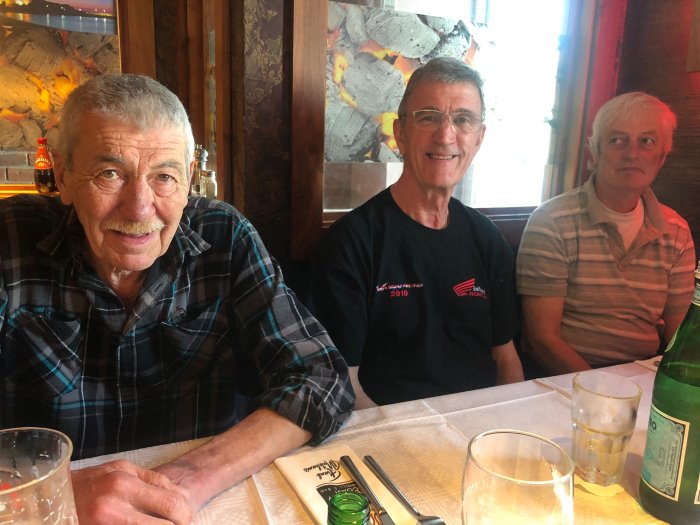 Last of the summer wine!
150523 Monday - An early breakfast and start, to the ferry by 6am, for the two of us, and various others. Time to go home after an excellent VIM 23. I was so happy for Mr and Mrs Big Dave, who had played a blinder with it all. A quick crossing on the FastCat and then on the road from Liverpool. Weather good. I left Lewis to go on his way, as I headed off on the M42 and he on the M6 towards his home near Colchester. He had to go to work; I had to go home. M40, A34, to Winchester where I stopped to have a look at the cathedral, as I had time to kill. Then on the road again to the M27. I inadvertently/accidentally picked up a piece of textile (rode over it innocently) on the motorway near Portsmouth, and it wrapped itself up in my back wheel brake system, almost locking the wheel and making the ABS light flash. When I could, I stopped to have a look at what might be wrong and discovered the cause of the problem. Then I went to buy a knife to cut the material away as much as I could. It's not easy buying a knife in the UK! Then, when I got to the ferry port, a couple of biker lads lent me a pair of pliers and I was able to remove most of the rest of it. However, there was clearly a problem with the plastic/nylon/whatever having melted and contaminated the brake pads and caliper and the ABS ring. The material had a zip and seems to have been clothing or a cover for something. I would need to strip it all down to see what I need to do with it, when I got home. Boarded the ship and got settled in to my cabin. Had a meal and then to bed, tired.

160523 Tuesday - Up and to breakfast on board ship. Smooth crossing and on time. Disembarked at 8.20am and soon on the road, headed for Rennes, Nantes, Bordeaux, Toulouse, home. 11 hours later, I arrived at our gates, tired but safe. I had had good weather all the way, if rather windy. T said that it had been wet, wet, wet, for days. Daisy (our mutt) was pleased to see me, as was my lady. Pirate (our other mutt) was as confused as ever, aged 16 and totally blind. Not an enjoyable day (riding long distances alone), but it had to be done. The ABS light was flashing all day, but the bike ran well. The rear brake is clearly not happy and I would need to strip it out at some point. Back to normal life.

170523 Wednesday - A good night's sleep. Spent all day tidying away my things and getting on with paperwork, a letter to the hotel about its noisy fan (an annoyance to some of the guests at VIM, something that is easily cured and is my profession) , the diary, sorting photographs, working out mileages and fuel consumptions, etc. T and I went to Mirepoix in the afternoon for some shopping. Back to normal life. 1821 miles covered in total - 2900km approx. Between 11.04 and 12.40 miles to the litre of fuel.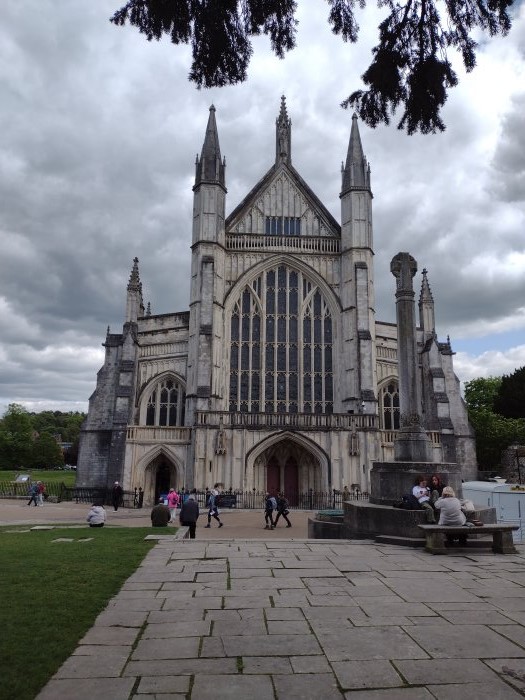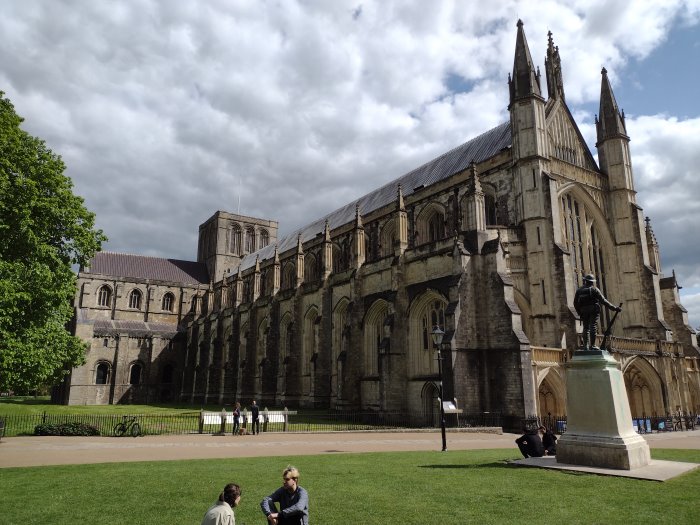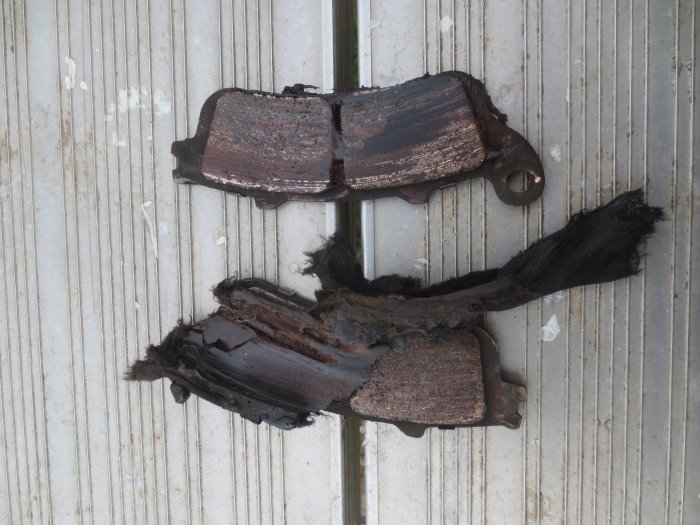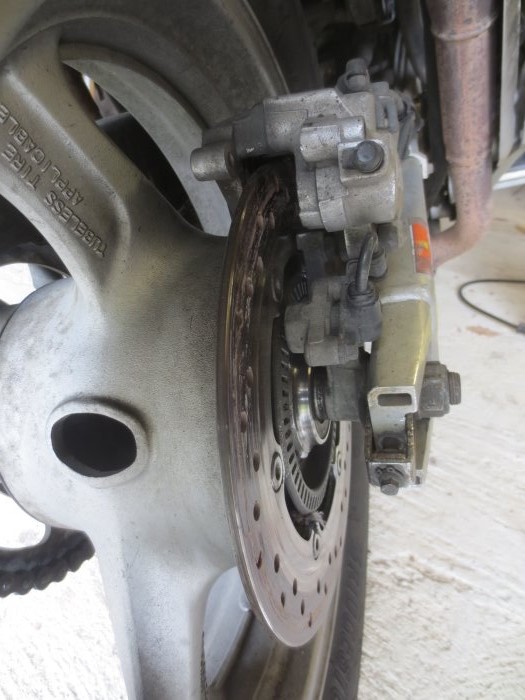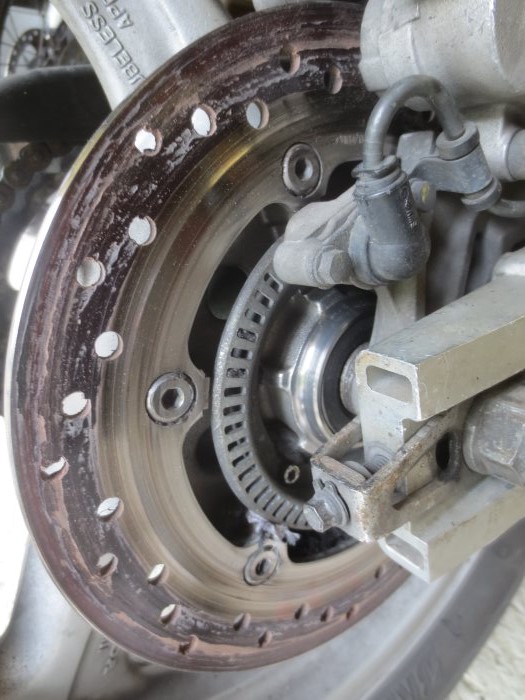 Catastrophe on the way home. I managed to pick up a piece of fabric on the road, which seems to have caught on the centre stand and then wrapped itself around tehe rear brake assembly. All fixed now, after fitting a new disc, ABS ring and pads.

To contact me please email to sdapeze@aol.com
Jess Jephcott, 11240 Hounoux, near Carcassonne, France
back to the

Home Page
last updated 031123