the

Third

Varadero International Meeting

held 1st to 4th June 2001

at

Schonau in Triesting, Vienna, Austria

Jess and Theresa's Pictures and Comment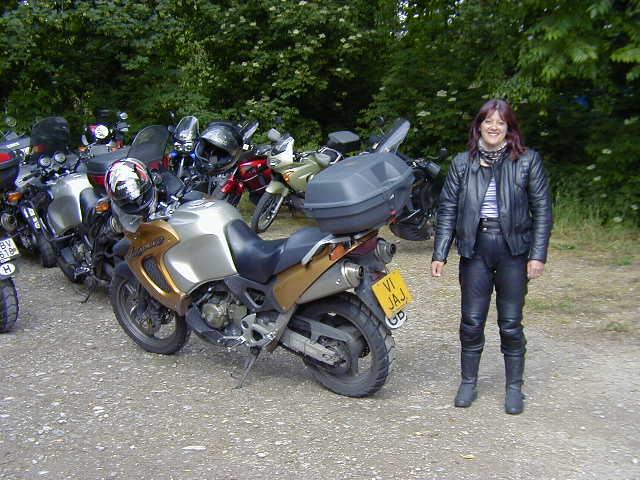 We set out from Colchester on Wednesday 30th May (6012 miles odo) and caught the 1045 hrs ferry from Dover to Calais. The cost was 74.50 pounds return (bike and two passengers) which is around 237 DM, 1665 AS, 793 Fr. Arriving on French soil at 1315 hrs local time, we rode all the way by their excellent Autoroute roads via Rheims, paying several tolls along the way. We wanted to get into Germany via Strasbourg before the end of the day so it was a fast run. The weather was amazingly hot and sunny, a portent of what was to come perhaps? We learned the hard way about the Vara's fuel warning light. It proved to give only 30 miles (48km) on reserve, whilst we found ourselves needing 32 miles. Stranded at the roadside, some French road workers came to our aid and took Jess to the nearest fuel station. We crossed the border around 8.00pm and found an excellent little hotel, Hotel Adler, in a place called Griesheim. 95 DM (29.87 pounds) for a nice room and breakfast. The total bill was 166 DM (52.20 pounds). Very friendly people too. Enjoyed a nice steak each and a couple of beers.
On Thursday 31st May, we awoke to that motorcyclist's dread, a thunderstorm and rain. It cleared quite quickly and we set off for the second leg of our journey through Germany, a few showers but nothing too bad. Stuck to the Autobahns, where we could, for speed, watching out for those Beemers and Mercs hurtling by, despite our travelling 95 to 100mph ourselves. The law there is drive as fast as you can, no speed limit! We enjoyed the Black Forest section immensely. Down through Konstanz, Wangen, along the edge of the vast Bodensee, the A96 to München. Through München and into Salzburg by 1900 hrs, finding a nice hotel, the Hotel 'Zum Hirschen' in the city centre. A bit more expensive than the last, 1550.00 AS (69.35 pounds) but well worth it. A big double bath, mirrors everywhere, Man, we could have lived there!

Jess had been suffering with Hay Fever and was getting bad with asthma. He had forgot to bring his inhaler with him so a chemist had to be found. The people at the hotel sorted us out very well.
Friday 1st June was to be a little easier, with a shorter run from Salzburg to Vienna. As usually happens, a wrong turn was taken and, after a great amount of frustration and extra miles, we found Shonau an der Triesting (7200 miles odo). We were welcomed by our hosts and then set off again. We had thought we were staying at a hotel in Schonau, but soon realised that it was the wrong Schonau, so we had to find alternative accommodation. We rode into Baden and eventually found somewhere to stay. The Hotel Gutenbrunn at 2070 AS (92.62 pounds) for the room with breakfast. Not at all to our liking, or theirs, we thought. Baden is a bit posh, catering for older folks who come to take the spa waters. No bar there either! We took a walk and found a nice little restaurant and decided to stay put for the night and meet up with all the others tomorrow.
Saturday 2nd June, we left our unfriendly hotel and headed back to Schonau. Much better atmosphere! Loads of Varaderos of all colours and fitments. Barry from Chelmsford was there, as was the Big Man Bernard Stikfort from Holland and Rene of ze Resistance from Belgium, and others that we knew from VIM2. We found a splendid little hotel just around the corner from the site and checked in there. Friedrich Steinmann Frühstückspension. A 1000 AS (44.74 pounds) for two nights without breakfast. All was well again. The riders were invited to find a group that suited them for an outing. We opted for the mountain touring group, Mariazell through Höllental via Türnitz, led by a guy called Martin. He promised an easy pace and plenty of sights. Others went for speed touring, mountains or flat terrain. We set off in a group of six bikes and had a great six hours touring a pre-arranged and popular motorcyclist route that took in the basilica at Mariazell. What a place - and we thought Southend on Sea (England) had the tacky souvenir business sewn up! Martin proved to be an excellent choice of guide, setting a quick but not too quick pace around the twisty mountain bends. All of the group were able to converse in English which was good for us. The tour was around 260km.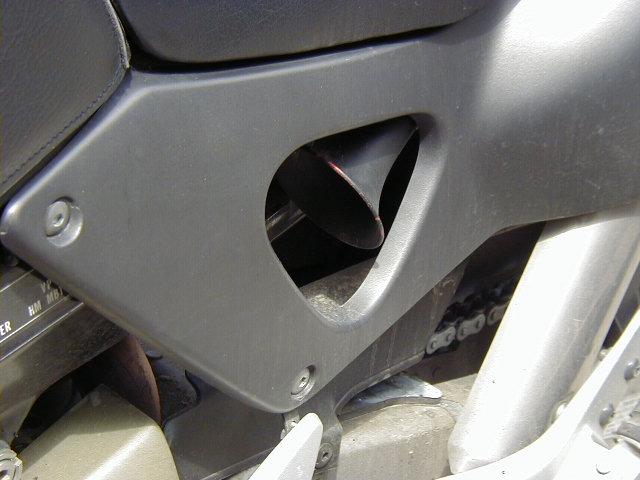 Beware. A very big horn lurks here!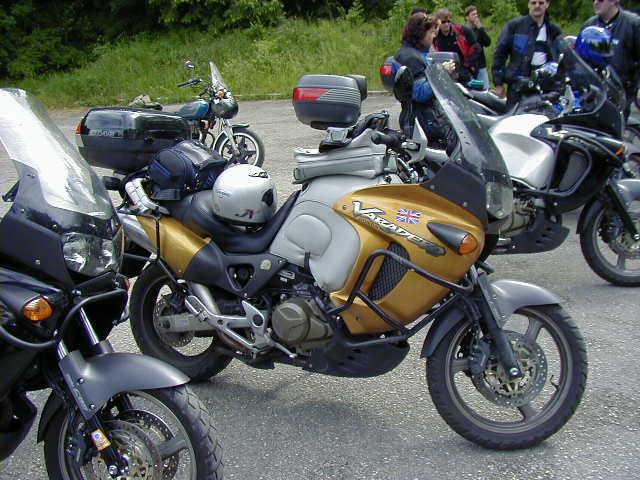 Barry's bike - note the low seat and rack for his pipes.
The Tiger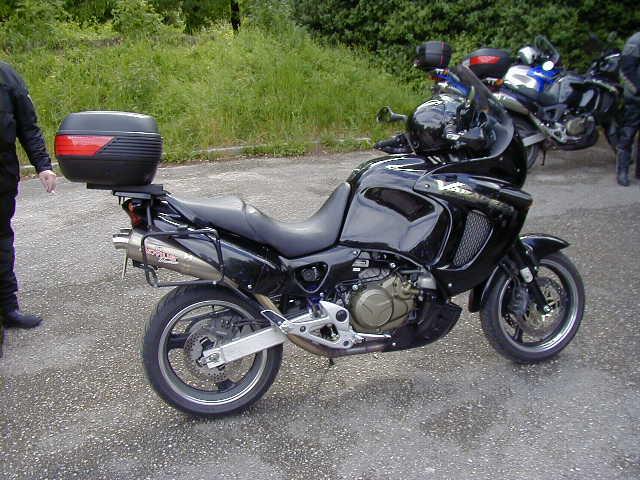 Vara with smaller wheels and special exhausts.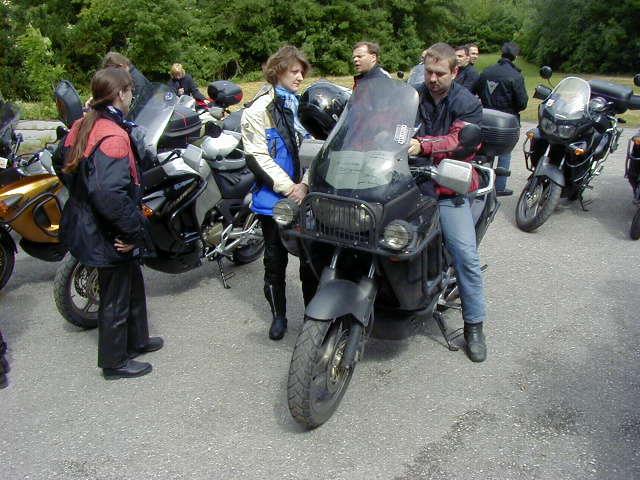 Serious Spotlights and Headlamp Grille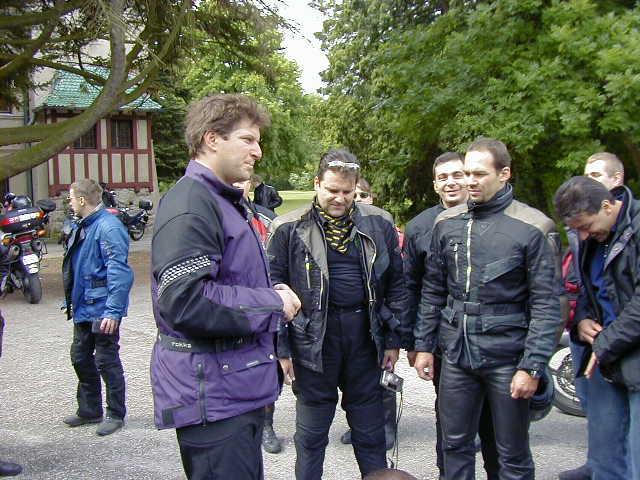 Big Alex and the lads.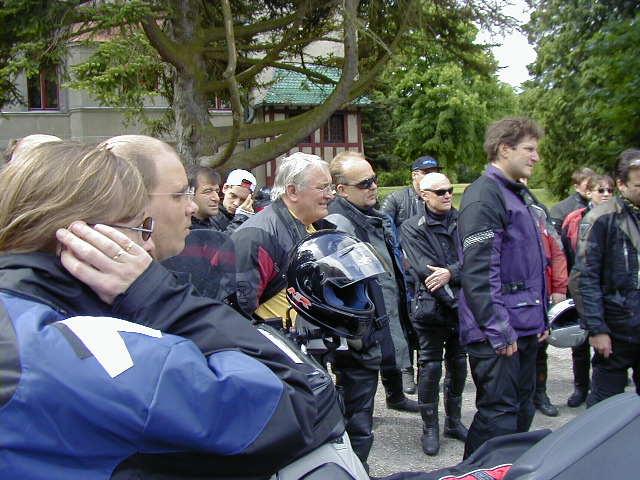 ...and some more!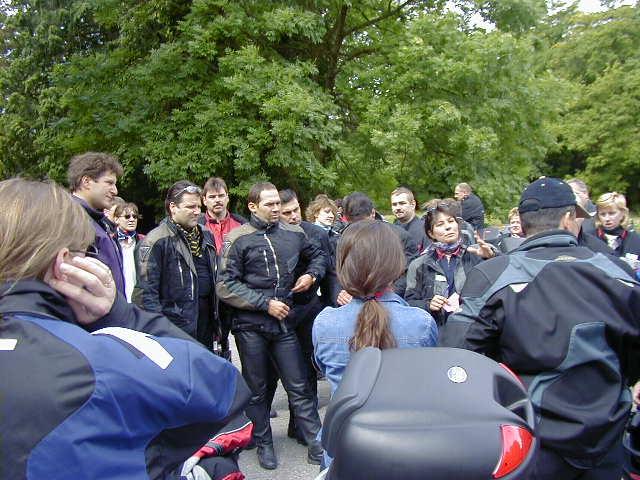 ...and still more.
In the evening, we attended a barbecue in the grounds of the school where the event was being held. It was quite cool but dry. A jazz band started up and a good night was had by all. We patronised the beer tent and left the others around midnight to drink themselves silly.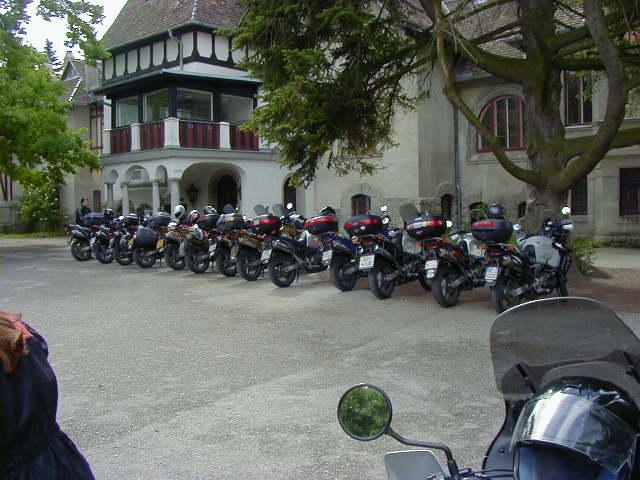 Sunday 3rd June. A few didn't show up for the Vienna tour, the drink from the previous night having taken its toll. Overcast day with the look of rain. Group photographs were taken, a line of 13 different bikes set up, each from a different country. A 14th would have been there had the Norway guy been up and about. We all split up again into groups, our little party led by a lady called Nugget (alias Barbara Timmerman). Of short stature, she rode a Transalp, her feet barely able to touch the ground. We all met up in the centre of Vienna (or Wien as the Austrians call it). A big gathering on the steps outside the palace for photographs and then by foot for our guided tour. A beautiful city indeed. Some traditional Austrian food with lunch at Pizzaland for us, a bit more of the tour and then to the outskirts of the city for a visit to the underground sewers. It was raining by then! Some funny moments as we all wended our way by candle light through the tunnel system made famous by the filming of the Third Man some years previous. 'Don't flush the toilet just yet please', was one of the comments.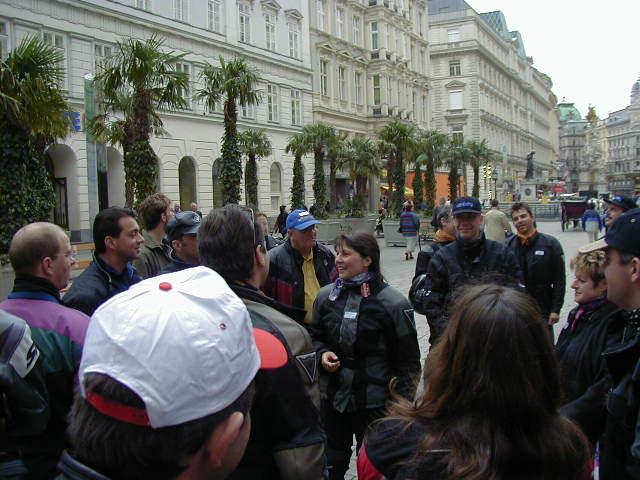 The Nugget in action in Wien.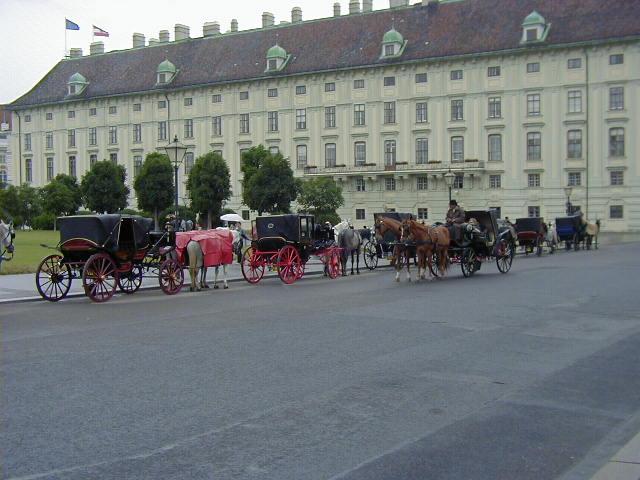 A few spare horse power!
Back to the camp site and enjoyed coffee and cakes served by the Landschule (Country School) staff, followed by preparations made for the evening's entertainment. A typical meal of Austrian food, followed by music from children from the school, despite the chilly weather . We had our closing ceremony, the general agreement being that the event had been excellent. Apart from the lad Miguel who had fallen asleep riding his Vara from Portugal and had broken two fingers, all were well. He knew he was lucky to be alive.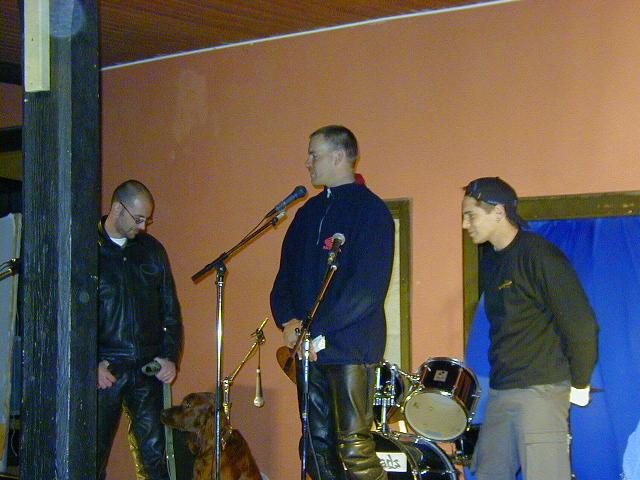 The Closing Ceremony.
Thanks to the organisers Claudius, Alex, Sissy, Barbara, and many others.
Monday 4th June, we paid a brief visit to the campsite to have some breakfast and say our goodbyes and then we set off for the long journey home. The weather was horrible. Gale force winds and rain. But it had to be done. Head down and onto that Autobahn. As the day went on, the wind and rain eased and we were soon into Germany. We stopped at KZ - Gedatstatte, in Dachau, just outside München, to see what had been left since the war. Surprised to see that it was now a heritage site and amazed by the sheer size of the whole site. Then back on the road, deciding to stay the night in a place called Göppingen, at the International Hotel. The country was on holiday and the place was quiet, so quiet that neither the bar or the restaurant were open. A fine breakfast the next day though! Price 185 DM (204 DM including the raid on the room's minibar). That's 109.6 Euros or 64.15 pounds sterling.
Tuesday 5th June, we set off again, taking a different route through Karlsruhe and across to Saarbrucken before crossing into France. Weather much better than yesterday, warm and sunny in fact. We took the Autoroute as far as Verdun, aiming to visit some 1914/18 sites and thence by N roads which we found much more fun than the boring Autoroutes. We had decided to stop for the night in Rheims to take a look around. 320 miles (512 km) travelled today. We were not disappointed. What a great city! The tourist information office booked us into La Grand Hotel du Nord at 300 Fr (28.17 pounds) plus 2 x 35 Fr (2 x 3.29 pounds) for breakfast. A warm evening and we took a wander to the magnificent medieval cathedral with its links with Joan of Arc. We found a nice street side restaurant to eat and from which position to watch the world go by. Very Parisien we thought! We were a little worried about leaving the Vara in the street overnight but all was fine.
Wednesday 6th June, we set off for the last leg of our lengthy journey. It was overcast but dry, and we managed to dodge the rain all day. We settled for the N roads again. We had plenty of time and we wanted to visit some of the First World War sites on the way. We stopped at one where 9900 British dead were buried, about half of the thousands of gravestones having a name inscribed. Imagine the task of identifying bits of bodies, let alone putting a name to them. We also stopped at the Vimy Ridge memorial where so many thousands of Canadians met their death. Then the final run up to Calais to catch the 1700 hrs boat home to Blighty. The worst bit of the whole journey was that horrible ride from Dover to home. So negative!
We had covered just over 2500 miles (that's 4000km, 8520 miles odo).
Auto route/Autobahn travelling was at 90 to 100mph (144 to 160 km/hr).
We were filling up every 190 to 200 miles (304 to 320 km).
In England to fill our tank with Super 95 was 17.11 pounds for 21.68 litres at 0.789 pounds per litre.
In Germany to fill our tank with Benzin was 46.41 DM (23.73 EUR, 14.59 pounds) for 21.90 litres over 309km, giving 14.1km per litre or 7.09 litres per 100km (40 miles per gallon).
with Super 95 was 45.48 DM (23.25 EUR, 14.3 pounds) for 20.87 litres
In Austria to fill our tank with Benzin was 307.90 S (22.38 EUR, 13.78 pounds) for 22.07 litres
with Super 95 was 315.50 S (22.93 EUR, 14.11 pounds) for 21.66 litres.
Sorry, didn't do the comparison in France.
We used 91 octane Benzine where available and the engine was fine with it. This is not available in England.
Conclusion. England is expensive for fuel!
Here's to VIM4!
These Pictures were kindly sent by Martin Ankowitsch.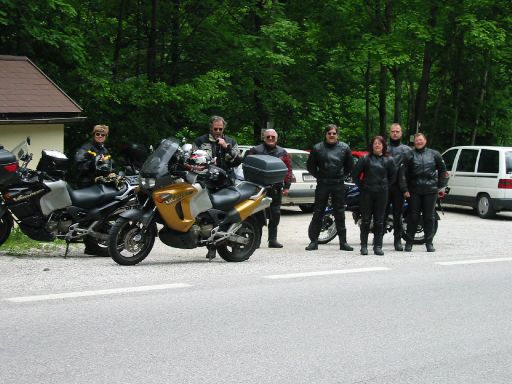 a brief stop in Martin's Mountain Trip (six bikes, a Transalp, a Freewind and 4 Vara's.)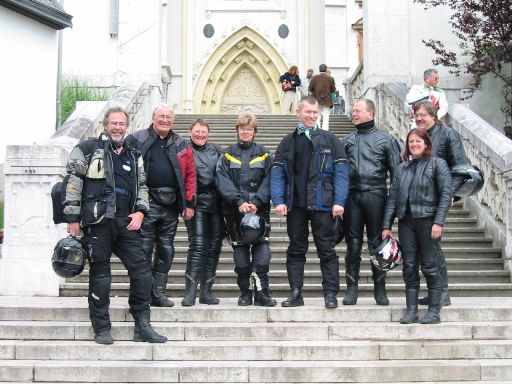 Mariezelle
Jürgen (D), Barry, NL, Doris (D), Martin Ankowitsch (our guide - excellent bloke), NL, Theresa, Jess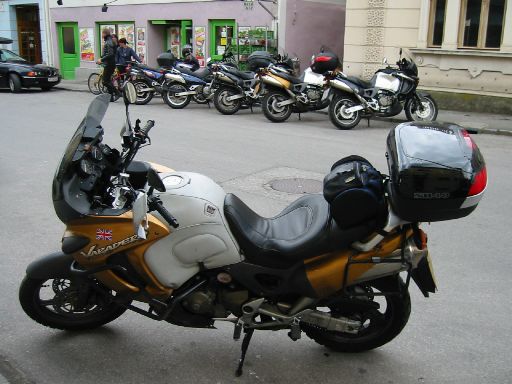 an object of curiosity - Barry's low seat!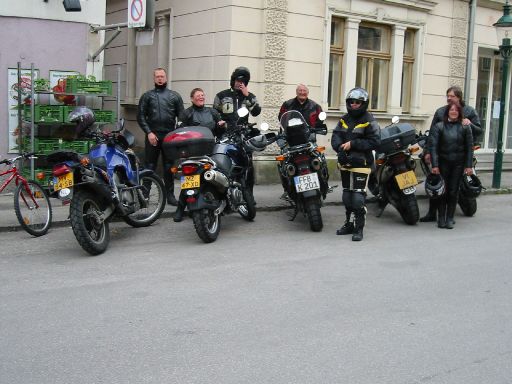 Tea at Turnitz
back to the

Home Page
last updated 130601