the
Fifth
Varadero International Meeting
held 6th to 8th June 2003
at
Biker Motel, Holtgast (near Augustfehn), Germany

Jess and Theresa's Pictures and Comment
Theresa and I were unable to go to VIM4 in Greece, due to the time needed to travel the distance and the fact that we have two young children who get very hungry when we leave them at home for too long. For this reason we were especially pleased to attend VIM5, having missed a year.
VIM5 was to be very different for us as so many Brits were making the trip this time. It started with the arrival of Martin Loe from Dorset at our home in Fordham near Colchester. We took the bikes over to meet other Brits at the Cross Inn in Horsley Cross, where they were staying overnight before catching the boat on Thursday 5th June. There we met for the first time, Martin du Toit, his sister Rike, Rob Densum and Phil Ramsey. After a meal and a chat, Theresa and I went over to Great Bentley to see all the bikes that gather there on a weekly basis and then home. Martin arrived arrived back with us later and stayed the night with us.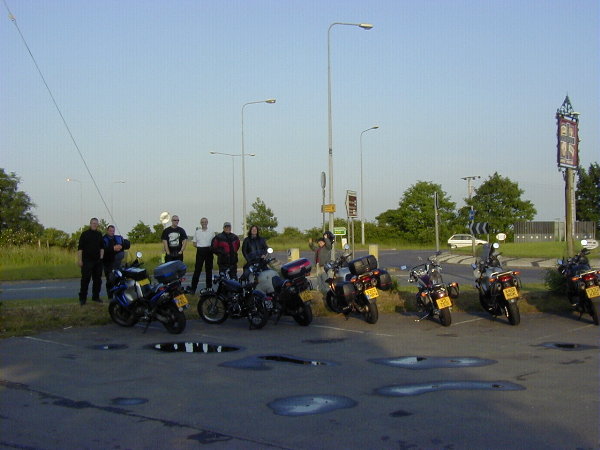 Wednesday night with L to R Martin, Martin, Phil, Rob, Barry (came for a ride out), Theresa (on her Virago) and Harry. Jess had his 1953 Model 16 AJS.
On the morning of 5th June, we set off for Harwich meeting the others at the Cross Inn on the way. The weather was fair; it had been raining. The crossing was good and we all got together with new arrival Max Eaves and his mate Mike who were two up on the new model Varadero and Owen Arnold from Shropshire. Theresa and Jess were proposed as leaders as they had both GPS, intercoms and a clip board to read maps with. Martin also had an intercom which worked bike to bike and enabled us to keep the group of seven bikes together when we got over the water and encountered the heavy traffic at Rotterdam and similar city areas. We had decided on a slow run for a couple of hours, taking in some good scenic roads recommended by Jan Willem. We found a splendid little hotel, the Het Wapen van Benschop, in the middle of knowhere (Polsbroekerdam near Utrecht actually) and settled in for a few drinks, a nice meal and some good chat. It was there that we first realised the drinking prowess of Mr du Toit and the power of a drink that we labelled as Rocket Fuel, followed by Jenever.
In the morning, following a good traditional Dutch breakfast, we set off for Holtgast, trying to stay on country roads rather than motorways. Utrecht, Amersfoort, Apeldoorn, Deventer, Wierden, Almelo, crossing the border into Germany at Nordhorn. We arrived at the Biker Motel around 4.00pm to a cheer from those already there. The weather was hot and sunny and we were glad of a beer and a shower. Jess, Theresa, Martin du and Rika were staying at the nearby Hotel Bucksande and we were joined by Dutchman Geert Smit who was also staying there. A nice hotel! After getting cleaned up we all returned to Holtgast by taxi to meet all the others and find out what the plans were for the weekend. We were sharing the venue with a large gathering of Gold Wing riders, so the place was buzzing.
Thick heads in the morning from the beer and schnapps! The group was split up into smaller groups and we found ourselves led on our Holland based tour by big and bald Geert, our hotel companion, who knew the area of Holland that we would be riding. We did something like 250kms riding some good roads and visiting various places of interest. The following photograph shows a few of the Varaderos at the fortified village at Bourtange.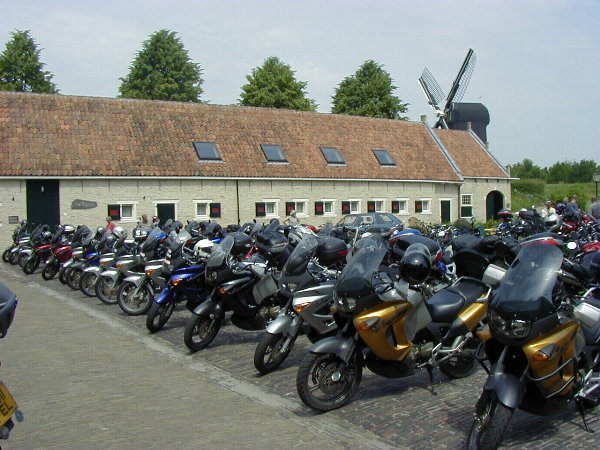 Bourtange
We stopped at Bourtange for some refreshment, variously Holland Nieuwe (raw herring), apple pie with slagroom (whipped cream), coffee, etc. and had a wander around looking at the sights of this very interesting historical site. At 1.00pm (when Geert says he will go at 1.00pm he means 1.00pm!) we set off again, stopping later at Orvelte where Bernard insisted that we have large helpings of warm waffles with cherries and slagroom.
Herwig, Geert, Martin du and Loes, with Two Plus on the right and the Italians at the back, all at Orvelte.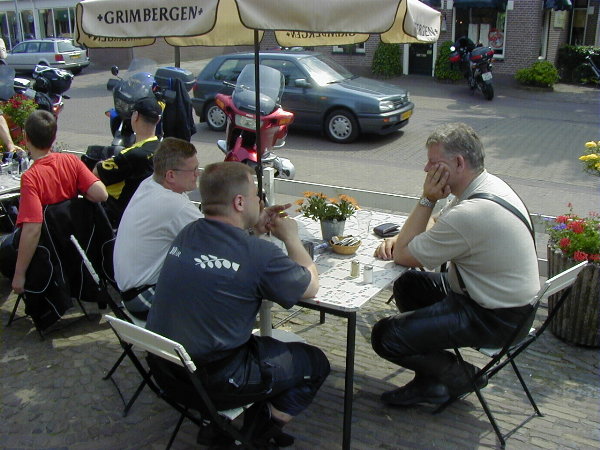 Mike, Mike the Swede and another at Orvelte.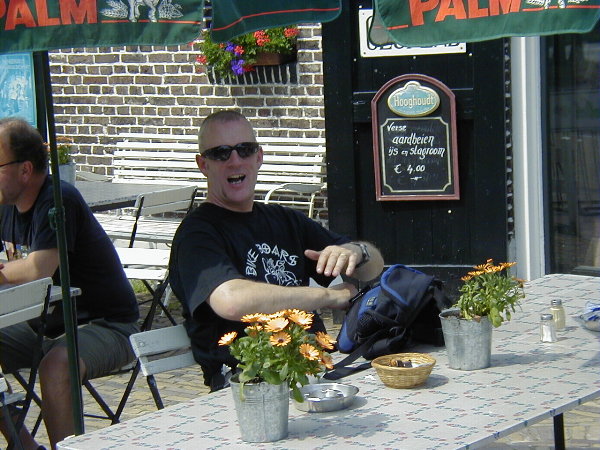 Phil (alias Father Jack Hackett). Quite mad!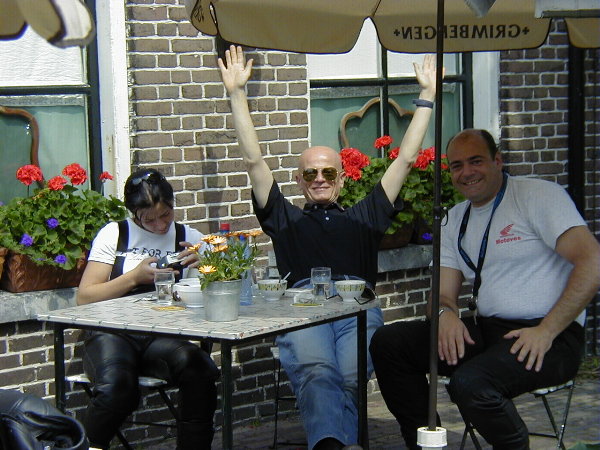 The Italians who were also staying at the Hotel Bucksande with us. Bon journo!
The last stop was at Mulders Motoren in Veendam where we filled their parking area with Varaderos and were treated to coffee and kuchen. We all got together for a group photograph before heading off back to Holtgast, arriving around 6.00pm.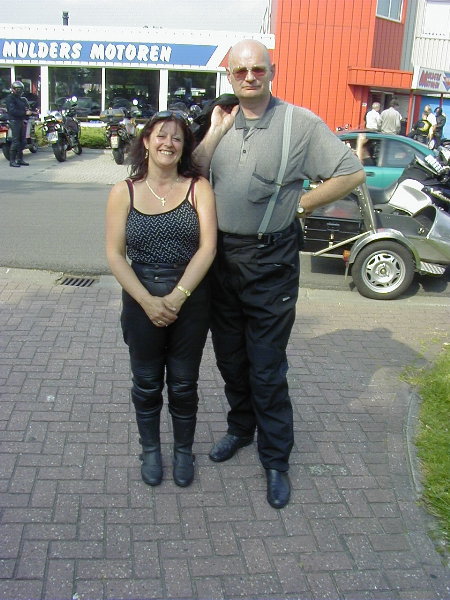 Our guide, Geert Smit, with Theresa. Smile Geert!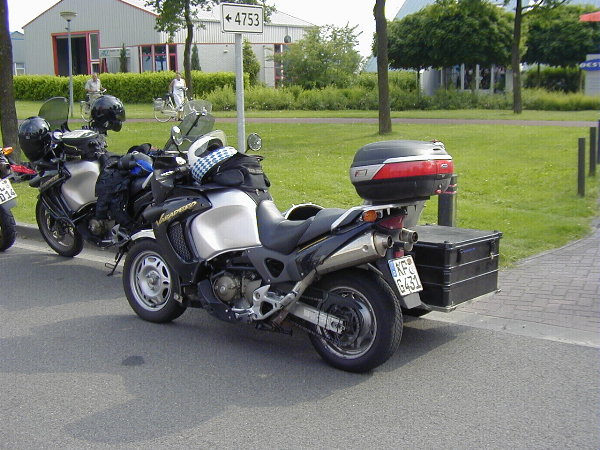 A Varadero with a sidecar!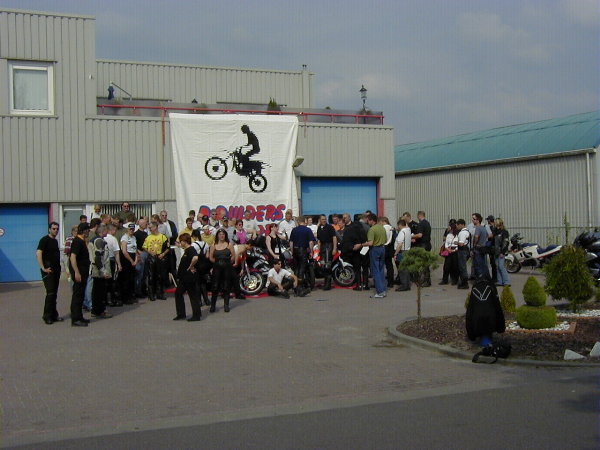 A group photo.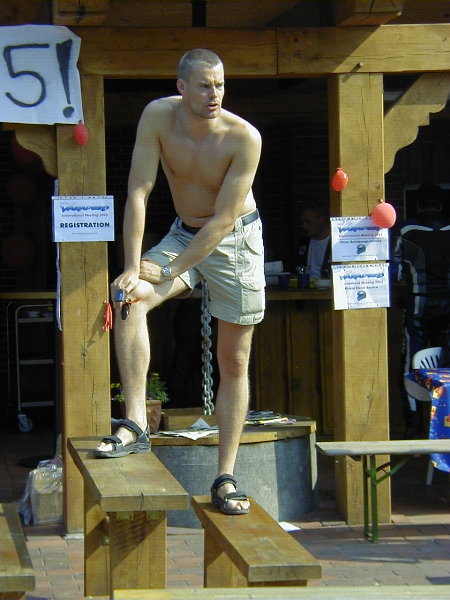 Back at the hotel we were briefed by the big man himself, Bernard Stikfort, founder of VIM and otherwise known as two plugs because he didn't know that Transalps have two but the Varadero only has one per cylinder. Whatever you do, don't pull that chain!

In the evening we all got together for dinner. Schnitzels the size of plates. We had never seen anything like it. The food was excellent and the chat was also so. Various presentations were given out, principally for the person who had ridden the furthest. Our Greek friends had travelled the furthest and they got the prize of a voucher to the value of an after sales windscreen. We had 12 nationalities in attendance with our first Russian and a group from Portugal. We had a short presentation from our Portugese friends concerning the plans for VIM6 in Portugal. A whip round was made for our Russian friend as he had damaged his engine and had to buy new tyres as a result of bad Russian roads and fuel. However, he refused to accept it and instead put the money behind the bar where free drinks were enjoyed by most.

On Sunday 8th June, our group was led by Two Plugs for a German based tour, expected to be 260kms. This run was quite a bit quicker than yesterday, but then there is no limit to speed on German motorways. We headed south west in a fairly circular route, stopping briefly at the coast and climbing up on to the top of a big dyke, evidence of the area's susceptability to inundation from the sea. After a group photograph, we headed off again, having upset a lady who objected to us using the road in front of her house. The GPS showed that we had been travelling at around 4 metres below sea level. This is quite normal in this area of Holland and Germany. We then went on to nearby Vareler Hafen where we tried the much recommended Kibberling with chips. We had just settled down to enjoy the meal when the clouds came over and a violent storm broke, smashing a big parasol and blowing the outside furniture around. We ended up sheltering in a nearby shed and discussing Plat Deutsch and Hoche Deutsch differences. When the weather improved we put on our wet gear and dashed back to Holtgast for a well earned beer.
In the evening we attended a feast where a pig had been roasting over a wood fire all day. Once again, the food was magnificent and we all ate too much. The Gold Wing riders seemed to take over our event somewhat, the band that we had provided being very good. Theresa told a story about a pig with three legs, which Two Plugs translated sentence by sentence into German, with much hilarity. Ein Scwein bit drei Beine! After many drinks and many goodbyes and promises of meeting up again in Portugal next year, we caught our lift with Bernard back to the hotel, tired from our great day out in Germany.
We (Jess and Theresa) packed our things, had breakfast with the others and then headed for home, stopping briefly at Holtgast to say our goodbyes. The weather was good although a little blustery, and we encountered very few holdups. We arrived at the Hoek van Holland in around 3 hours 15 minutes and went for a coffee and apple pie in the town before heading for the dock.
The GPS told us that we had done 914 miles (1471 km), that our moving time was 23 hours 8 minutes, our moving average was 39.5 mph (63.6 kph) and that our maximum speed was 109.1 mph (175.6 kph). We didn't record our fuel consumption.
A great Varadero weekend!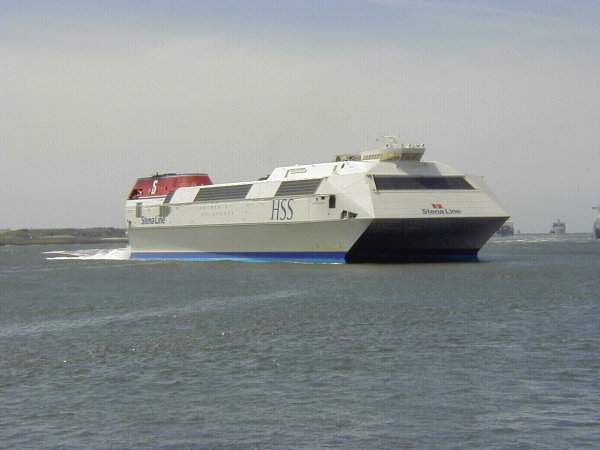 Thanks to the organisers Bernard, Karinda, Jan Willem, Owe, Jens, and many others.
Here's to VIM6 in Portugal!
.....and to VIM7 in Poland.
.....and VIM8 in England.
Please also visit Bernard's site at
www.Varadero-International.com
for more pictures and information.

back to the

Home Page
last updated 110603