Varadero UK - 23rd to 25th September 2016.
Hardraw, North Yorkshire, England.
Whilst others are worrying about what to call their group, the lads and lassies in the UK are proud to keep their original name of Varadero UK, whilst welcoming the later Honda models of the Crosstourer and the Africa Twin and any other rider who fancies joining in with them. We did have a Blackbird on our run out and he wasn't particularly comfortable about the choice of roads - but he managed, and we all got back safely after having a superb ride out, around the North Yorkshire Dales, led by Big Dave and then Numpty Spence.
This account is from Jess and Theresa Jephcott (aka Sdapeze on the forum) of Colchester, Essex. We set off on Friday morning for this adventure, filled with anticipation of meeting up, yet again, with our friends that we have come to know from many past meetings, whether national or international, but all originating from a coming together of motorcyclists who chose the Honda Varadero motorcyle, a motorcycle that was being produced from 1998 until its withdrawal in 2011. Gradually, we have evolved into a group of friends, who have introduced new friends to us, not necessarily who have the Varadero background. Indeed, there were other makes and models of bikes at this meeting of something like 19 bikes in all, although we are pleased to report that a dozen of them were Varaderos.
On our way to Hardraw, we stopped off at Aysgarth Falls, a place that we had heard of but never seen. We were not disappointed, but it was clear that there had not been a great deal of rain recently, the modest water flow being a testament to that.
So we start our account with a couple of pictures of the falls, as we saw them.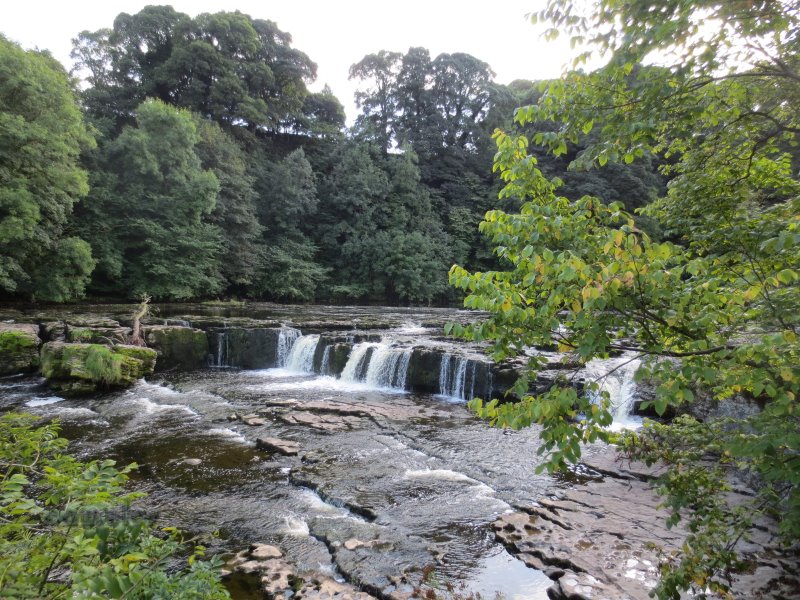 We arrived at the Green Dragon around 5pm to find the usual suspects seated outside enjoying a beer and catching up with news. So we joined them for a beer and then unpacked, and went to book into the Wordsworth Suite that we had booked well in advance, to the annoyance of some who had to settle for lesser luxury. As was the case the last time that we came here for another VUK, the telly still didn't work in our room and our mobile telephones had no signal. Welcome to North Yorkshire!
We all met up in the bar later and had something to eat. Steak and Ale Pie for us, together with sufficient beer to send us to our room, tired after our long ride, for some welcome rest, filled with anticipation for the day to come.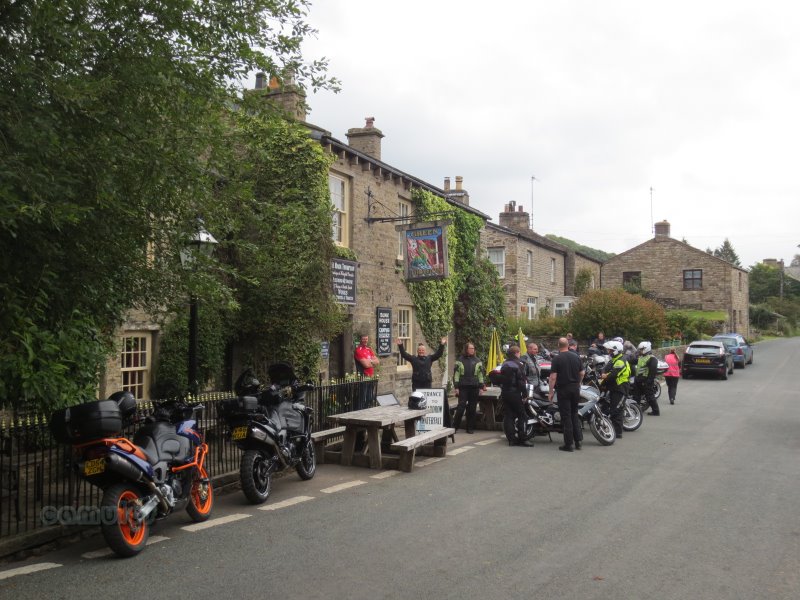 Saturday - We gathered outside for an anticipated 9.30am start. Weather good. A few photographs taken.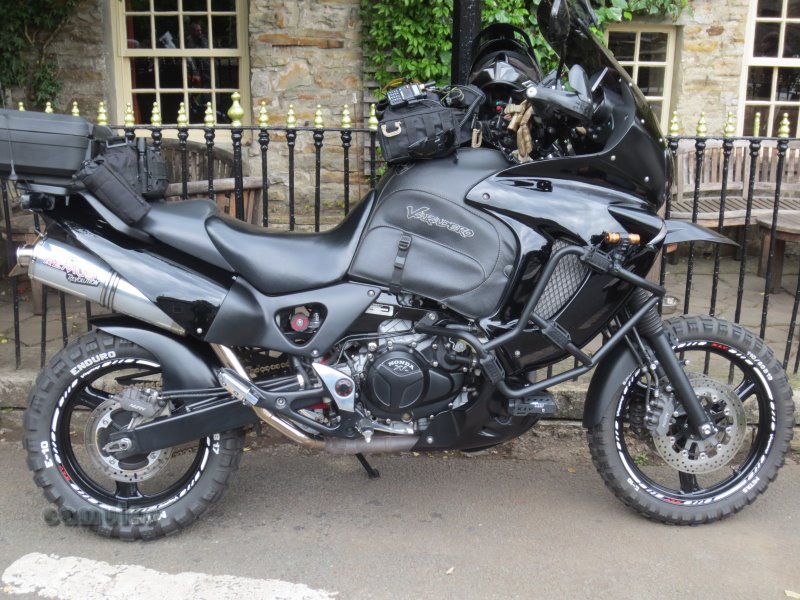 A couple of pimped bikes turned up, this one and the orange one that follows. Incredibly prepared machines that showed off the model to perfection.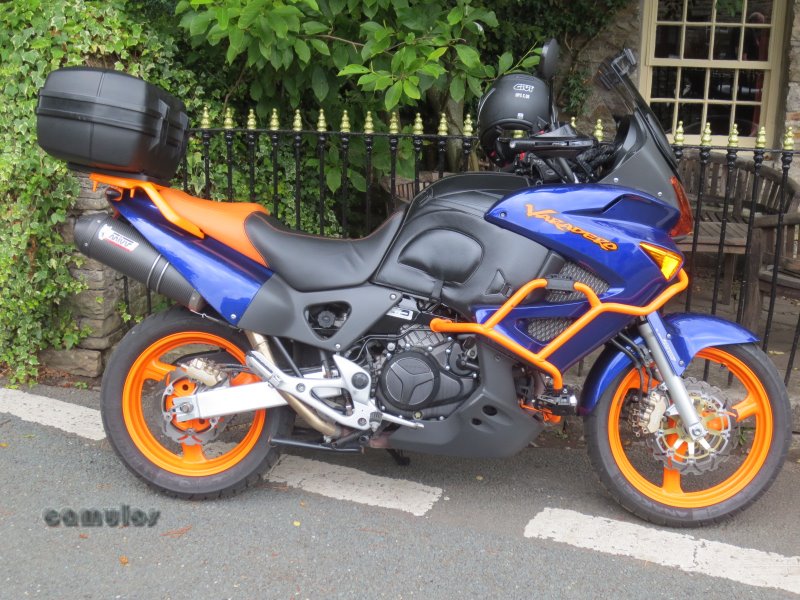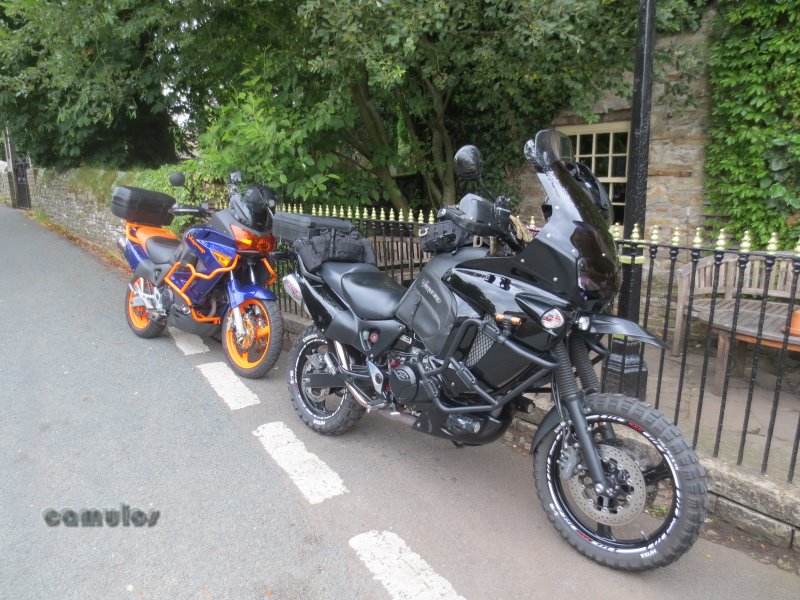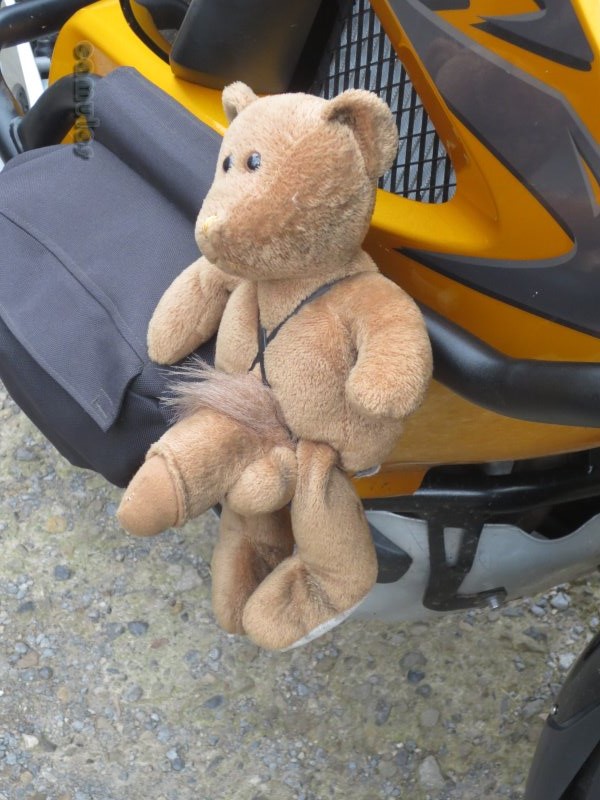 It was a degree of a lack of imagination that revealed the name of this mascot bear to be none other than 'Dick'. Superb!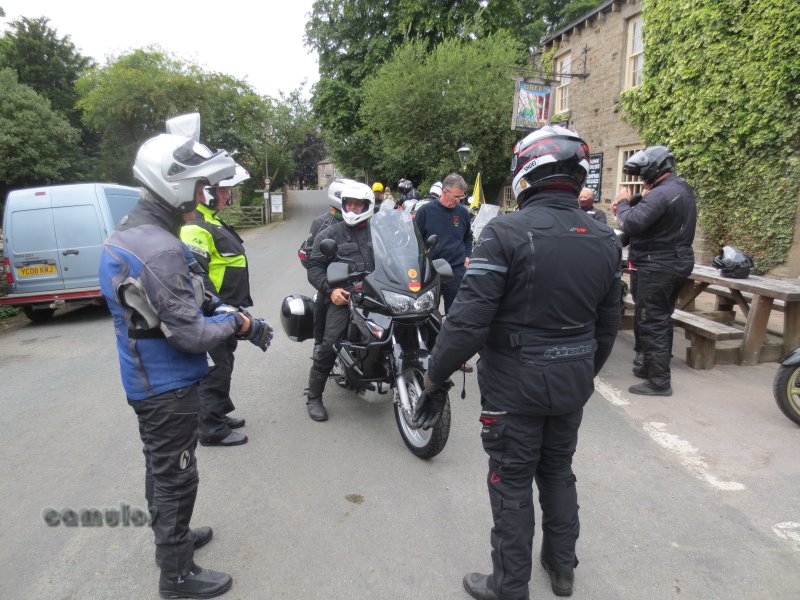 Harv (a bit of a legend in the UK group for some reason or other) and Mrs Harv turned up and then we all set off.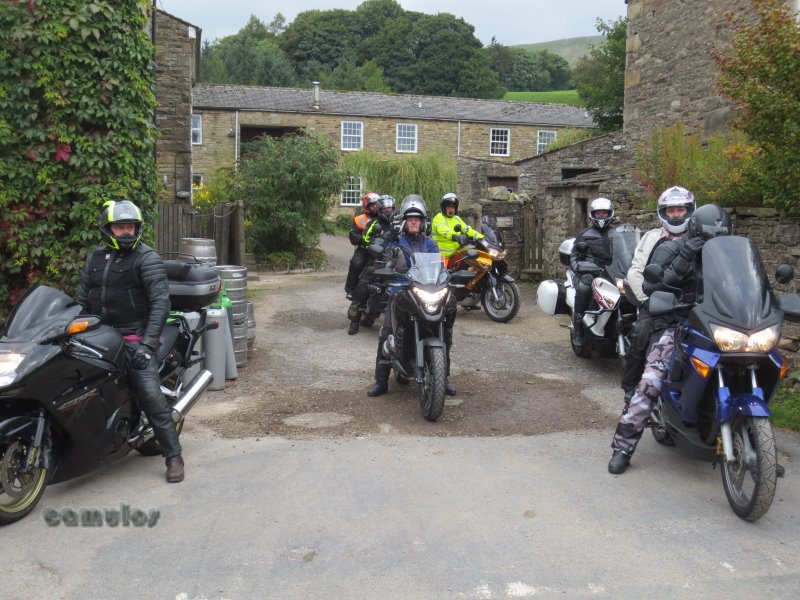 Gareth the Taff (centre).
Let the following pictures speak for themselves. Magnificent views and lovely roads around the Yorkshire Dales.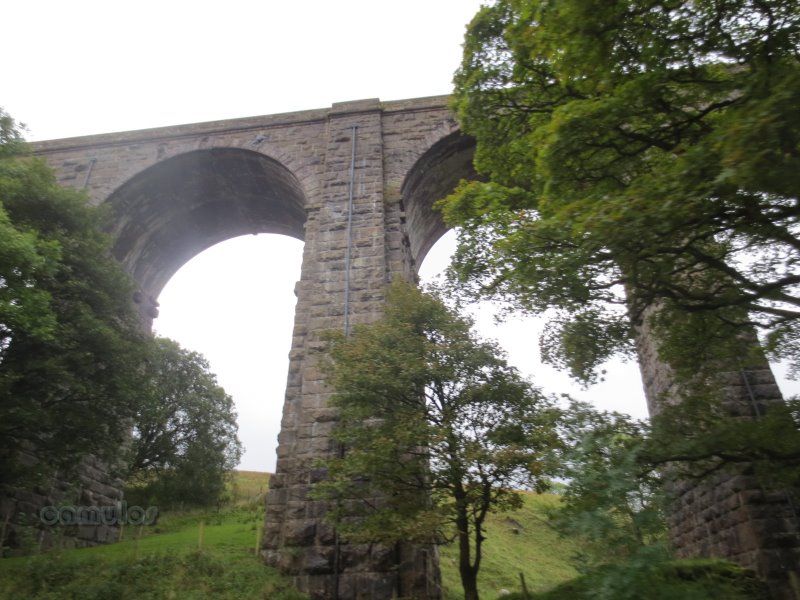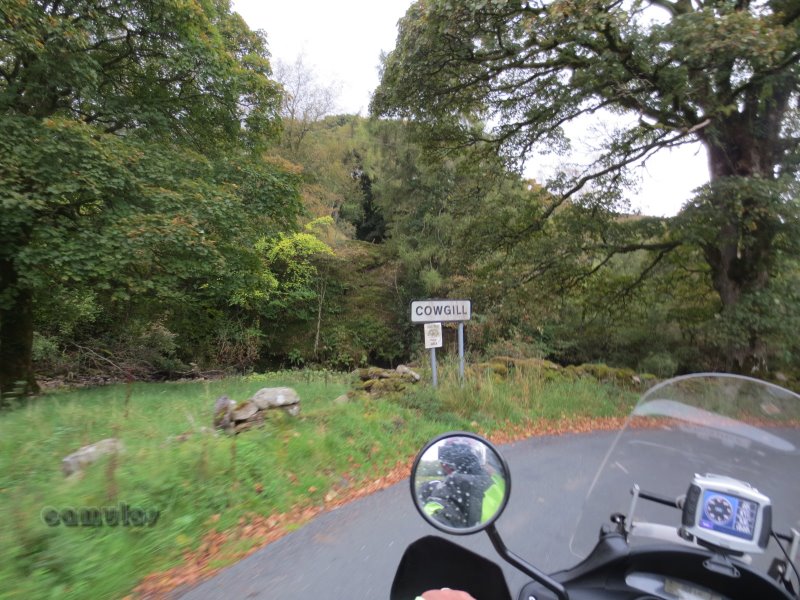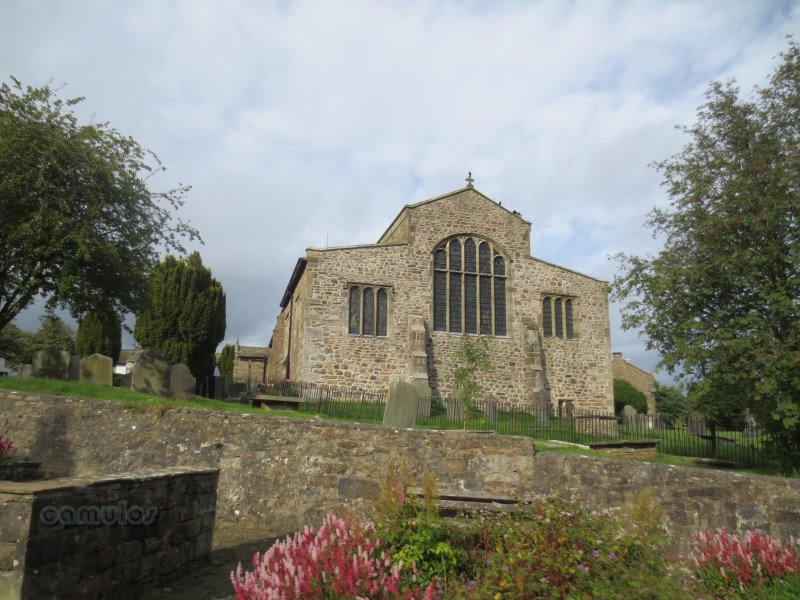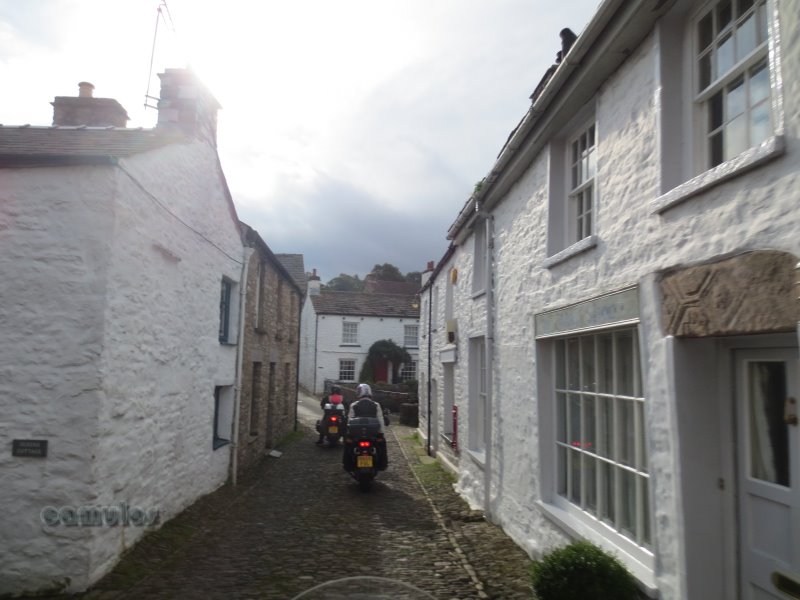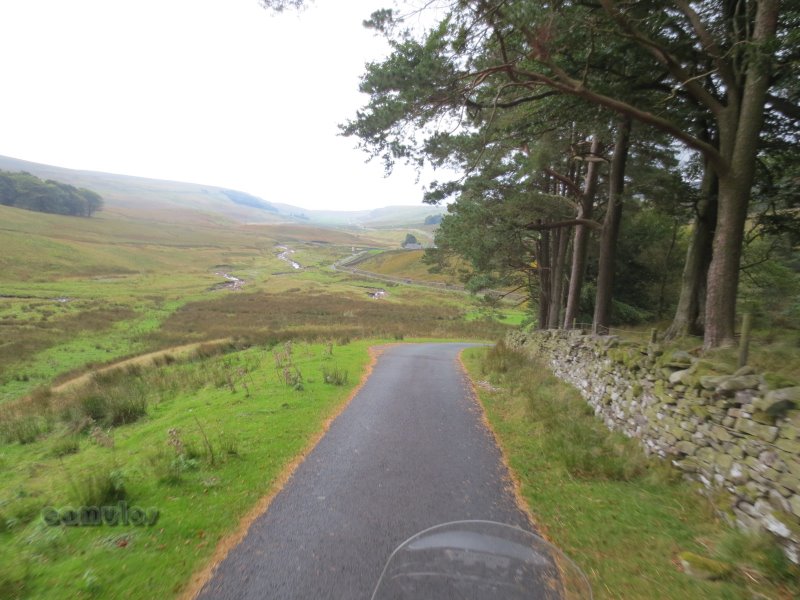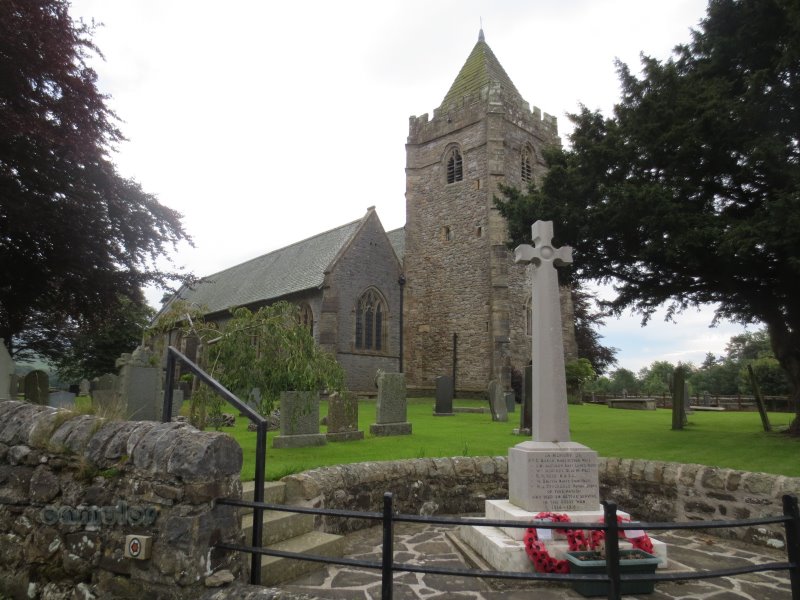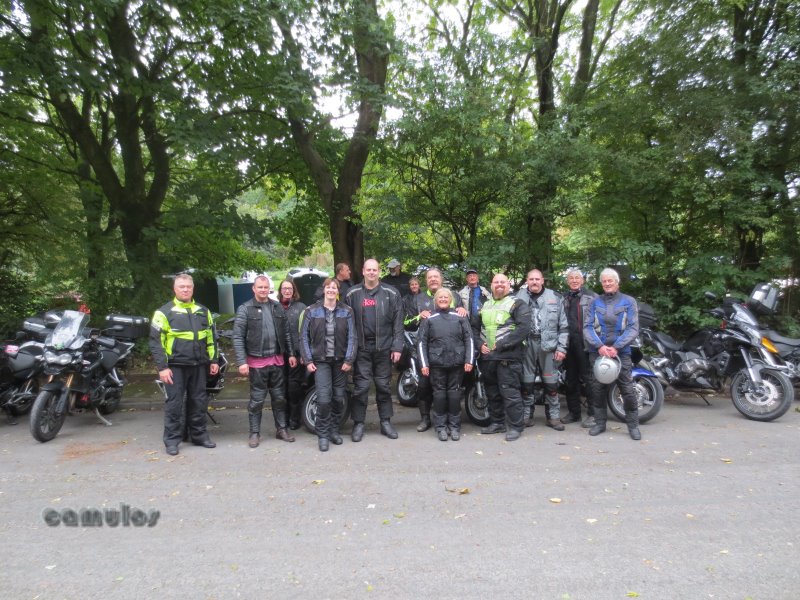 A much needed breakfast stop for Spence and, to a lesser degree, the rest of us, and an opportunity for a group shot. Come on guys, identify yourselves.
From the left, Eric, Guy? Annegro, Mrs Big Yin, Big Yin, Big Dave at the back wondering where Mrs Big Dave was with his bacon roll,
Dave Gowler at the back, Jess and Tess in the middle, ?, Numpty Spence, ?, The Prodded Dog (Martyn), Gareth far right. Who have we missed?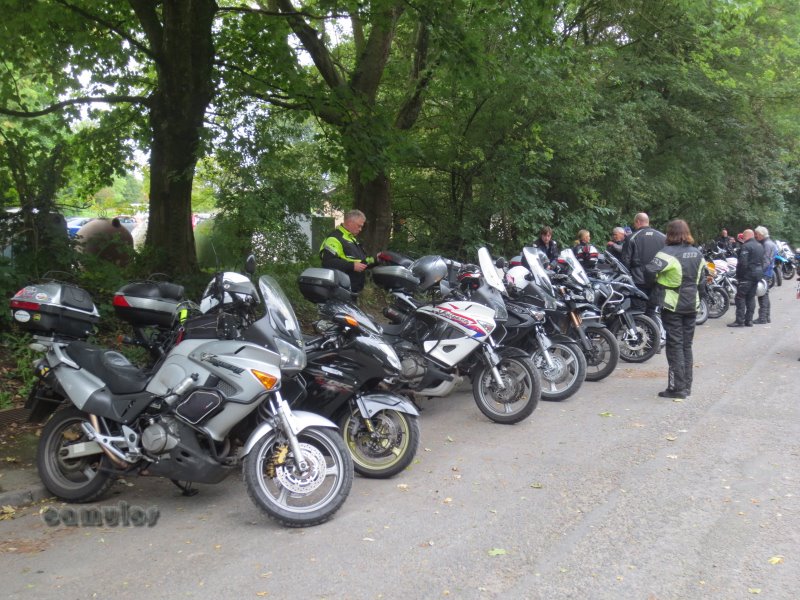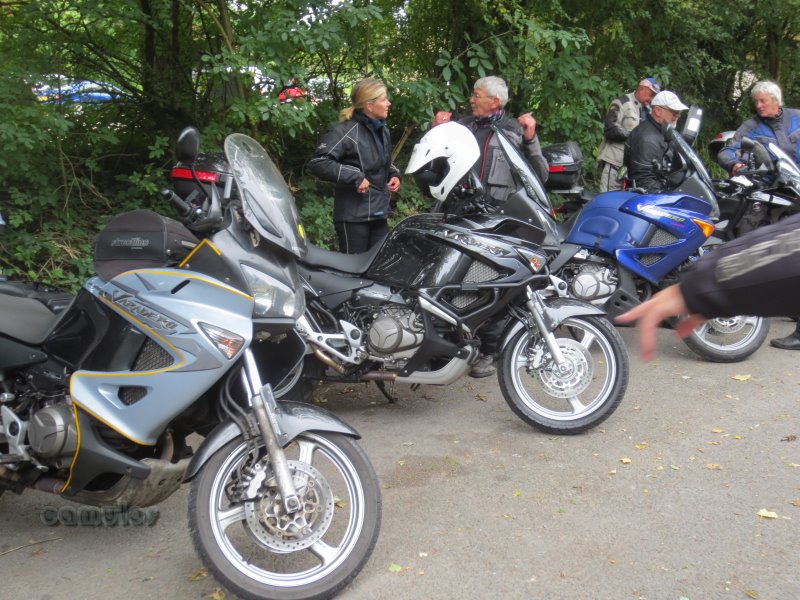 Mrs Harv and Martyn and some beautiful Varaderos. Also the less beautiful Harv and Gareth, far right.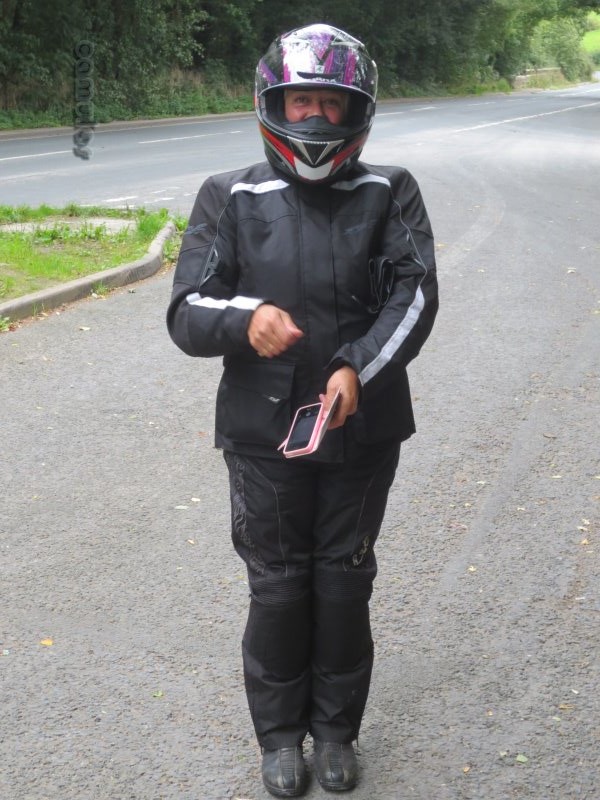 Theresa, Tess, Mrs Sdapeze, whatever.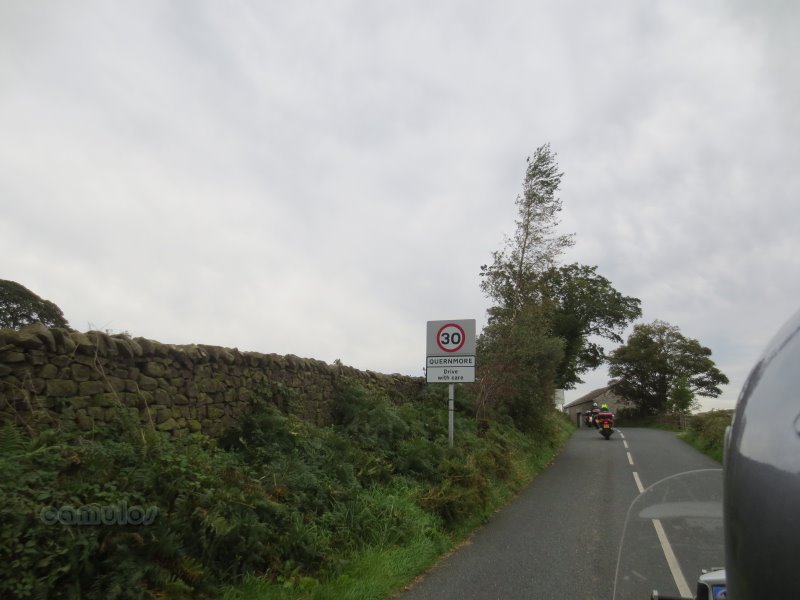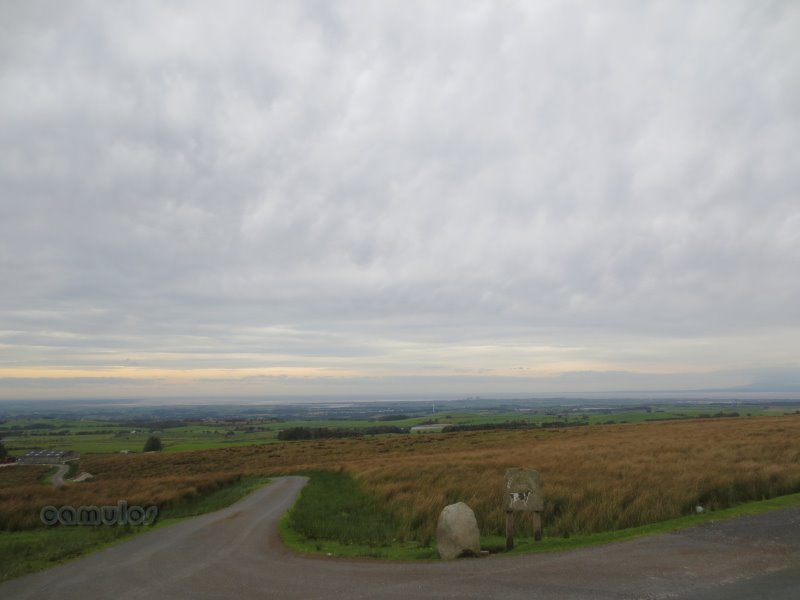 Quernmore, looking west.
Big Dave pointed out the Blackpool Tower, his house and Moreambe Bay, in this amazing landscape that the artist Turner himself would have appreciated. Truly magnificent.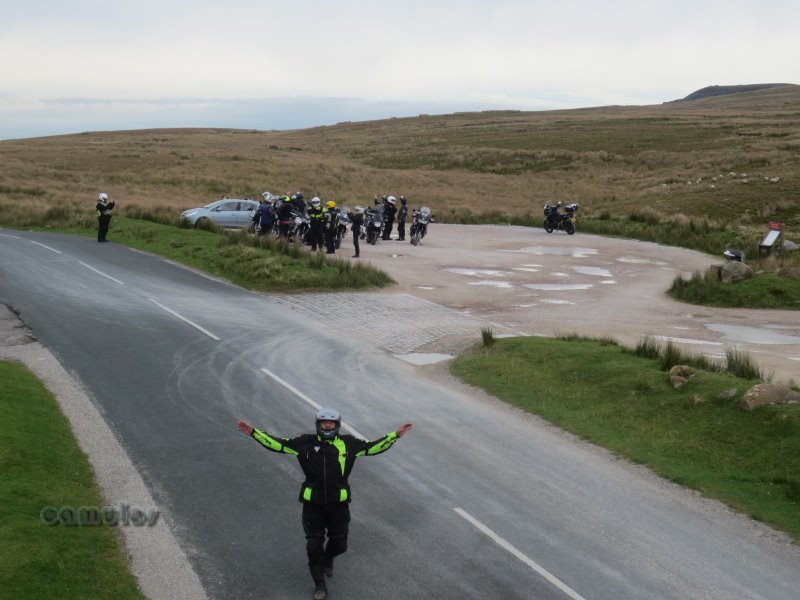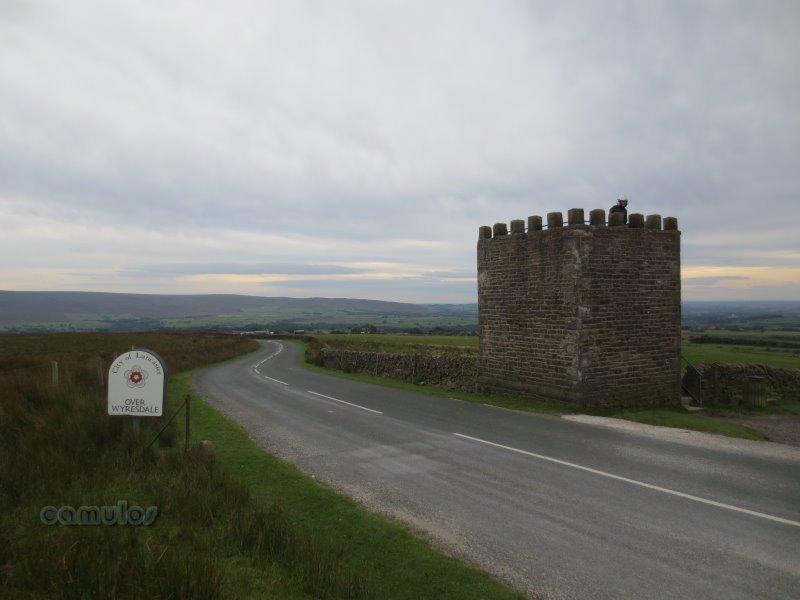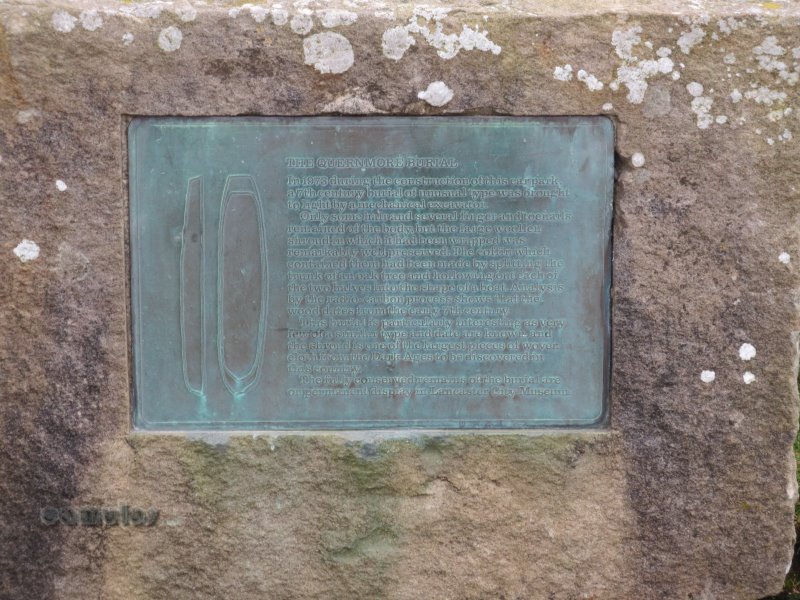 Jubilee Tower
A monument built by James Harrison to mark Queen Victoria's golden jubilee in 1887. The tower has a viewing platform on top that is reached by an external staircase and provides wide views of the surrounding landscape and out to sea. The Quernmore Burial In 1973, when the small car park opposite Jubilee Tower was under construction, a rare 7th Century burial was discovered. The remains had been laid to rest inside a hollowed tree trunk and wrapped in a woolled cloth that was remarkably well preserved. The artifacts are now kept in Lancaster City Museum.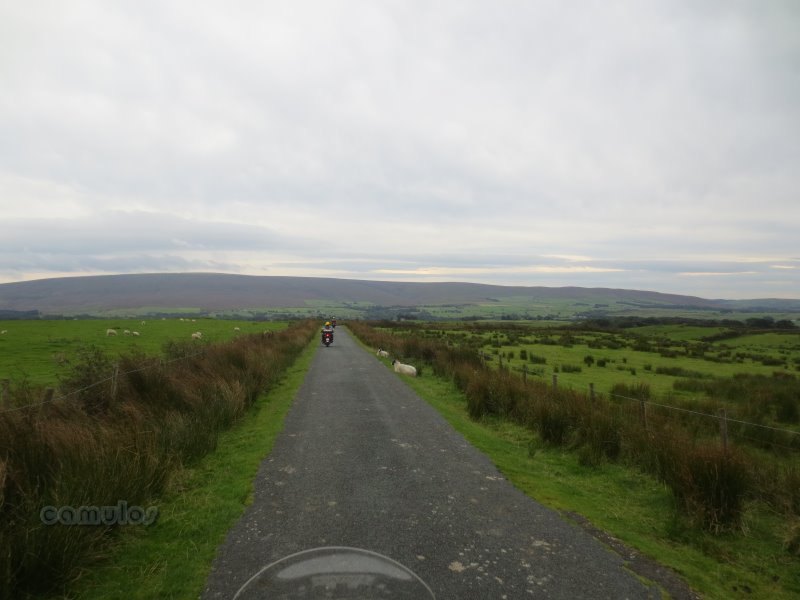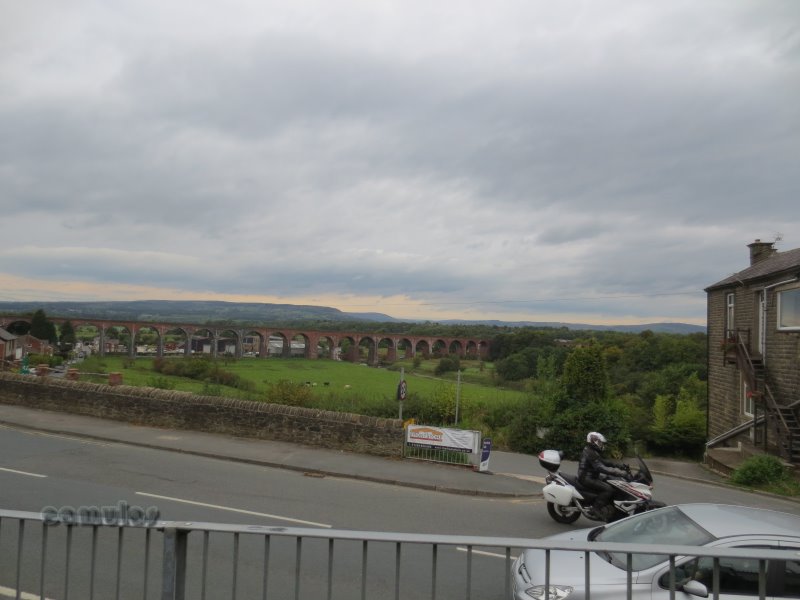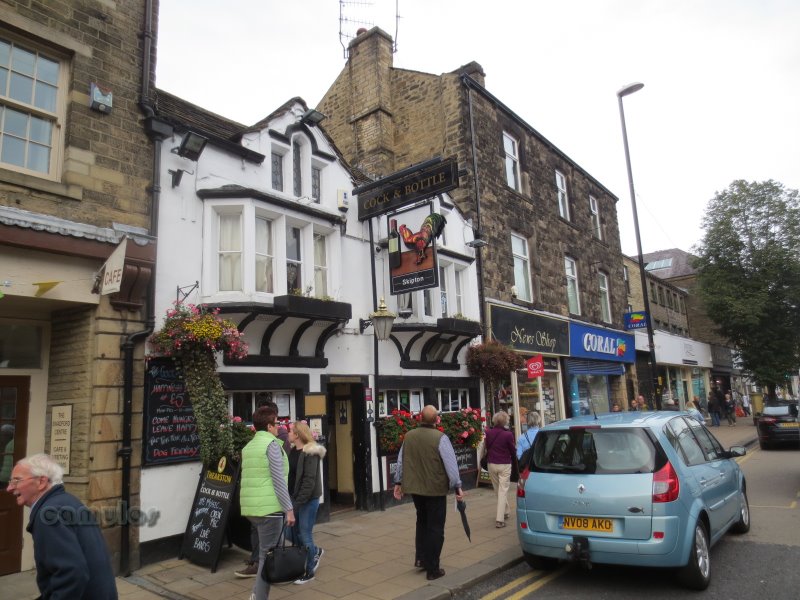 A lovely old English pub in Skipton.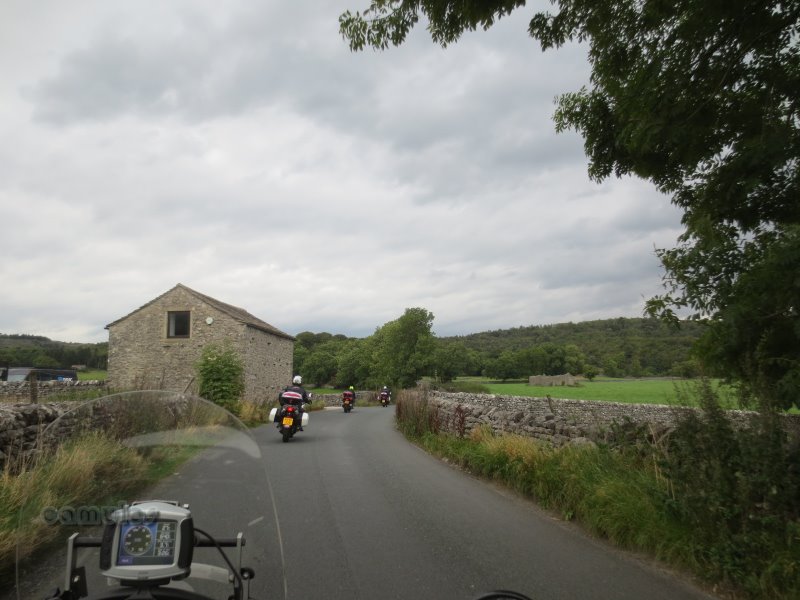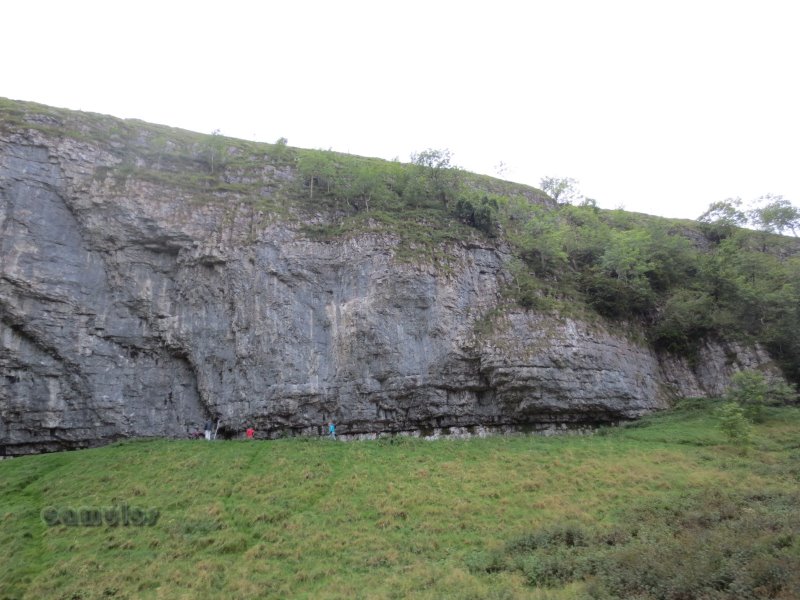 Not as impressive as Ceddar or Tarn but still a lovely sight to behold.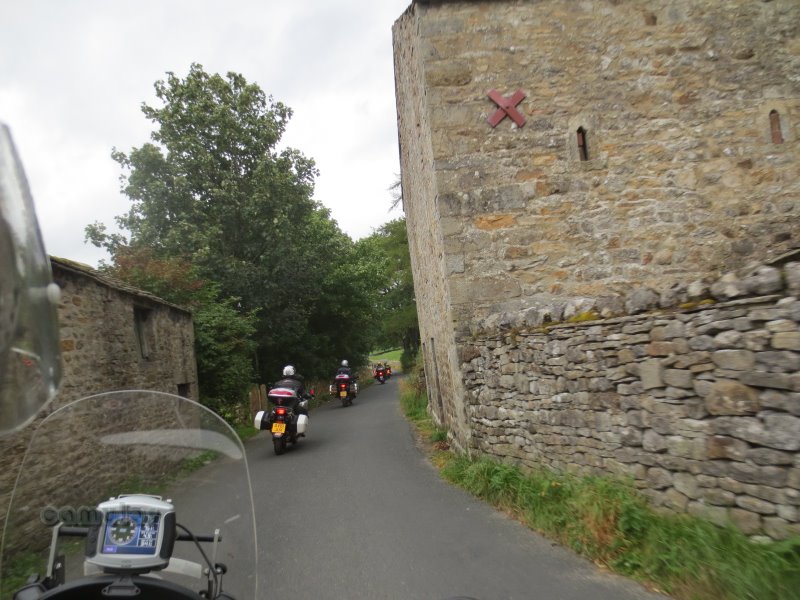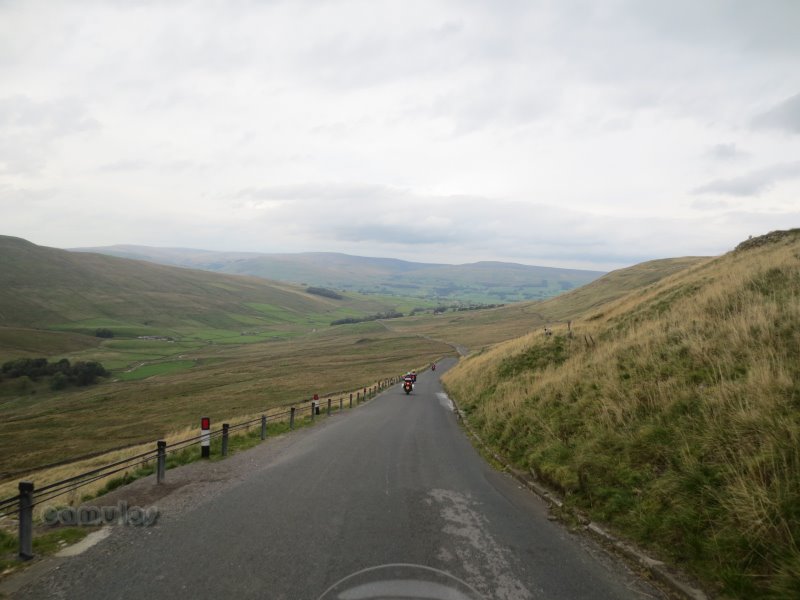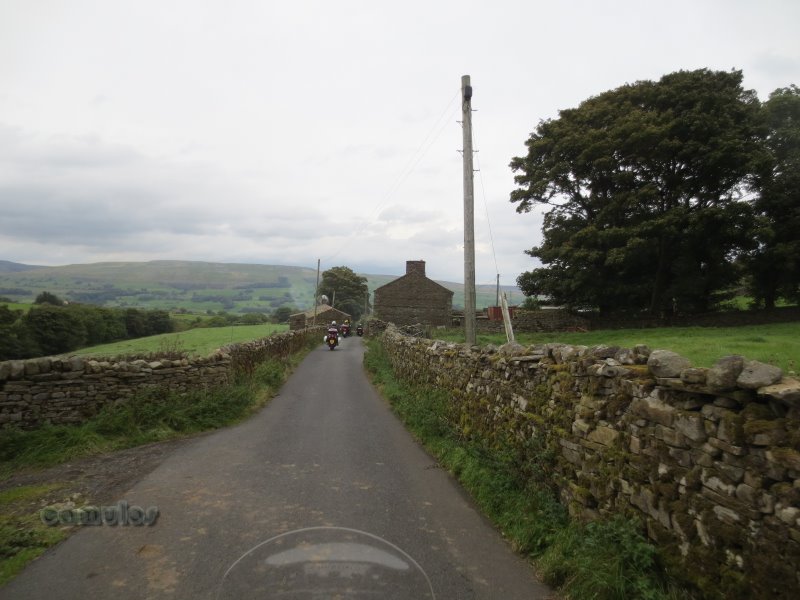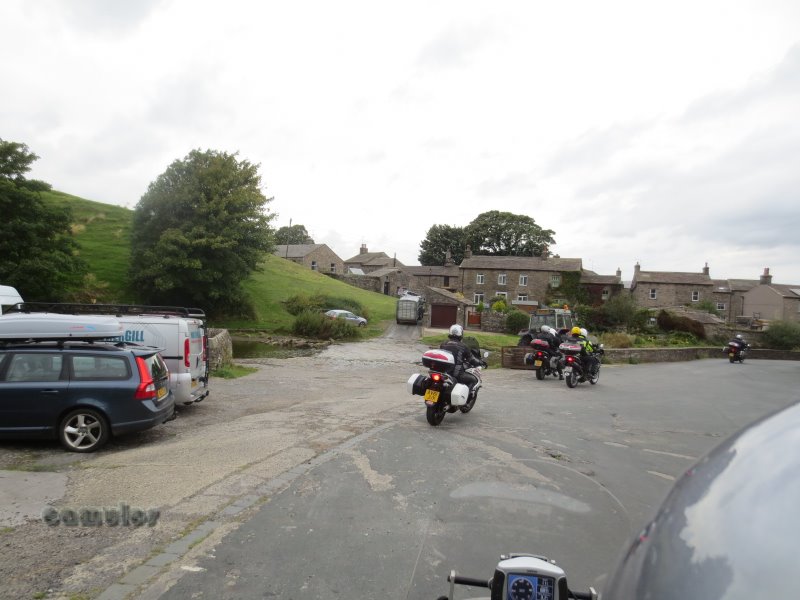 At Hawes and almost home. This is the ford at Hawes, a place that is close to Spence's heart. Ask him about it.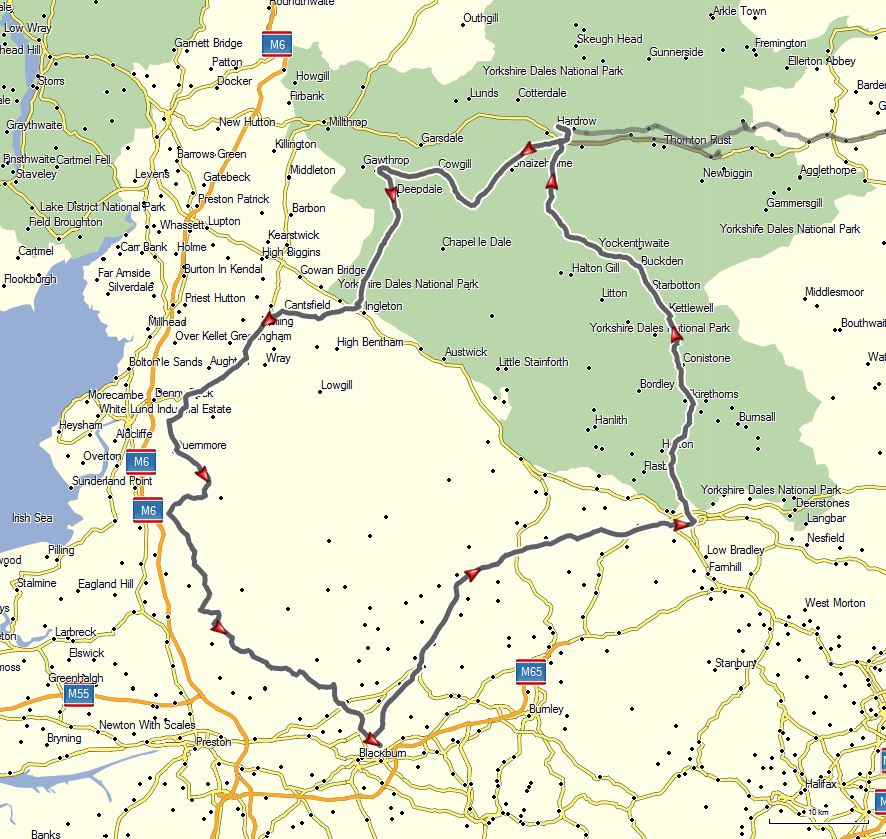 This was the map that our Garmin Zumo produced for us, after the ride. It really was a perfect route, taking in the full range of landscape and road types that perfectly suits the adventure style bikes that we ride. Starting at Hardraw at the top, we had clear weather all the way with amazing views, sheep, sheep shit, cattle grids, dry stone walls, stone built buildings, etc.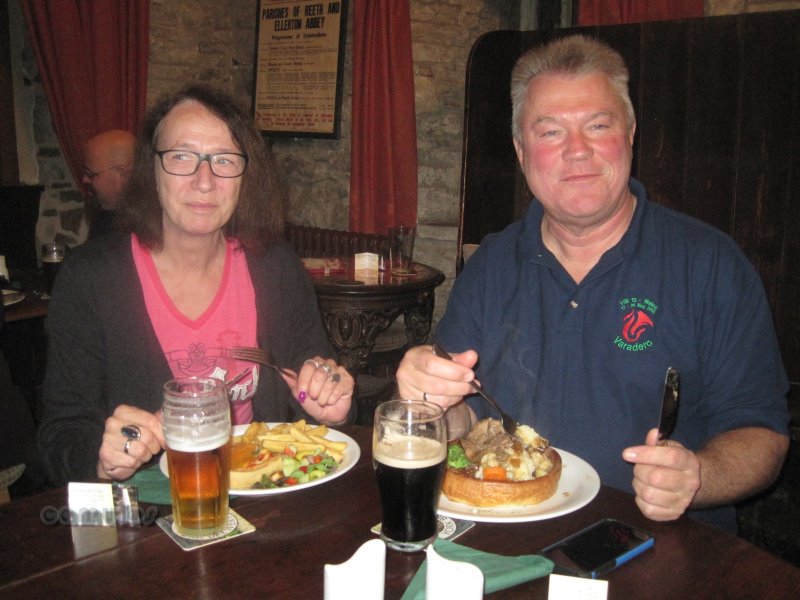 Erik and Annegro Hovland, our Vikings, from OSlo in Norway. Erik with a Yorkshire Pudding dish.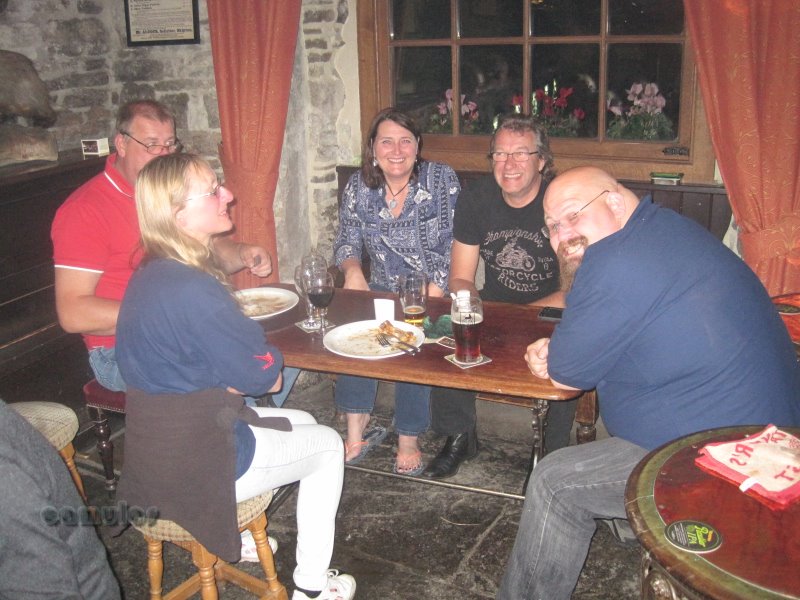 Mr and Mrs Big Dave (Dave and Linda Harris), Mr and Mrs Wack (Ian and Diane Walker) and Numpty Spence. Poor old Numpty was extremely discomfited by the news on arrival that the Green Dragon no longer did cooked breakfasts and that he could enjoy, instead, a continental breakfast of cereals, toast, jam and coffee. He was not a happy man.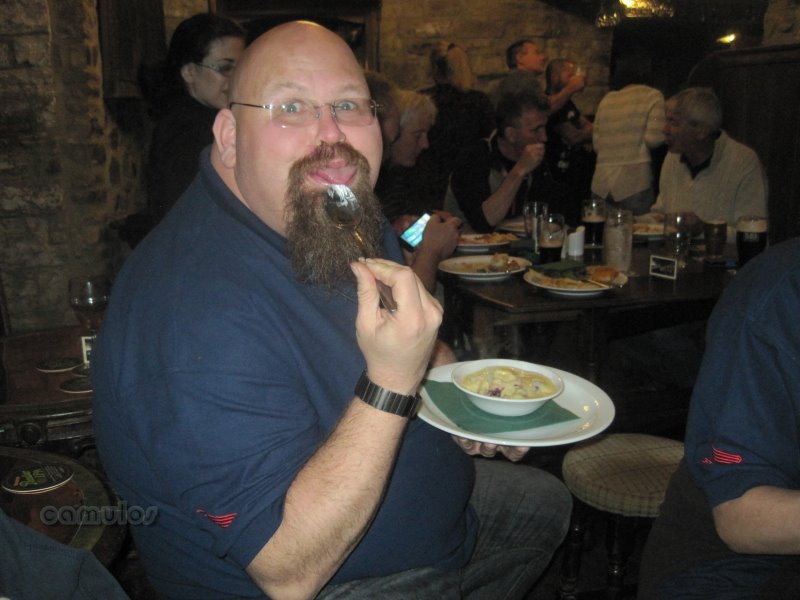 Numpty Spence - something of a legend in these parts (and the world in general).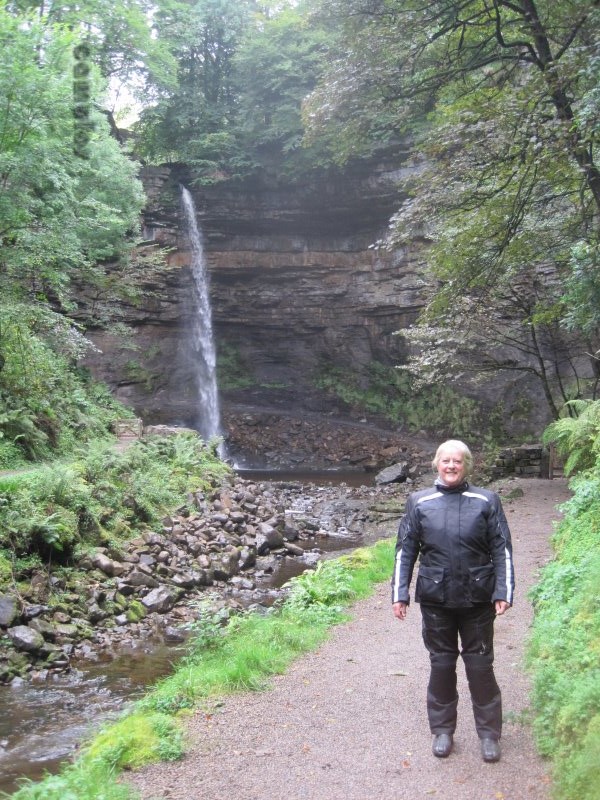 Before we set off we went to have a look at Hardraw Force, the highest waterfall in Britain. Rather like the flow of the Mannekin Pis, we have seen it cascade some years ago in full flow and with huge amounts of mist and thunderous noise. The likelihood is that this view will be quite different after we have had some rain, as the autumn progresses.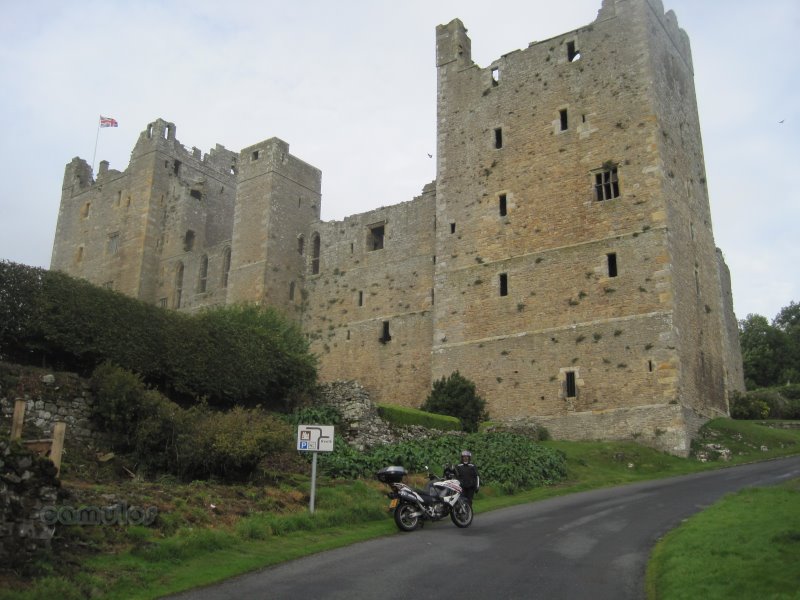 Bolton Castle.
We spotted this in the distance on our way home and thought that we would go and have a look. By then, the wet roads were drying and the weather getting better for our long ride home, A1, A14, M11, A120. Six hours through the exected heavy traffic. We were pleased to get home and to see our three little dogs who had been enjoying the care and attention of the rather beautiful Chloe, in our absence.
Well done everybody. We had superb weather and the craic was excellent.

Who came?