1 - 480

postally used dated 1906, sent to Mlles. Van Ash in Belgium

2 - 414

Grey Friars Convent, Colchester. Postmarked 1910. Sent to Mademoiselle Cl Allemand of Hyeres, France.

4 - 433

Dining Hall

Unused, P A Buchanan and Co, Croydon

5 - 433

Unused, P A Buchanan and Co, Croydon

6 - 433

Unused, P A Buchanan and Co, Croydon
A030-588

Greyfriars Convent on East Hill. 2536 Bells Photo Co Ltd. Unposted
1

Harwich Road looking north

RAP Co Ltd 9158

postally unused
1 - 1425

unused, HGRC by Gill

2 -

M Series, marked no. 378, postally unused

3 - $2.40

postally unused, looking south

4 - 579

Head Street looking north with the Fleece Hotel and Halfords in view. Posted 1920's to Miss Hanks of Woodstock, Exclusive Crano Series 51697.

5 - 1130

Head Street looking north showing tram number 10, a horse and dray, the premises of A and E P Baker, etc. Postally used March 1910, sent to Mrs M Millbank of Wethersfield. Card by the Rapid Photo Printing Co Ltd with reference V310-5

6 - 925

Souvenir of the opening of the Colchester Electric Tramways, 28th July 1904 at Headgate Corner

W Gill photo posted 28 Jul 1904 to Mrs J Hughes of Long Lane, Finchley

7 - 399

posted 1911

8

S0738, unused

9 - 129

Frith CCR10 unused card

A163-1500

No 102. Sent to Mrs Austin of Thornton Heath by Florence Jones in 1906.

A274-1156

No 29 Posted April 1915 to Mrs E J Russell of Addiscombe by Eddy. No 5 tram and Royal Studio.

A275-1381 sold

Gallifent and Lovell on left. Tram No 8 to Lexden. Griffin on the right. Some sorty of procession behind the tram. Card by Whitfield and Cosser. Unposted.

A307-1049

unused and undated card by K Ltd showing the view northward from the corner of Butt Road and Crouch Street.

A343-750

G6835 unused Valentines. Murdoch's on left.

A364-800

7152 The Wyndham Series. Posted 13th Oct 1904 to Mr Skelly of Head Street Colchester by H Sargant. He was saying that Skelly should not expect him tonight, a clear belief that the card would be delivered the same day.

A378-390

C6609 Unused card by E T W Dennis and Sons Productions. Dated c1970.

headstreet001ss

not a postcard

c1935 showing the Tudor Cafe and the Fleece Hotel.

headstreet002ss

not a postcard

c1970 showing the Fleece Hotel.
1 - 420

Holy Trinity Church with the Town Hall in the background

A971/713

postally unused

2 - 567

Unused, V2297

3 - 139

Posted April 1907 to Mr S Joffre of Lyon, France, from Pierre

4 - 260

postally unused, S and S C

5 - 371

Unused card, S and S C.

6 -

Masons Alpha CHR7 card, unused. c1955. Richards Shops on Culver Street. WNO 539 Riley 1500? car registration.

7 -

A182-324

Sent April 1910 to Miss Gabrielle Dickens of West Kilburn. This card appears to show a background without the 1902 completed Town Hall. This is probably therefors a photograph from before 1902.

A213-299

Unused card by Harvey Barton and Son Ltd. Ref 60192
TYMPERLEYS

A109-1210

HGRC Photo by Gill. Card unused. This building is thought to have once been part of Sir William Gilberd's house. It later became home to Mr Bernard Mason who was a collector of old clocks. When he died he left the building and clock collection to the borough and they turned it into a clock museum. It was under the threat of closure as a museum in October 2010.

Looking at this modern day picture of the same building, so much has been done to alter it. See also the shops and commercial premises section and look for E N Mason and Son, for further details.

A206-298

Unused card from the 1920's. OT 531 car plate.

A450-520

Sent to Mr Percy Crofts of West Bromwich by Flo on 13th August 1904.
1 - 459

Essex and Colchester General Hospital

24/23 British Mirror series

postmarked Jul 1906, Mrs J Storkey, Leiston

2 - 460

Posted April 1918 to Mrs Baker of Walthamstow from Harry

3 -

Essex County Hospital Staff c1912

Left to Right

Back Row - 2 Spooner, 3 Moffat, 4 White

Second Row - 4 Dr Chichester, 5 Dr P Laver, 6 Dr Clowes, 10 Stribling, 11 Wilkinson

Third Row - 4 Dr Curl, 5 Matron Buckham, 6 Dr Nicholson, 10 Mitchell

Who are all the others?

4 - 425

The Hospital - Valentines Series, posted to Miss Rosie Milne of Hampton Hill on 25th July 1903 by NM.

5 - 1030

New Children's Ward, card sent Miss Olive Seatt of London N22 by Minnie on 27th March 1918. Photo by Gill.

A060-621

A Gill and Son card showing a well decorated hospital ward. Perhaps at Christmas. On the back in pencil it says Essex County Hospital 1912. Unposted.

A220-904

Unused card by M and R C. Picture shows a gathering of cars and military men, soldiers, etc.

A267-553

Unposted. Royal Studio. In ink, In loving memory of dear Aunt Eliza who died the 15th Feb 1922 aged 71 years. The female ward of the hospital, presumably Colchester.

A316-450

unused card by raphael Tuck and Sons, Series 2121 Colchester

A425-696

V310-8 The Rapid Photo Company. Colchester Hospital and Nurses Home

A437

Posted 30th Oct 1934 to Miss Lil Carter of Layer Breton Lodge
1 - 1015

Hythe Quay looking east

57088 Valentines

postmarked Nov 1908, E Carstairs, Almondsbury, Huddersfield

A386-550

The same postcard but in black and white only. This has enabled us to see that the boat on the left has the name 'Esther' and the signwriting on the building says, 'Francis and Co, Corn and Seed Merchant'. Posted 23rd August 1918 to Mr H E Wilton of Ipswich. 63385 Valentine.

2 - 1217 (Sold)

Colchester Hythe Quay

No 19, postally unused. High quality black and white version not shown here but image available. Same as view shown.

2c - 838

HGRC from photo by Gill. posted 23rd Dec 190 3 or 5. Christmas version in colour. To Miss Winnie Luen? of Frinton, from Maude,

3 - 616

and (A207-999) in colour

Postmarked Sep 1946, to Miss Catherine Gladwell, Surrey .

In February 2008 we received the following feedback:

The sailing barge on the right of the picture is the 55 ton "Paglesham" built in 1877 at Paglesham by Kemp for A.J.Meeson of Battlesbridge as a wedding present for his wife.

Meeson owned several barges and the flour mills at Battlesbridge.

For many years "Paglesham" was skippered by Bob Eves of Wivenhoe, and later, Dick Daniels.

"Paglesham" was sold to W.H. Theobald of Leigh on sea (trading as Leigh Building Supplies) and was generally employed carrying softwood from the Surrey docks.

The postcard shows her having just discharged a timber cargo at Groom Daniels wharf.

In April 1944 "Paglesham" loaded Kentish wheat in Whitstable harbour for London. She survived the war and was in the Surrey docks in 1947 loading timber when she was sunk by a steamer, she was "raised but condemned" and was acquired by the Sea Scouts as a guardship and was broken up around 1953.

"Imperial" was requisitioned, during the war for the storage and delivery of ammunition to ships coming in to the Chatham dockyard and afterwards rebuilt and converted into a motor barge for London and Rochester Trading Co. (1949 on) she was laid up around 1958 and became a houseboat at Temple Marsh, Strood, Kent and derelict by 1961.

Colin Swindale.

4 - 2185

Hythe Docks, 13, poster 7th May 1913, from the barge Albert.

Sir, your letter to hand on Tuesday morning. Sir we shall finish unloading Thursday and be leaving for Ipswich on Friday morning for timber farm. Yours truly, H Spicer. Sent to Mr A Hutson, Flair Meadow, Maidstone, Kent

~~~~~~~~

On the left of picture is the 100 ton Gem, originally a coal fired sailing steamer built of iron in South Shields in 1881 and registered in Colchester that year, 80ft x 16ft with a 20hp steam engine. Gem was the last of the Colchester "passage boats" from 1902-1914, skippered by David Francis and trading occasionally to Holland, and sometimes to Poole, Dorset, but mainly from Colchester and Mistley to London.

Thanks to Colin Swindale for this additional information - March 2008

The barge on the left is Gem of Colchester. The vessel on right is Dina Joanna. The rowing boat far left has markings but illegible. The middle vessel equally so.

5 - 385

An unused picture of Hythe Quay showning the Spirality of London, M and L National Series, No. 57.
We are indebted to Mr Mike Wignall of
Which provides the future programme, results and history of the Thames Sailing Barge Match itself, which was founded in 1863 and is still running.
Mike very kindly identified one of the barges shown on the Hythe section. Here follows his comments:
Postcard 3-616 shows "Imperial". She was a Thames sailing barge which had a very characteristic main/top mast and sail arrangement with a massive spar at 30-45 degrees, the base pivoting almost at deck level i.e. spritsail rigged. This rig is quite unmistakeable once you know what you're looking for and it is easy to pick out a Thames sailing barge amongst a forest of masts of various vessels in photos - based on their spritsail rig.
In the card she is shown as belonging to "LRTC" [cut in/painted above her name] which was the 19-20th. century London & Rochester Trading Co., based at Frindsbury, near Strood, in Kent on the R. Medway. She's shown as being registered in London and she was built in the East Greenwich bargeyard of Shrubsall, in 1902 and was owned by one Valentine Colchester of Ipswich. She was of 53 registered tons, length 84.6 ft., beam 19.2 ft and draught 5.9 ft.
She was sold on in 1925 to another company "Rands", who sold her on again to the LRTC in 1934. This company was keen on racing their working barges in the annual Thames Match and annual Medway Match where they competed against their arch-rivals in the sailing barge transport industry - F. T. Everard & Sons. "Imperial" came 1st. in 1902, and 3rd. in both the 1928 and 1933 Thames Matches. She came 1st. in 1902, 3rd. in 1929 and 2nd. in 1930 in the Medway Match. LRTC converted her from a sailing barge to a motor barge in 1949. She finally ended her days as a hulk in the vicinity of the Temple Marsh & Strood Yacht Club.
The photo the postcard was made from must therefore have been taken sometime from 1934 onwards.
6 - 300

St Leonards Church on Hythe Hill, postally unused.
Here follows Hythe 7, an oil painting of the docks at the Hythe. It is not a postcard but it is a delightful scene.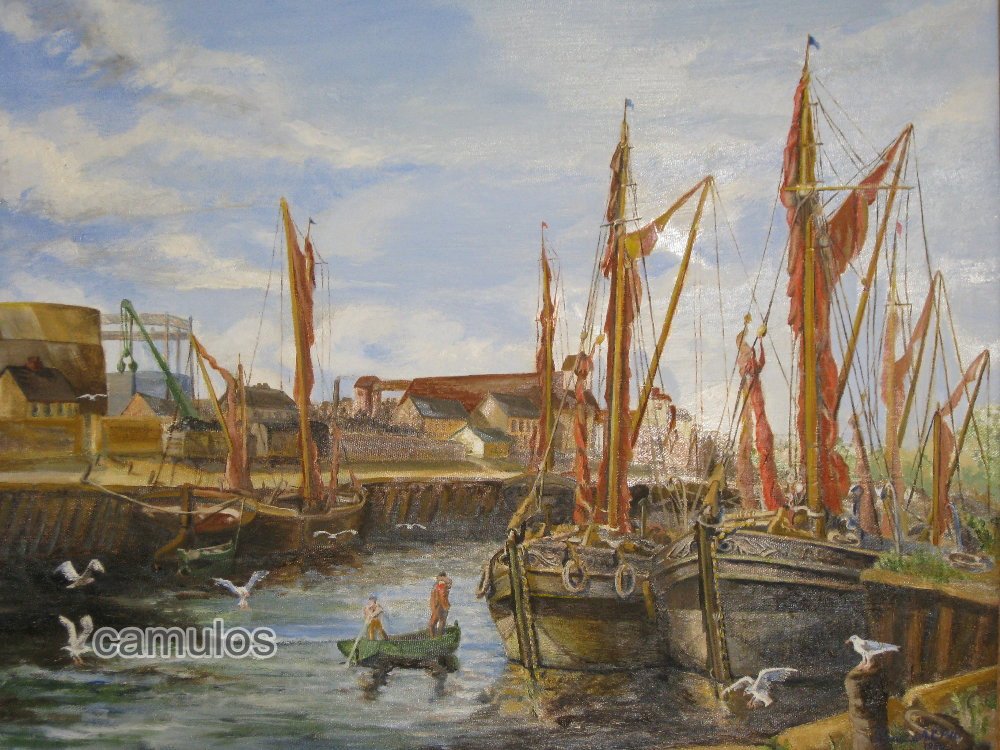 8 - 300

2124, card sent August 1906 to Miss Bengough of the Rectory in Crediton.

A357-677 as above but not coloured

124 7386 Posted 21st August 1914 to Miss V Smith of Alne, Wilts by PJK.
A027-1151

The Hythe quayside. Sent to Master Hugh Wyatt of Bognor Regis by Nannie and mentioning Podge. Dated March 1931. Corner missing. At least 15 Thames barges shown in the view. This first boat appears to have the name Centaur.

More information about the Centaur and the Pudge at:

We received a note in March 2012 about this picture as follows:

Dear Sir,

I wish to point out that the sailing barge Centaur shown on image A027-1151 is the Rochester Centaur not the Harwich registered barge that is still active.

Regards.

Ron Green - member of The Society for Sailing Barge Research and Mersea Island Museum

also,

A534-560

unused card, Series 1952

A064-2176

A photograph not a postcard. On the back is written, British spritsail barge George Smeed (64 tons net, built 1882) at Colchester, 24th June 1955. A classic view of the Hythe quayside with coal piles and the gas tanks.

A071-495

A photograph not a postcard. On the back is written, Dutch MV Coria (390 tons gross, built 1952) at Colchester, 13th May 1971. Another classic view of Hythe quayside, a little further east than the above picture.

A087-1217

Old House and Church, Hythe Hill. 8158 24. Sent to Miss Nell K Smith of Great Bentley, by Edna, on 13th August 1914. Weslyan Methodist Church notice board.

A142-204

Clr 23. The Dolphin pub, Daniells and Sons. Card by Lilywhite Ltd, Triangle. Posted Aug 1930 to Mrs Beattie Dodman of Tottenham, London by Ettie of Wiston Mill, Nayland and a note saying that Aunt Ettie is at 53 now.

A143-1000

Clr 7. Card by Lilywhite Ltd, Triangle. Posted Sep 1930 to Mrs Beattie Dodman of Tottenham, London by Ettie of Eltham, Kent.

A155-420

An unposted card but written on the back it says, 'on the left, the SS Oakover or Guernsey and on the right the SS James Tennant of Newcastle , under the Vickers Crane, at Hythe, Colchester, taken Friday March 25th 1921'. The crane was that of the Moler brickworks and the view looks east.

A156-747 sold

An unused but much handled card by Whitfield Cosser and Co. The barge on the right has the name John Evelyn. The markings on the barge on the left are unclear but the owners seem to be Jarvis and Sons.

A157-747

RA Series postcard. Unused.

A159-965

Not a postcard but a delightful scene nevertheless. From c1905 with Parry's oil mill to the rear. The barge is loaded with hay, presumably to be taken to London for a return load of manure for the Essex fields. Gasometer to the left. No boat names readable. Two bowler hatted gentlemen are on the quay looking down at the lighter. Possibly the Horseshoes pub behind them. Two flat capped men sit on the right bank surveying the view.

A164-1360

unused

also,

A385-189, in black and white but no better detail, unposted.

A165-400

Published by Poyser and Co, card by Gill. Sent December 1910 to Miss Mabel Gordon of Catford by Horace. The nearest boat is named Esther. This picture appears elsewhere on this site but in colour and with less detail.

A171-285

A photograph of Borelly at the Hythe in 1956.

A221-1899

Card sent Sep 1931 to Miss C(hrissie) M Cole of Looe by Jon?

A236-800

Owen Parry Oil Mills. Postmarked 16th January 1908 but no stamp present. Sent to Mr H Trigg of Newport, Essex. An official printed card on the rear stating price alteration of linseed and cotton cakes.

A237-995

Hythe Hill. Card sent 10th September 1906 to Miss D Cant of Maidenburgh Street, Colchester. Message in pencil. Mention of Louisa and Jack.

A339-480

The Festivity. Published by F W Pawsey and Sons. Unused.

A379-199

Card by Poyser and Co, photo by Gill, 7405, sent (Edward VII stamp, date unclear) to Miss M Osborne of Loughborough, by Sid.

A427-699

Lilywhite Ltd. Unposted by back filled with handwritten note. The first boat is named Vera.

PH001

Bridgeman at the Hythe 6th May 1965

PH002

Hythe, unknown details, August 1971

PH003

Hythe, unknown details, August 1971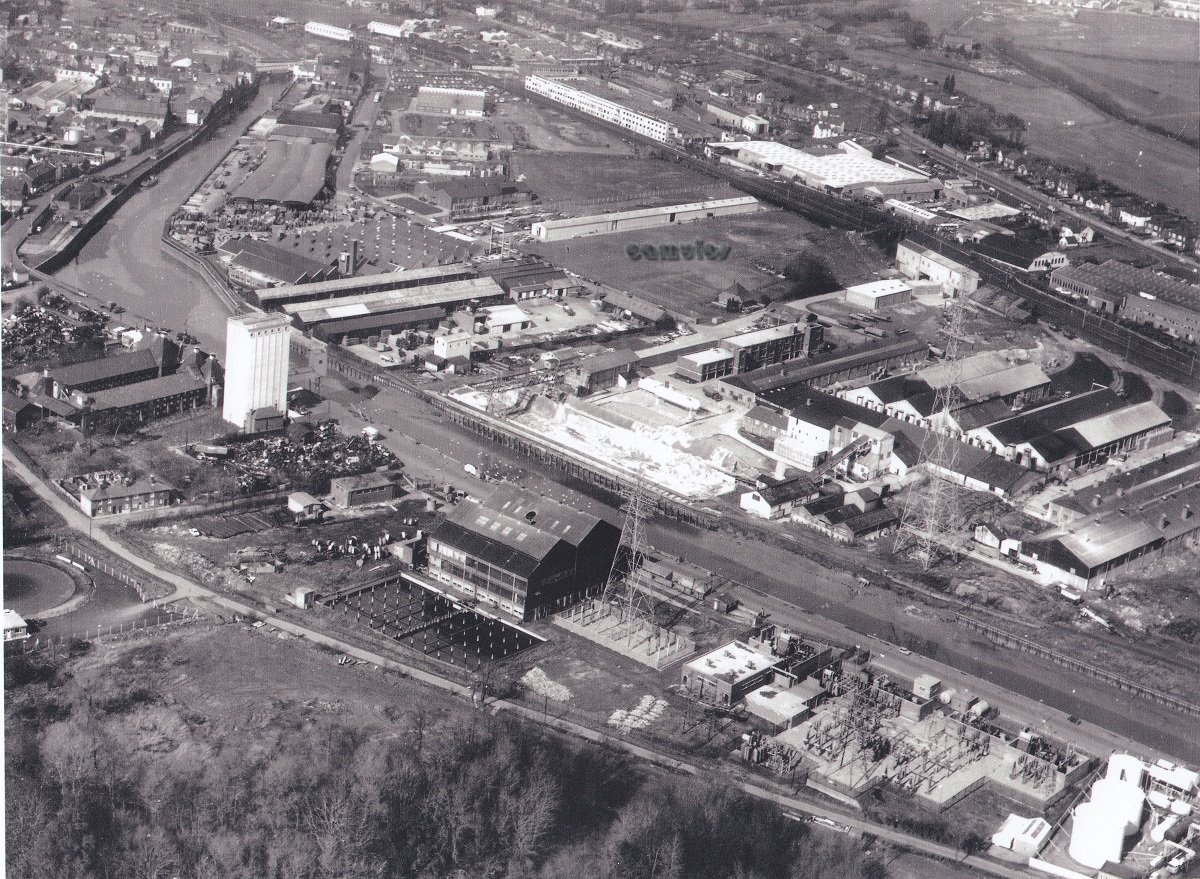 The Hythe in 1968
Simmons Aerofilms ref A178618
Copyright
Moler brick works, gas works, electricity station, The Colchester Lathe Company, the maltings, scrap yards, Groom and Daniells, Spottiswoode Ballantyne, the river, Haven Road, Hawkins Road, Greenstead Road, railway.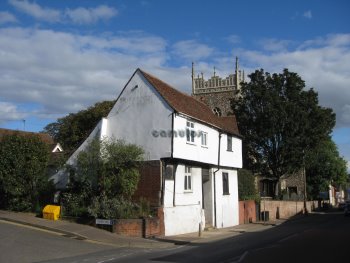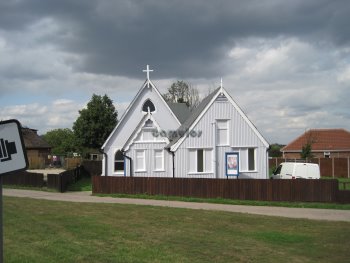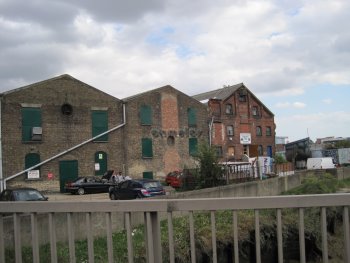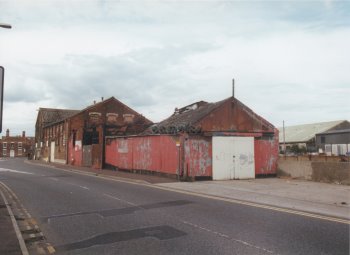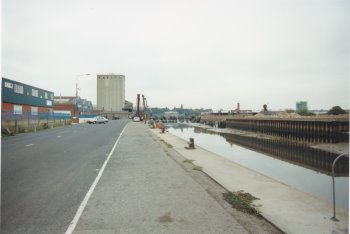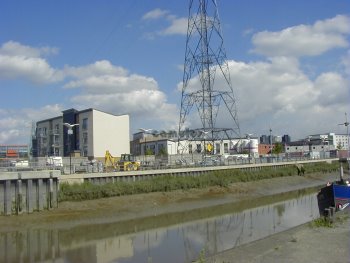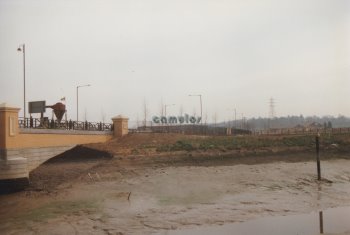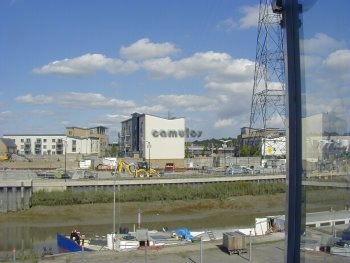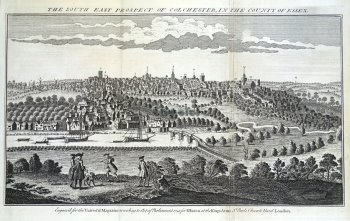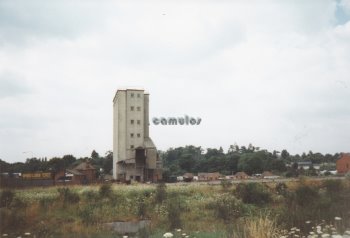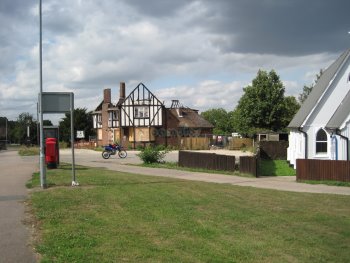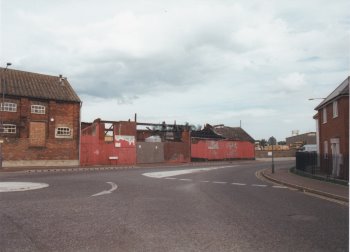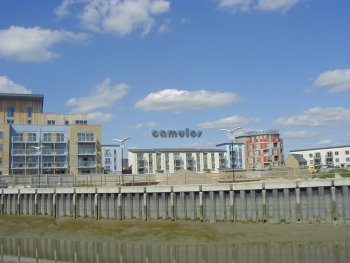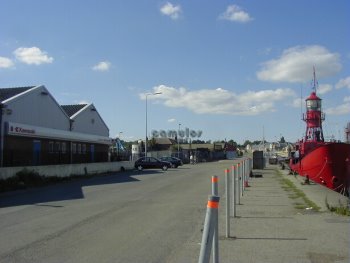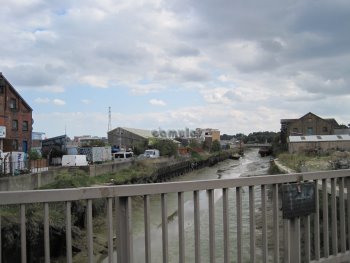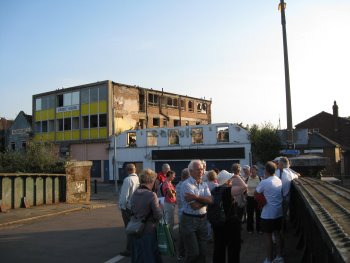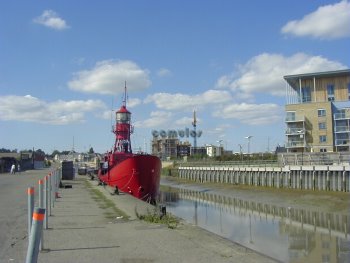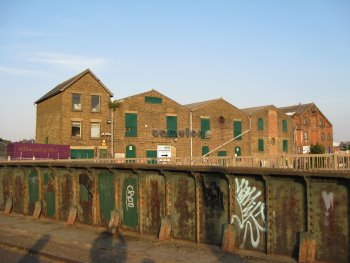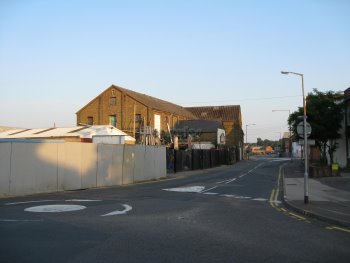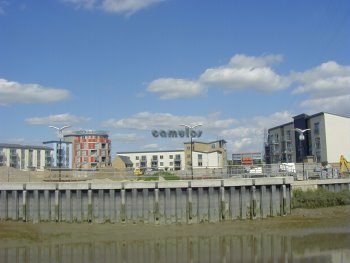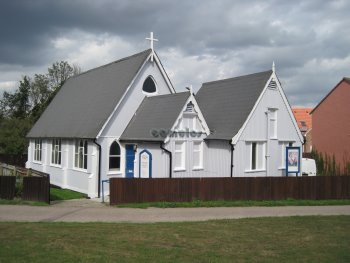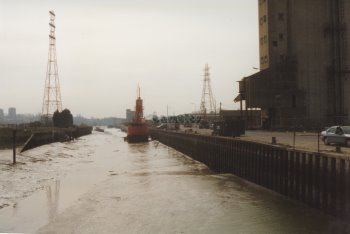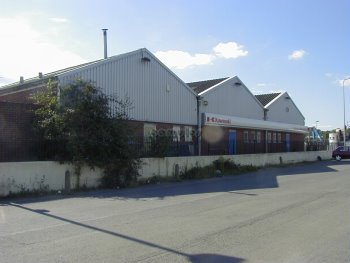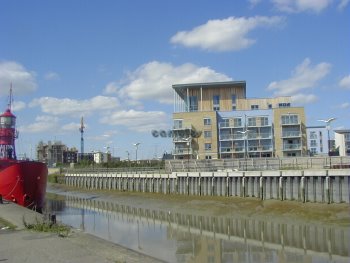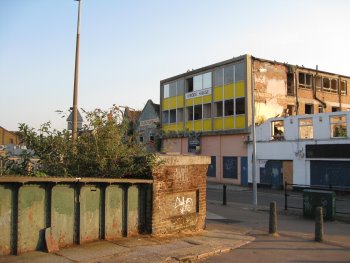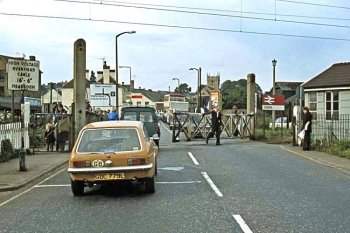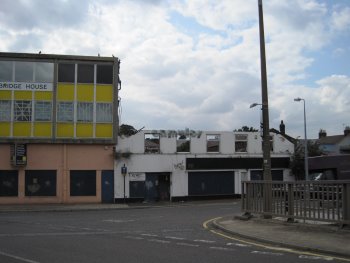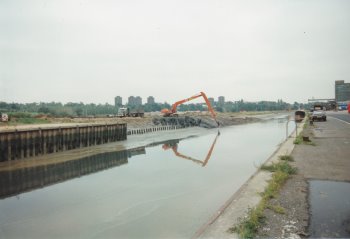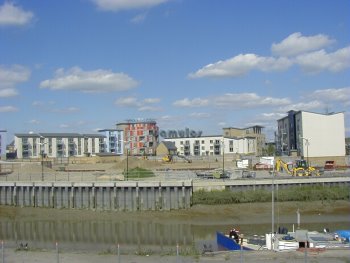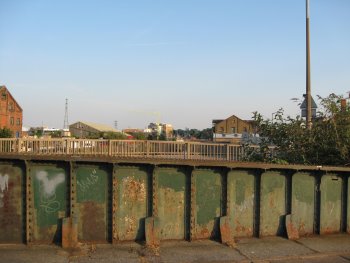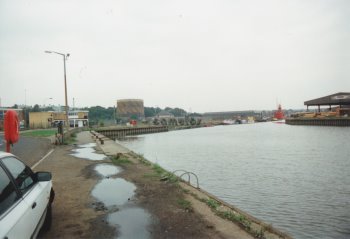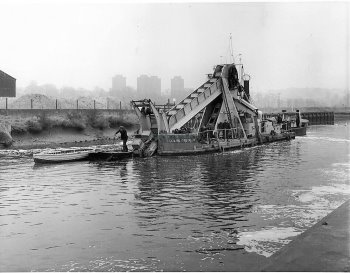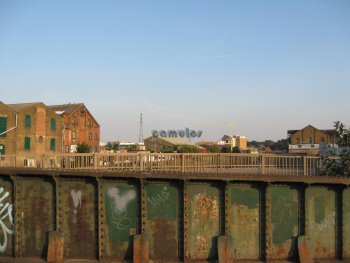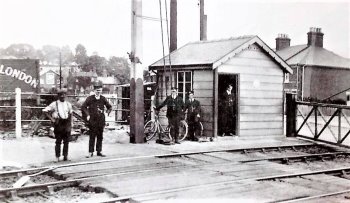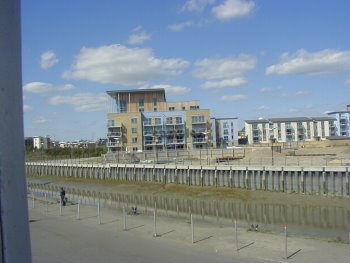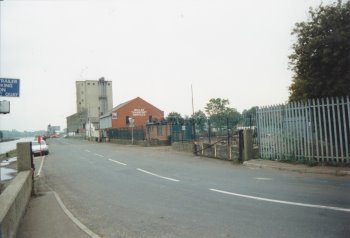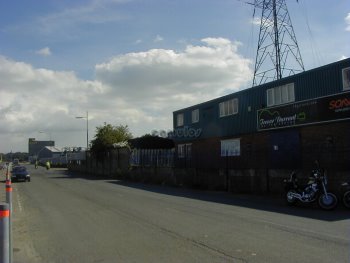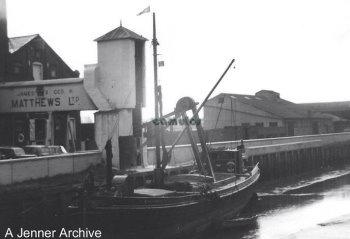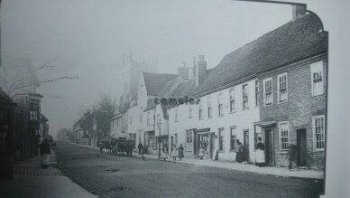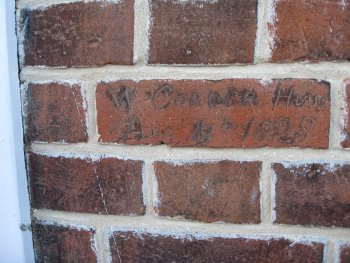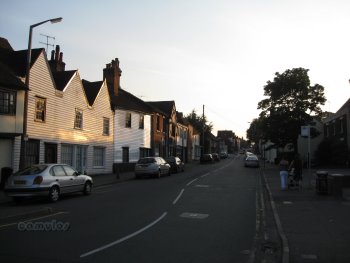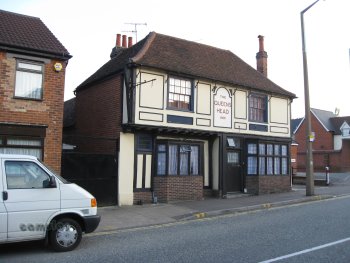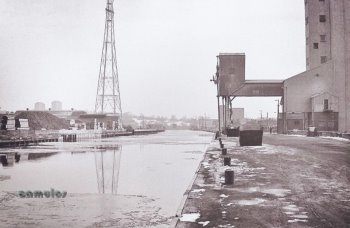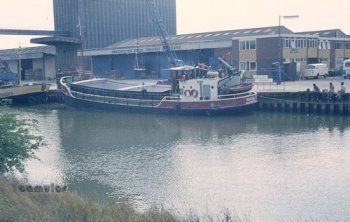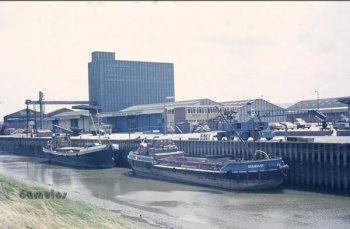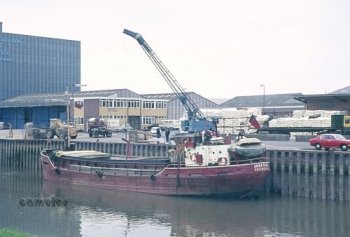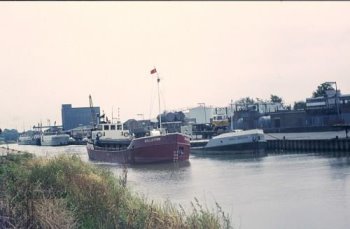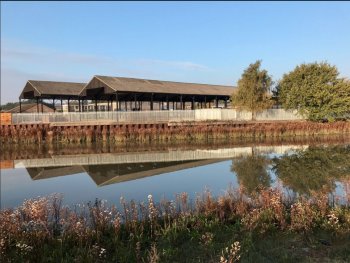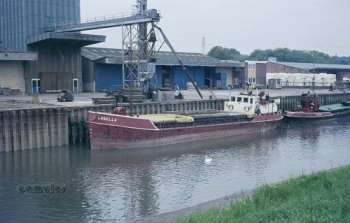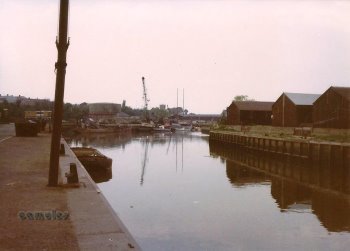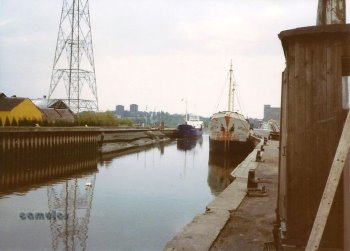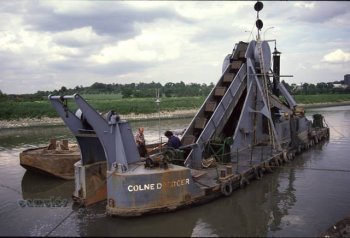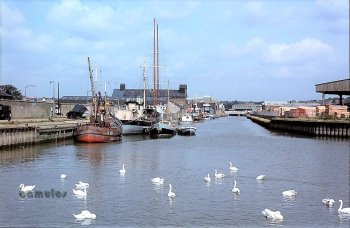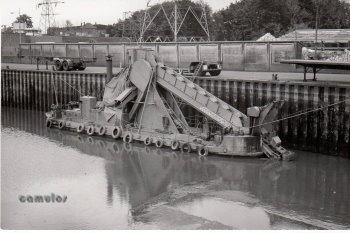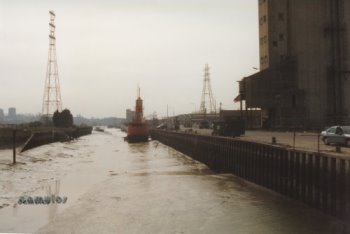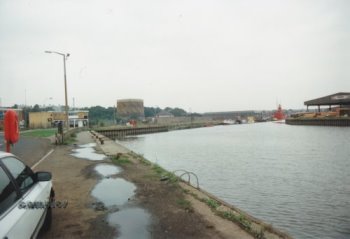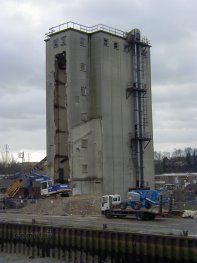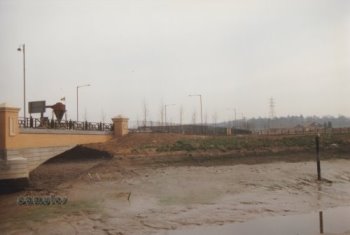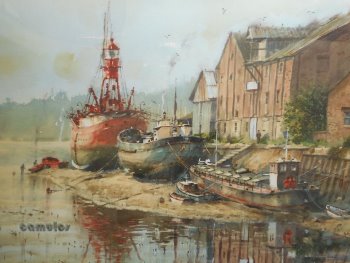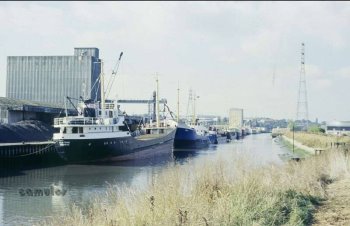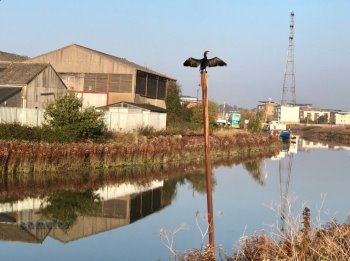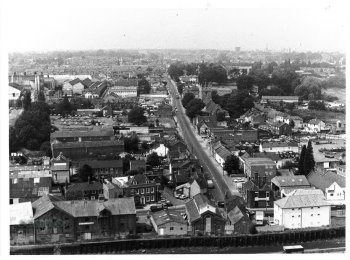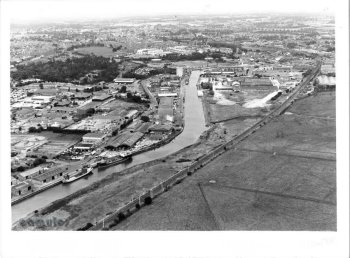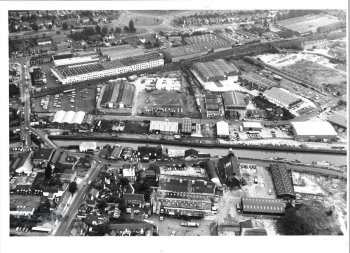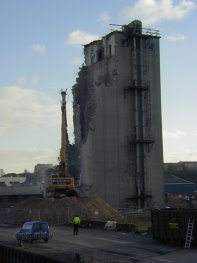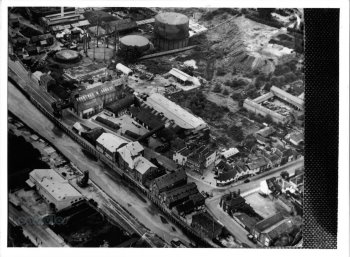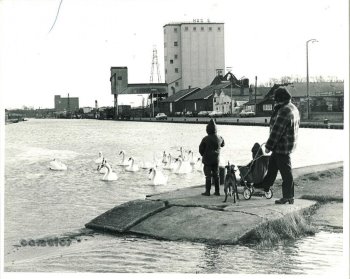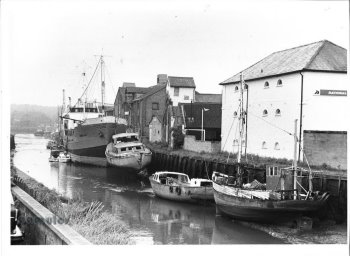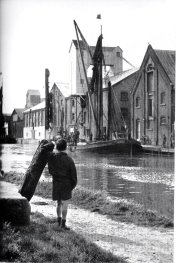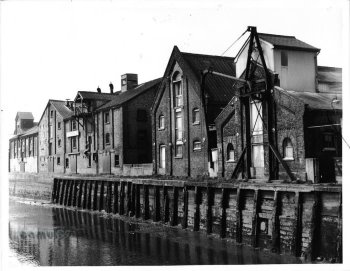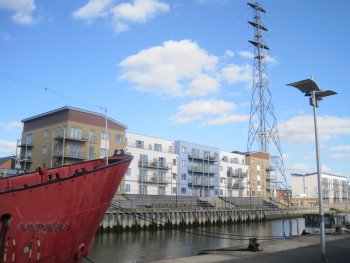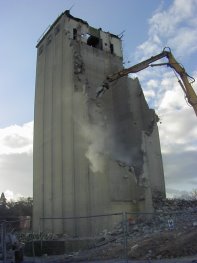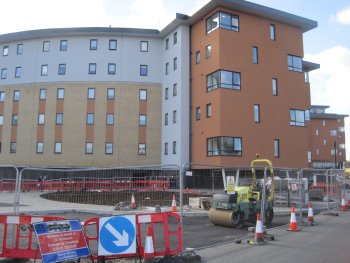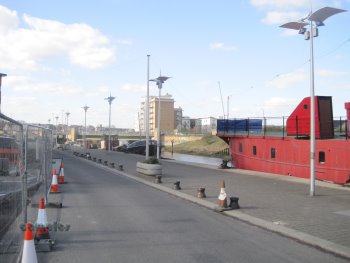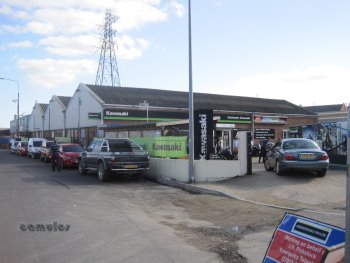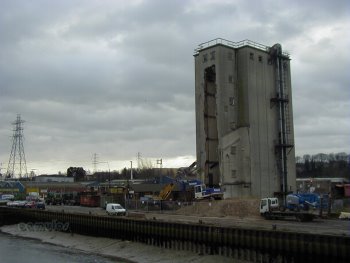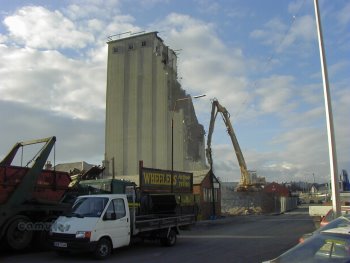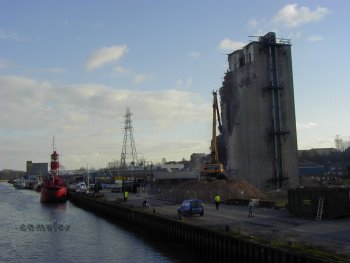 There are also views of Hythe railway station (Colchester Hythe) on our Railways page here, towards the end of the page.
186 images
More pictures will be added in due course, together with comments.
Return to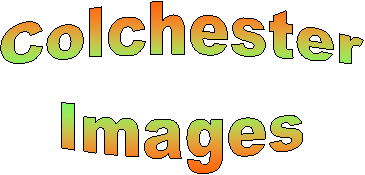 Main Page

Sdapeze

page created 220404
updated 150816
reconfigured 110921
Site Hosted
by